Following the South Dakota v. Wayfair, Inc. decision, Arizona, like many other states, enacted economic nexus standards that required sellers without a physical presence in Arizona to collect and remit tax. Arizona Governor Doug Ducey signed House Bill (H.B.) 2757 into law on May 31, 2019, which specified how remote sellers and marketplace facilitators must comply with transaction privilege tax (TPT) laws. We have highlighted several of the key points on the Arizona economic nexus rules below.  
Enforcement date: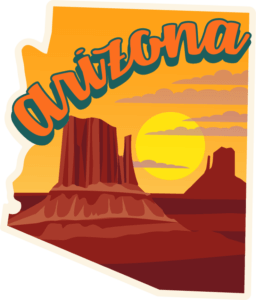 October 1, 2019.
Sales/transactions threshold:
Remote seller thresholds:
$200,000 for calendar year 2019;
$150,000 for calendar year 2020;
$100,000 for calendar year 2021 and for each calendar year thereafter.
Marketplace facilitator threshold: $100,000.
Measurement period:
Threshold applies to the previous or current calendar year.
Included transactions/sales:
A remote seller must include all of its gross retail sales into Arizona. However, sales made through a marketplace facilitator are not included.
A marketplace facilitator must include its own sales and the sales it facilitates on behalf of marketplace sellers.
When You Need to Register Once You Exceed the Threshold:
A remote seller or marketplace facilitator must remit TPT in the month following 30 days after the threshold was met, and for the remainder of the year and the year following.
Summary: A remote seller has economic nexus if in the previous or current year, the gross sales generated from direct sales into Arizona is more than the previously mentioned threshold. A marketplace facilitator has economic nexus if it facilitates, for remote sellers or also on its own behalf, more than $100,000 in sales in the previous or current year.
As Arizona's approach to the taxation of remote sellers and marketplace facilitators evolves alongside changing national standards, businesses should ensure that they are fully compliant. Working with the right partner can keep the process seamless and current.
Arizona Sales Tax Resources: Reach out to our team for more information on the Arizona economic nexus. Be sure to also check out our interactive sales tax nexus map for real-time data on other states.