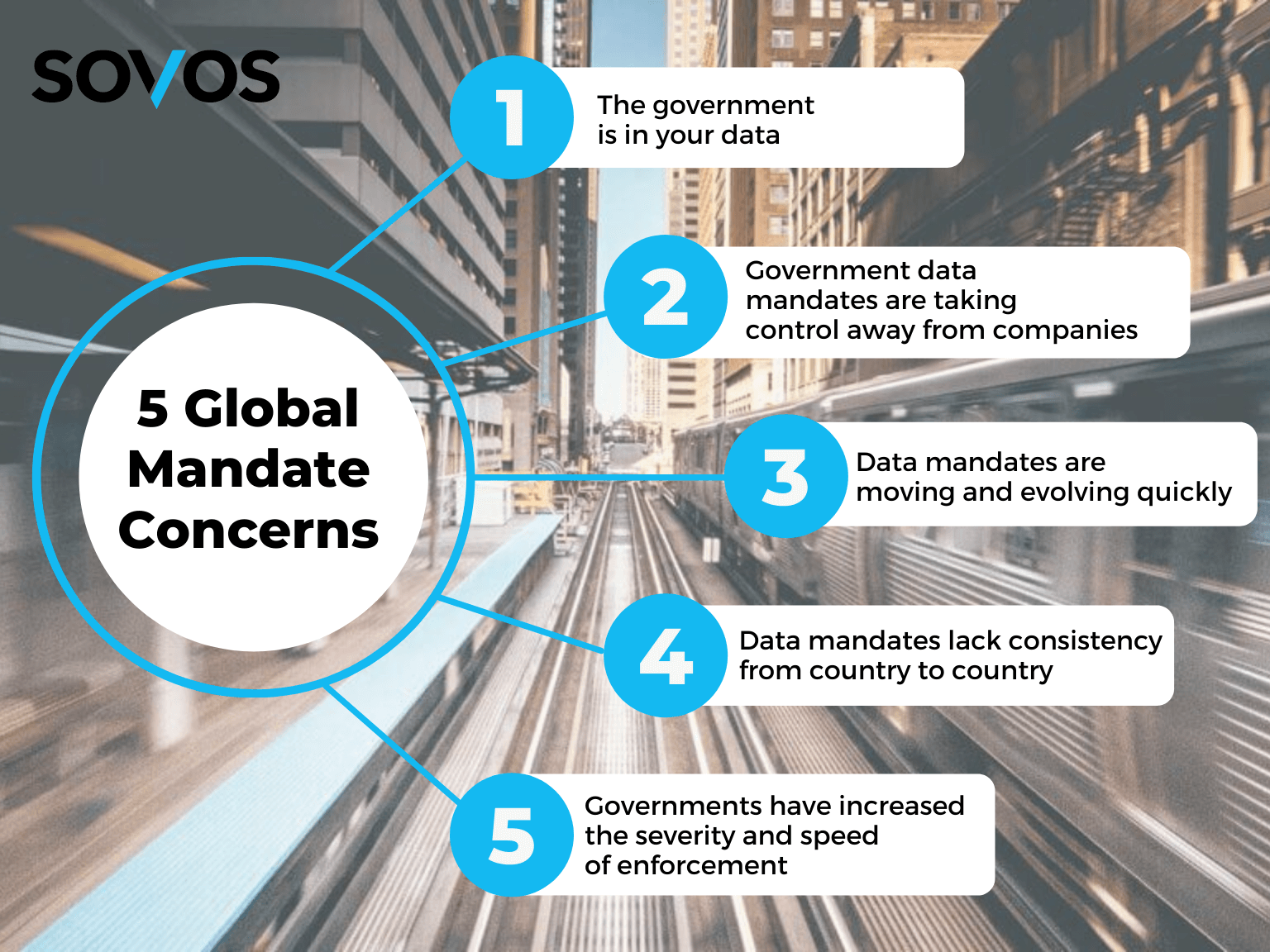 In today's global and digital world, organizations are continually having to adjust to the challenges posed by government mandated e-invoicing. With governments continually leveraging technology to facilitate compliance and track tax fraud efficiently, there has never been a more crucial time for businesses to remain compliant. While remaining compliant and avoiding costly penalties and fines has always been a risk and an area of concern for businesses, the new level of complexity being introduced in government mandates around the world are elevating the threat to unprecedented levels. We've identified five areas of critical concern to businesses and where IT will play a large role in protecting the business' ability to operate uninterrupted.
The government is in your data
Real time tax reporting is becoming the new norm for businesses worldwide. Governments are no longer satisfied with receiving data after the fact and are now requiring a permanent presence in your data stack. With the data that they collect; governments can view all transactions to ensure that they are receiving the revenue owed to them in the manner and time frame they dictate. This shift towards a more data-driven tax reporting process is not going to be an easy task for businesses. To ensure that no core business processes are disrupted, businesses should look to their IT departments.
Government data mandates are taking control away from companies
With government mandated e-invoicing taking the world by storm, businesses are left with little time to prepare for this shift. Scrambling to ensure they can accommodate government requests is not the position businesses ever want to be in. To remain operational and comply with these mandates, IT must create a strategy to ensure that they are meeting mandate obligations while keeping with the parameters of long-term plans and budgets.
Data mandates are moving and evolving quickly
As governments are rapidly moving towards mandated e-invoicing implementation, organizations are now faced with an extremely short window to update their tax codes and mandates. This is forcing the hand of organizations more used to the benefit of planning large scale technology upgrades and migrations years in advance. With new mandates being introduced at a record speed, the timeframe in which businesses can comply is shorter than ever. For IT departments, overseeing and executing these changes will become one of their top priorities.
Data mandates lack consistency from country to country
For international organizations staying up to date on new processes, technologies and regulations are all essential components to running a successful business. However, the different approaches being adopted by each individual regulatory authority is causing a lot of uncertainty for businesses. Depending upon the number of countries and territories in which you operate, you could be charged with having to create individual solutions to meet each of these government mandated regulations separately. The challenge for IT is to create the infrastructure that allows the business to meet the individual mandates of each country's regulatory authority, while also integrating with one another to provide a real time global dashboard of the organization's compliance status.
Governments have increased the severity and speed of enforcement
Tax authorities are becoming more aggressive than ever to close the estimated $600 billion tax gap. With the use of digital tools and processes, governments can quickly expedite compliance and track tax fraud effectively.. In the past, organizations only had to worry about being hit with an untimely audit or costly penalty. Businesses would oftentimes put money aside each year to cover these expenses. However, in today's digital world the penalty is far swifter and more severe up to the point of governments shutting down the operation completely. IT needs to ensure that transaction data is presented to regulatory authorities in the format and time frame they demand.
Government mandated e-invoicing is generating a lot of change in the tax and IT world alike. Businesses are now realizing that this is no longer just a tax issue but an IT one as well. Organizations are becoming heavily dependent on IT to create solutions and lead this change. In its 2020 Tax and Finance Operate survey, EY reported that 79% of executives surveyed are planning to reduce the cost of their tax and finance function over the next two years. Instead, they are looking to technology to provide real-time reporting that can keep up with the ever-changing mandates and laws. With e-invoicing becoming synonymous with enforcement, businesses should work with their IT department to have a plan in place to tackle these challenges.
Take Action
To learn how E-invoicing is Burdening the Bosses, download the eBook here.