Sovos S1 Platform
The Sovos Intelligent Compliance Cloud sits on a unique cloud software platform that is built to bring previously disparate tax solutions and data together for use wherever your business operates - through a single platform.
S1 Architecture
More Adaptable. Always Connected. Built for Global Business.
The S1 architecture allows Sovos to do the hard work for you, adapting to changes in technology requirements and government regulations – and giving you access to the tools and data you need to run your business anywhere in the world through a consumer-grade user experience.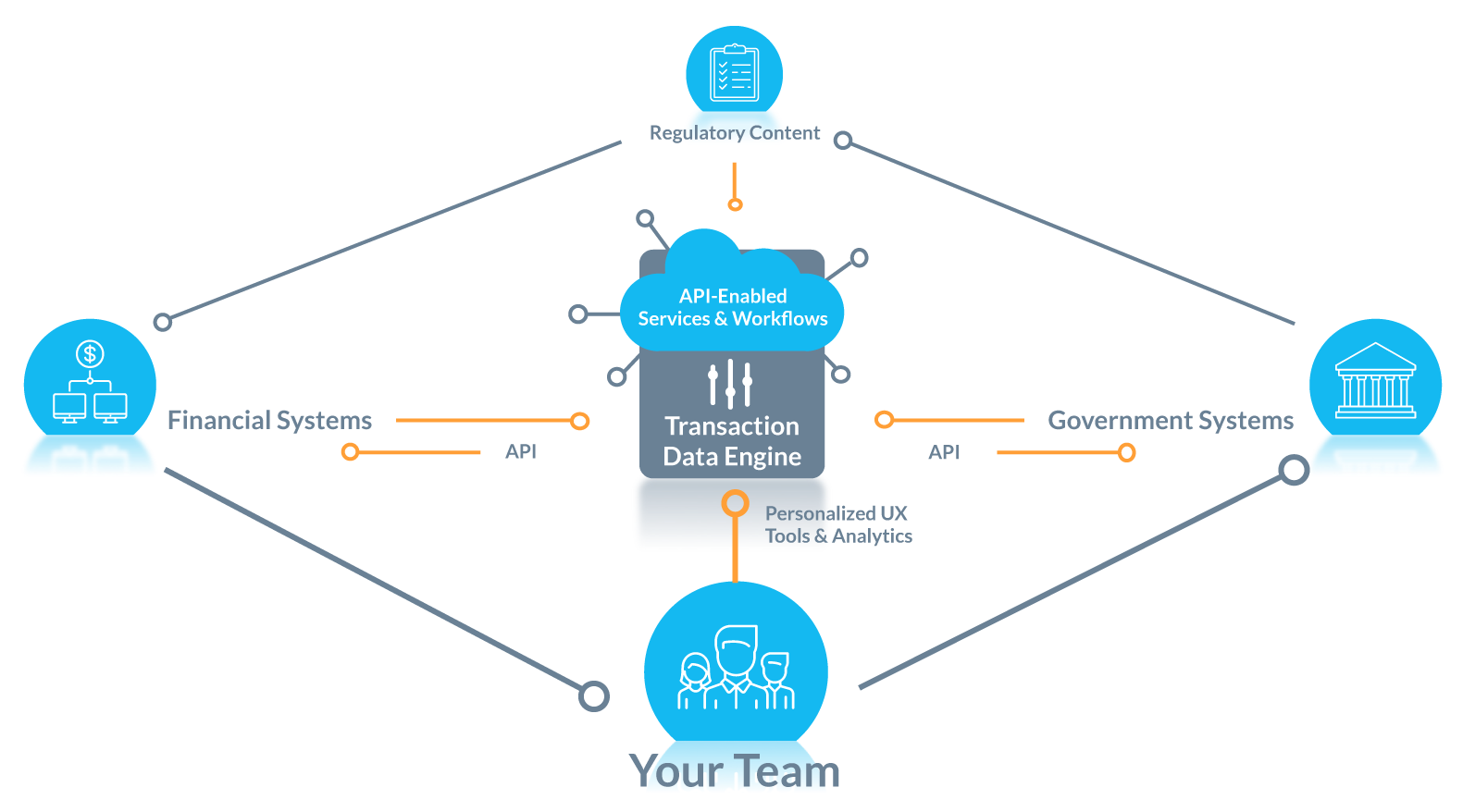 Modern, Flexible and Comprehensive APIs

APIs make applications easily available in your specific set of financial systems and workflows – and allow your systems to communicate to governments in the unique and changing data formats they require.

Regulatory Content Management

Our regulatory analysis team does the hard work for your business, updating all your applications behind the scenes through our content management platform, freeing your team from the work required to monitor, interpret and deliver regulatory content to your systems.

S1 Transaction Data Engine

The engine centralizes all your data in a data warehouse, giving your business a single source of truth for all tax-related data, regardless of source system, and enabling data consumption by multiple applications.

Role-Based, Consumer-Quality User Experience

The S1 user portal provides a single pane of glass into your business in a user-first design system, giving leaders access to the data they need – while still simplifying the application for your team with a role-based experience.

Adaptable Rules-Driven Platform

S1 drives your business workflow while enabling you to make better business decisions by allowing you to adapt to changes in your systems, regulatory environment and the technical requirements for tax reporting and electronic invoice compliance.
S1 Infrastructure
Highly Reliable. Hyper Scalable. Always Secure.
Modern tax demands technology that's always on, always available and always secure. The Sovos S1 infrastructure was built to meet those requirements for the most demanding businesses in the world, including Fortune 100 banks and the world's most successful retailers.
Our cloud infrastructure is built to keep your business moving at the speed of modern commerce while providing the security needed to protect your business.
Highly Reliable

• Multiple physical datacenter approach to deliver your data where it's needed
• Fully redundant, best-of-breed architecture stack
• 24/7 monitoring with full transparency
• Global cloud operations team

Hyper Scalable

• Distributed deployment architecture to support all client infrastructure strategies
• Auto-scale to meet elastic business needs
• Supports more than 2 billion transactions per day

Always Secure

• ISO 27001 Certified
• 360 degree scanning and monitoring
• SSAE 16 SOC 2 Certified facilities
• Dedicated SOC team performing advanced detection and prevention
• Continuous vulnerability scanning
• Regular penetration testing