Sovos earns the G2 ranking based on strong customer reviews
BOSTON, JANUARY 11, 2022 – Global tax software provider Sovos today announced it has been named a leader in the Corporate Tax Software Category by G2.com, Inc. for Winter 2022. 
Sovos' Sales & Use Tax software enables IT and finance leaders to reduce the risk of financial audits and associated penalties while increasing efficiency and lessening the organizational burden of sales tax compliance. Managing the entire sales and use tax process, from calculating the proper tax on every transaction, to processing exemptions and regulatory filings, Sovos ensures customers have the right tools and information available to properly manage sales tax obligations on time, every time.
"There is no greater indicator of company performance than direct feedback from customers who are using our technology every day," said Terry Melnik, general manager, sales and use tax, Sovos. "IT and finance leaders are getting bogged down with increasingly complex sales tax regulations that take their focus away from strategic business initiatives. Consistently, our customers confirm Sovos eases the compliance burden."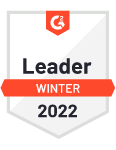 G2 is a software review platform where companies appraise business applications and performance. The Leader designation recognizes platforms that receive strong and consistent customer feedback across several different criteria. These rankings are based solely on customer experiences and are used to better inform decision makers on upcoming technology purchases.  
"Managing tax compliance is a complicated, overwhelming endeavor that all businesses face. Sovos' mission is to reduce the risk, the cost and the organizational complexity," said Lisa Holmquest, vice president, customer and user experience, Sovos. "The G2 Leader award is proof that Sovos is delivering an exceptional experience by constantly innovating tools and practices to maximize the value we deliver to each customer. From our dedicated onboarding team offering expert recommendations and personalized service to our customer success teams ensuring customers reach their goals, Sovos is committed to delivering that best-in-class experience."
For more information about Sovos' Sales & Use Tax software, visit www.sovos.com.
About Sovos
Sovos was built to solve the complexities of the digital transformation of tax, with complete, connected offerings for tax determination, continuous transaction controls, tax reporting and more. Sovos customers include half the Fortune 500, as well as businesses of every size operating in more than 70 countries. The company's SaaS products and proprietary Sovos S1 Platform integrate with a wide variety of business applications and government compliance processes. Sovos has employees throughout the Americas and Europe, and is owned by Hg and TA Associates. For more information visit www.sovos.com and follow us on LinkedIn and Twitter.
About G2
G2 is the largest and most trusted software marketplace globally. More than five million software buyers each month trust G2, making G2.com one of the Top 1000 web destinations in the U.S. Additionally, 2,000 companies rely on G2 to build their reputation, manage their software spend, and grow their business — including Salesforce, Hubspot, Zoom, Lyft, and more. For more information, visit www.g2.com or follow us on Twitter and LinkedIn.