Top Tax Considerations for SAP Customers
As a product or a service that is subject to VAT moves along the supply chain, transactions are documented, allowing the government to verify whether VAT was introduced at each step correctly through an audit.
While VAT is great in theory, it can leave massive holes in practice. Even though documentation might be out there, verifying the reliability of that documentation at every step in the supply chain based on aggregate periodic reports, paper-based records, and auditing companies' diverse accounting systems is an almost impossible job for millions of supply chains around the world.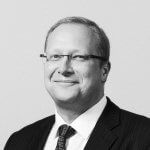 Christiaan Van Der Valk
Vice President, Strategy