Under the latest Streamlined Sales Tax™ Agreement, direct-to-consumer shippers of alcoholic beverages can soon get increased support, including compensation and audit protections, for using approved sales tax technology services like Sovos ShipCompliant. 
This should prove to be extremely welcome news for the DtC shipping market as managing sales tax obligations is consistently one of the biggest headaches for DtC shippers. 
Unlike most other businesses, DtC shippers are legally required to collect and remit sales tax in every state they sell in—even if they have only $1 worth of sales in a state. This means DtC shippers must manage the collection and remittance of sales tax across thousands of jurisdictions and dozens of different forms.
This creates a significant compliance burden for a DtC shipper, even one that utilizes a service like Sovos ShipCompliant to help manage their sales tax obligations, especially if that shipper has been selected by the state for a sales tax audit.
Relief for this burden is on the way in the latest contract between the Streamlined Sales Tax (SST) Governing Board and its Certified Service Providers™, approved by the SST Member States on August 31, 2020. Once it takes effect, DtC shippers will be able to enjoy the benefits of using an SST Certified Service Provider like Sovos ShipCompliant, including state-compensation and sales tax audit protection. 
What is SST?
The Streamlined Sales Tax (SST) Project was formed in the late 1990s to help simplify sales tax collection. As internet and other cross-state border sales became more prevalent, it grew apparent that a sales tax system built off of a model designed in the 1930s would not work for 21st century commerce.
From this idea came the SST Agreement, which is a cooperative framework wherein member states voluntarily agreed to clarify, simplify and modernize their sales tax laws, rules and regulations. The goal is to provide clear rules across many states so that businesses can more easily manage sales tax obligations. By establishing uniform product definitions and best practices for simplified sales tax administration, SST works to iron out the complications that a business with a national presence will face.
Currently, there are 23 Member States, and one Associate Member.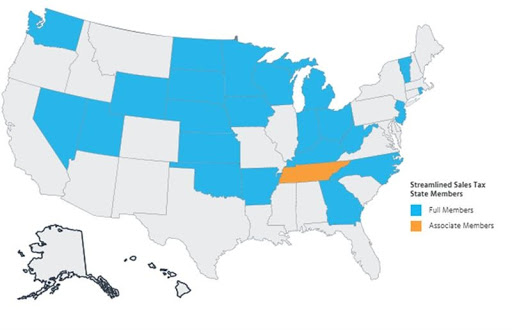 How can businesses benefit from SST?
The primary benefit of SST is that it reduces the complication that comes with managing widely varying laws across the states (a benefit that DtC alcoholic beverage shippers should immediately recognize as beneficial). By simplifying a state's sales tax administration and establishing uniform laws, definitions, and practices, SST can vastly reduce the amount of rules and regulations that a business needs to keep in mind as it has a sales tax obligation in many states at once.
But more than that, qualifying businesses can actually receive two additional highly material benefits, those being reduced cost and audit protection. However, in order to receive this benefit a seller must use a Certified Service Provider (CSP) to manage their sales tax collection and reporting.
What is a CSP?
CSPs are sales tax technology providers who are certified by the SST Governing Board as trusted providers of comprehensive sales tax compliance support. While any tax technology company could become certified, only companies like Sovos, which agree to undergo a regular, rigorous review of their technology and tax content, have been so certified.
When a seller uses a CSP to calculate and remit their sales tax into any SST Member state, the CSP services can actually be paid for by the state. Further, the seller is afforded significant audit protection. 
More information on SST and the benefits that can come from using a CSP can be found here.
What is new for DtC shippers?
Previously, the compensation and audit protection afforded to sellers using CSPs was made available only to "volunteer sellers," which required them to not have any statutory requirement to register for and collect sales tax in a Member state. Since DtC shippers are almost always required to become a sales tax collector as a condition of getting their DtC license, this meant they were ineligible to take advantage of the CSP compensation and audit protection  benefits that came from the SST Agreement.
While DtC shippers who used CSPs, like Sovos ShipCompliant, certainly benefited from using a provider whose technology and tax content were certified as accurate by SST Member states, they had been left behind other businesses.
However, the latest SST Contract has been specifically amended to address this gap. Going forward, DtC shippers will be fully eligible for all benefits under the SST Agreement, in particular getting audit protection in Member States and being able to receive state compensation for using a CSP like Sovos ShipCompliant.
The new contract allowing DtC shippers the full benefits of SST participation becomes effective starting January 1, 2021.
As a CSP, Sovos ShipCompliant is delighted that our valued DtC shipping clients will soon be able to enjoy the full range of benefits afforded by SST, including the state compensation for using our service. 
Stay tuned for more information on this topic and in the meantime, please feel free to
contact us
with any questions.