With the welcome arrival of spring, we are excited to share some updates on our larger strategic initiatives. As always, check out the Product Updates section in your ShipCompliant Resource Center to stay on top of new features and highlights year-round.

Distribution compliance REST API
Beta testing has begun for our new, streamlined REST API service. We are making some final tweaks so that we can provide a modern, consolidated approach to integrations that are easy to use and help your data stay consistent and reliable. 
This API service will support new capabilities within federal and state registration workflows, such as posting historical registrations and getting label registration and product status updates. Beta testing will help us work out any kinks before we roll this out to a wider group. Stay tuned for updates on the next steps in this rollout.
User interface modernization
ShipCompliant is getting a new look! We're working on updating our user interface so that we can make compliance easier for you. We're designing a new, modern look and feel for ShipCompliant, as well as changes to navigation that will help you find what you need quickly and intuitively. This includes a brand new compliance section that can help you easily complete outstanding tasks. In one place, you'll be able to either track your compliance activities by state, or manage your licenses or registrations across your entire footprint.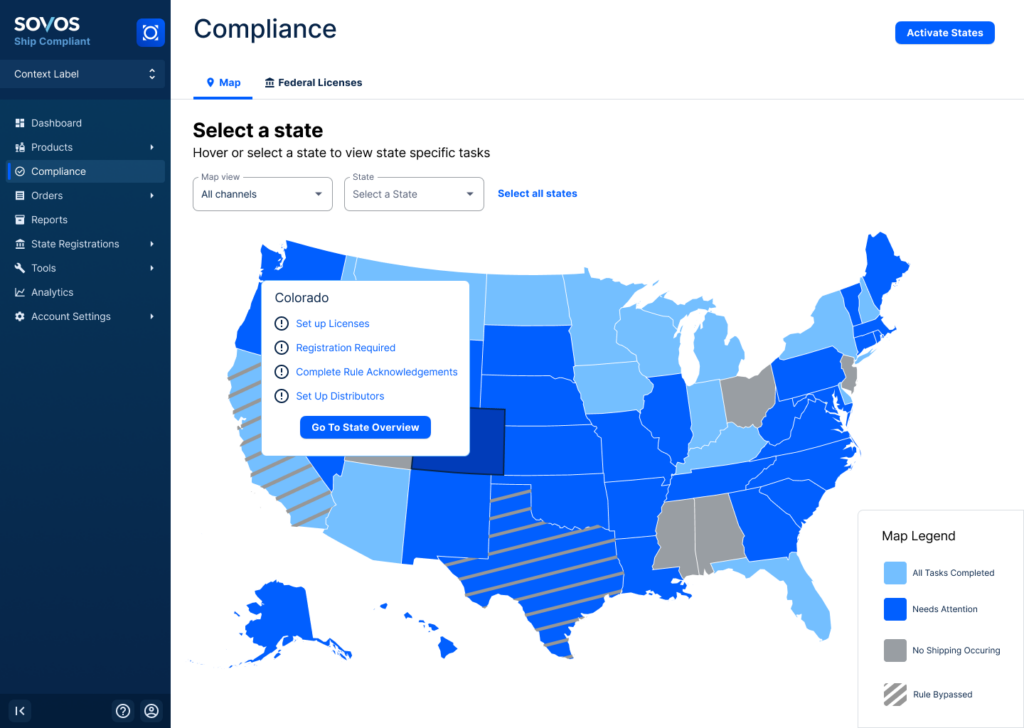 We recently shared some sneak peeks of the new designs at our annual Wine Summit, and we want more of your feedback. We are now recruiting volunteers for usability testing. If you are interested in participating, sign up to join the Sovos Pre-Release Program. 
Cloud migration project
Our teams are preparing for platform migration to the cloud in early May. This work on the backend will revitalize our technology platform to ensure that ShipCompliant continues to provide the most scalable, reliable solution in the market as the industry continues to grow. While the changes we are making may not be visible up front, they are a large investment and a huge part of keeping ShipCompliant reliable, fast and secure. This project makes up the foundation of all of our other exciting changes, and allows us to keep working efficiently for you.
Pace of change with state reporting
We are continuing to see a fast pace of change with state reporting. States are requiring more information than ever before from a variety of different sources across the industry ecosystem, including suppliers, fulfillment houses and carriers. 
The best way to triangulate shipments is to gather data from each step in the shipment process (from producer, to third-party fulfillment houses, to carriers), which is why we are expanding our integrations with fulfillment centers and carriers. As this trend for new requirements continues, we will be set up for success with accurate licensing information for all warehouse locations and accurate ship dates and delivery dates from carriers.
We look forward to your feedback as these projects are rolled out.