The direct-to-consumer (DtC) wine shipping channel has seen a continuation of movement tracked in the January release of our Direct-to-Consumer Wine Shipping Report, with dips once again occurring in overall volume and value.
Note: The proprietary data featured in this mid-year report is compiled from an algorithm measuring total DtC shipments based on millions of anonymized direct shipping transactions filtered through the ShipCompliant system and paired with WineBusiness Analytics' comprehensive data on U.S. wineries, resulting in the most accurate depiction of the DtC wine shipping channel.  
Following the height of the COVID-19 pandemic in 2020, the market is still working its way back to relative normalcy – or at least towards a new normal. Similar to this time last year, the overall volume of wine shipped across the country in the first half of 2023 dipped (-7%) for a total of 3.4M cases. The overall value of shipments also dropped 2% to $1.9B.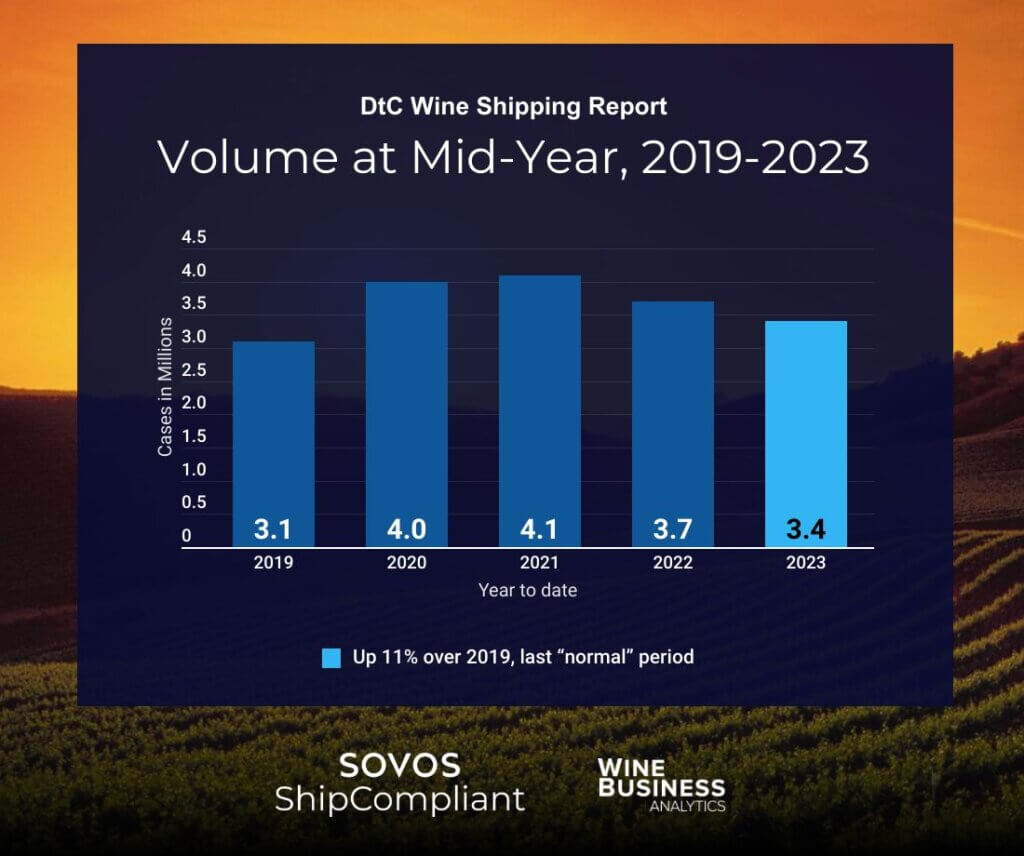 "At the midway point of 2023, the DtC shipment channel may not be hitting the highs of previous years but it's far ahead of where it was pre-pandemic and remains a dynamic and vital sector of the overall U.S. wine market," said Andrew Adams, an editor with WineBusiness Analytics. "And while wineries continue to contend with inflation, the DtC market remains the most effective way to engage with their best customers and create new ones in the intensely competitive total beverage alcohol market."
Here are more details about DtC shipping channel changes between January and the end of June, 2023.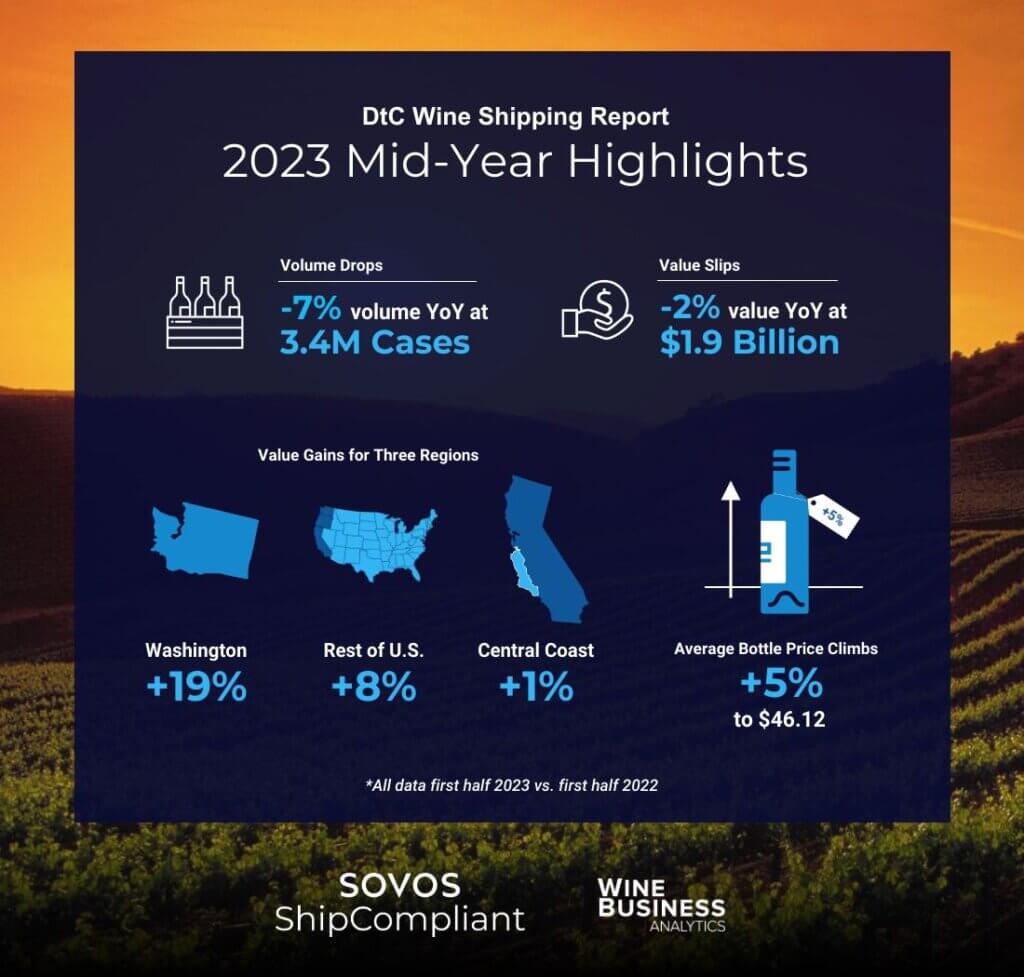 Average bottle price
Average bottle price rose to $46.12, a moderate 5% increase compared to the first half of 2022 that reflects the average across all regions. Napa average bottle price is now $80.79 but had the lowest increase at 1%. Washington had the largest rise in average bottle price (11%), followed by Sonoma (10%) and the Central Coast (9%).
Destination state
California maintains its position as the top destination state, with a 29% share. However, it also had a 14% drop for volume growth YoY for the first half.
Of the top 10 destination states in terms of volume, the top three for volume changes were Virginia (13%), Texas (-2%) and Washington (-3%). In terms of the top 10 destination states by value, the top three for value growth were Arizona (12%), Washington (7%) and Colorado (5%).
Of note: While also a top 10 destination state, Oregon experienced the largest dip in deliveries in both volume (-17%) and value (-18%). Alabama saw a 25% spike in value, which was the highest of any state, but is growing on a very small base. This increase, along with a 26% growth in volume, was also likely due to the continued effect of laws passed in 2021 that allowed for DtC shipments of wine in the state.
Winery location
Washington wineries lead all other regions with a 7% increase in volume growth YoY in the first half of 2023. Washington also enjoyed a 19% increase in value growth. The Rest of the U.S. category* was the second-place finisher for both volume (flat at -0%) and value (+8%). Comparatively, the Rest of California** category saw the largest retreats in both volume (-13%) and value (-9%).
*Wineries in every other state aside from California, Washington and Oregon.
**Wineries in Mendocino, Lake, Livermore and Temecula counties and the Sierra Nevada region, plus all other areas outside the Central Coast, Napa County and Sonoma County.
Winery size
The largest wineries – those producing 500,000+ cases per year – increased their average bottle price the most (12%) to $19.45. Those wineries also had an 11% drop for volume growth. The smallest wineries (under 1,000 cases produced per year) saw the second-highest increase of average bottle price at 10%, topping off at $88.86. Those wineries also had the only reported increase in volume growth at 1%. Wineries producing 1,000 to 4,999 cases per year saw the biggest drop in average bottle price, dipping 7% to $60.53. Additionally, those wineries had the largest decline for value shipped (-13%).
Varietal
Of the top four wine types (Cabernet Sauvignon, Pinot Noir, Chardonnay, Red Blend), which account for 53% of the total share of the volume of all wine shipped DtC, each saw average bottle price growth (2% to 12%) and little to negative value growth (-7% to 2%).
The Other White category had the biggest gains in both average bottle price (17%) and value (10%). The next top varietal categories in terms of value growth were Zinfandel (7%), Chardonnay (2%), Riesling (1%), Merlot (1%) and Pinot Noir (1%).
No varietals saw an increase in volume shipped. Merlot and Riesling had the smallest dip for volume shipped, each with a 2% drop. Petite Sirah and Zinfandel followed at a 3% decrease year over year. The Other category had the largest drop in this category at –21%, followed by Moscato (-19%) and Sangiovese (-19%).
What's next for DtC wine shipping?
Both consumers and wineries have continued to respond to pandemic- and inflation-driven market conditions over the last few years, typically through an increase of on-premise purchases and higher bottle prices. Paired with an unpredictable economy and other trends in consumer beverage alcohol preferences, it's difficult to forecast how the DtC wine shipping channel will evolve. Remember, however the market may adjust, we will be here to provide observations and insights. Our full report on 2023 will be released next January. Until then, discover our 2022 findings by downloading your complimentary copy of the 2023 Direct-to-Consumer Wine Shipping Report.
This data was compiled in partnership with WineBusiness Analytics, a leading source for wine industry data.