Direct-to-consumer (DtC) is a phrase that can encompass many things: tasting room sales, retailers sales, sampling and festival sales. But, DtC shipping is the shipping of alcohol directly to the purchaser through delivery by a third-party carrier (e.g., UPS or FedEx). In DtC shipping the customer gets the product indirectly, but the sale is made directly with the producer.
There are a handful of reasons that breweries and distilleries might consider getting into the DtC shipping space:
To connect directly with consumers. Consumers prefer a personal connection and are increasingly relying on internet sales.
To develop a national presence. Through DtC shipping, you can enter a new state without going through the three-tier process. It can also help build your brand so you can expand your three-tier profile in the future.
To access a valuable new market. Wine shipping is a $3+ billion annual market. With a growing consumer base and online shopping becoming the preferred purchasing method for consumers, there is a lot of opportunity for beer and spirits to grow in the ecommerce and DtC shipping space.
DtC alcohol shipping map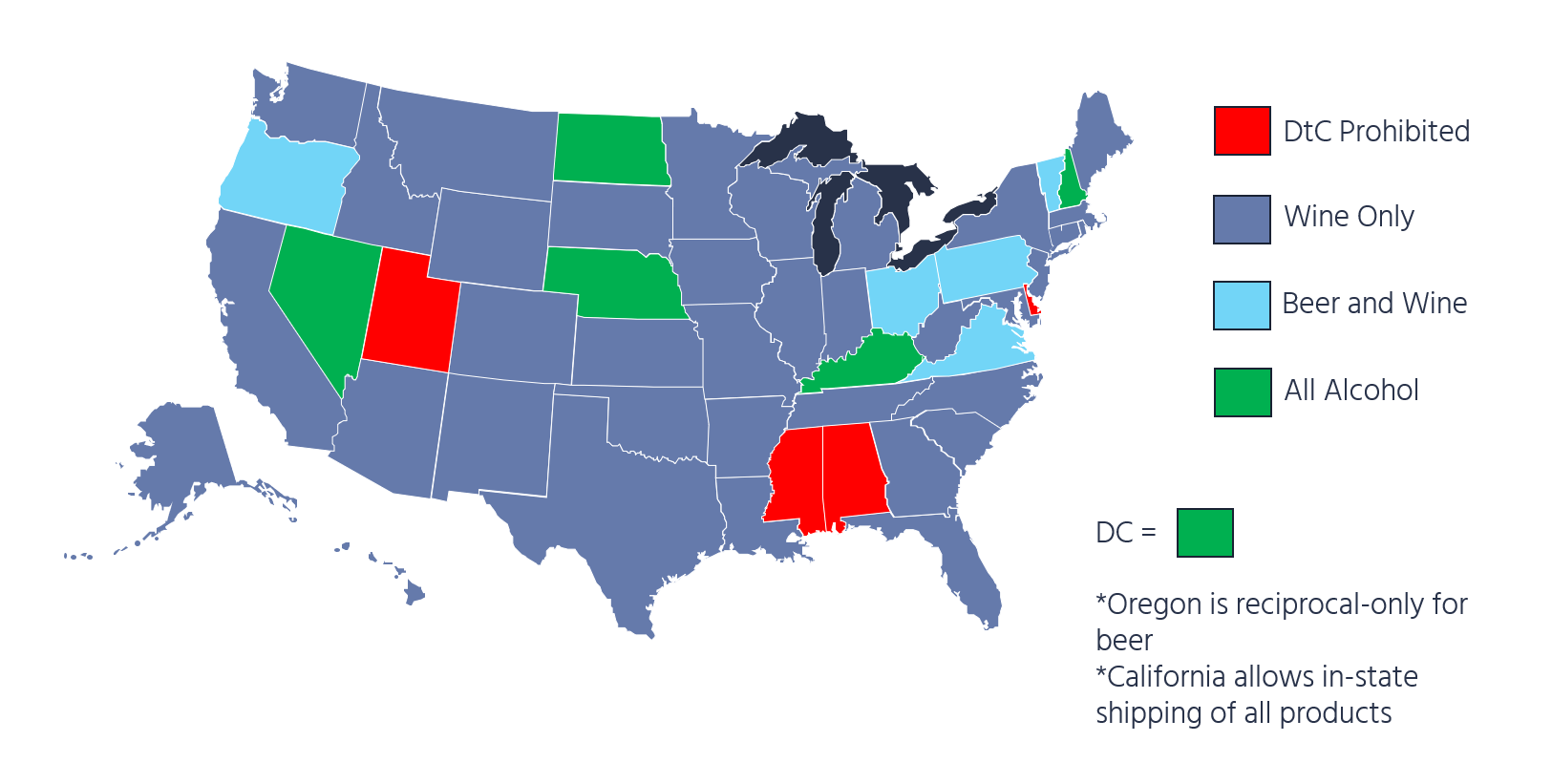 *As of August 2020
How DtC shipping is currently done
After the Supreme Court case Granholm v. Heald in 2005, discriminatory treatment of out-of-state producers in DtC shipping was prohibited. This led to a "compromise" situation where states can allow DtC shipping of wine with license and tax payments required. Currently, 46 states allow DtC wine shipping.
Why not beer and spirits?
When it comes to beer and spirits shipping DtC, there are product-type concerns—some consider spirits as "dangerous" and when it comes to beer, the majority of the market is large corporations who wouldn't benefit as much from DtC shipping. And, compared to the wine industry there has been significantly less engagement in lobbying efforts.
And cider?
Cider products are sometimes grouped into beer or wine regulations, but can vary depending on the ABV or fermented material—creating differences in taxation requirements. DtC shipping for cider is currently a grey area since no state's DtC laws mention cider explicitly. So for a cider to be shipped DtC, it must be categorized as a "wine" and shipped under compliance with wine shipping laws. 
Shipping DtC compliantly—the basics
Licensing: Getting licensed is the first step to entering a new state. Almost every state requires a special shipping license, but the license names can vary. If you're filing manually, prepare for a time-consuming and sometimes costly application process depending on the state.
Products: Product lists need to be accurate and compliant before shipping anything. Product and label registrations are required for DtC shipments—this means submitting Certificate of Label Approvals (COLAs) for any products you wish to ship DtC. Also be aware of state-specific product restrictions.
Customers: It's crucial to have safeguards in place to ensure you don't sell to anyone underage; also note that some states require POS age verifications. There are customer aggregate volume limits and total volume shipped limits that can vary by state as well.
Shipping: Ensure your packages and processes are in order, this includes compliant shipping labels and proper use of common carrier delivery services.
Taxes: States require DtC shippers to pay sales and excise taxes, but the rates can vary. Make sure you're paying on time and using the proper rates and forms to do so.
Reports: All DtC shippers need to report their sales to the states, this requires detailed information on each shipment made. Failure to report on-time and accurately can lead to the loss of your license.
How to expand the beer and spirits DtC map
The DtC wine shipping market has grown because wineries and consumers were very active in advocating for it. In order to expand beer and spirits DtC shipping, the laws need to be changed and this can take significant time. Industry groups like state guilds and national organizations can help create collective action and build lobbying platforms. Involving consumers can also help speed up the process—explain the limits of DtC shipping to any consumers who ask about it and share what they can do to help. 
Learn how ShipCompliant can help with your DtC shipping compliance.