The annual Direct-to-Consumer Wine Shipping Report is full of data that can help you make strategic operational and marketing decisions for your business. Out of the dense 36-page report, Alex Koral, Senior Regulatory Counsel, Sovos ShipCompliant, and Andrew Adams, Editor, Wine Analytics Report, a part of Wines Vines Analytics unpack 11 key statistics and offer some expert insights into the report's top trends in the DtC Shipping Data webinar. 
The DtC channel continued to grow. In 2019 there was a 7.4 percent increase in shipment value equaling $3.2 billion. We've seen higher growth in previous years, but considering no new states opened to DtC shipping it signals very strong growth.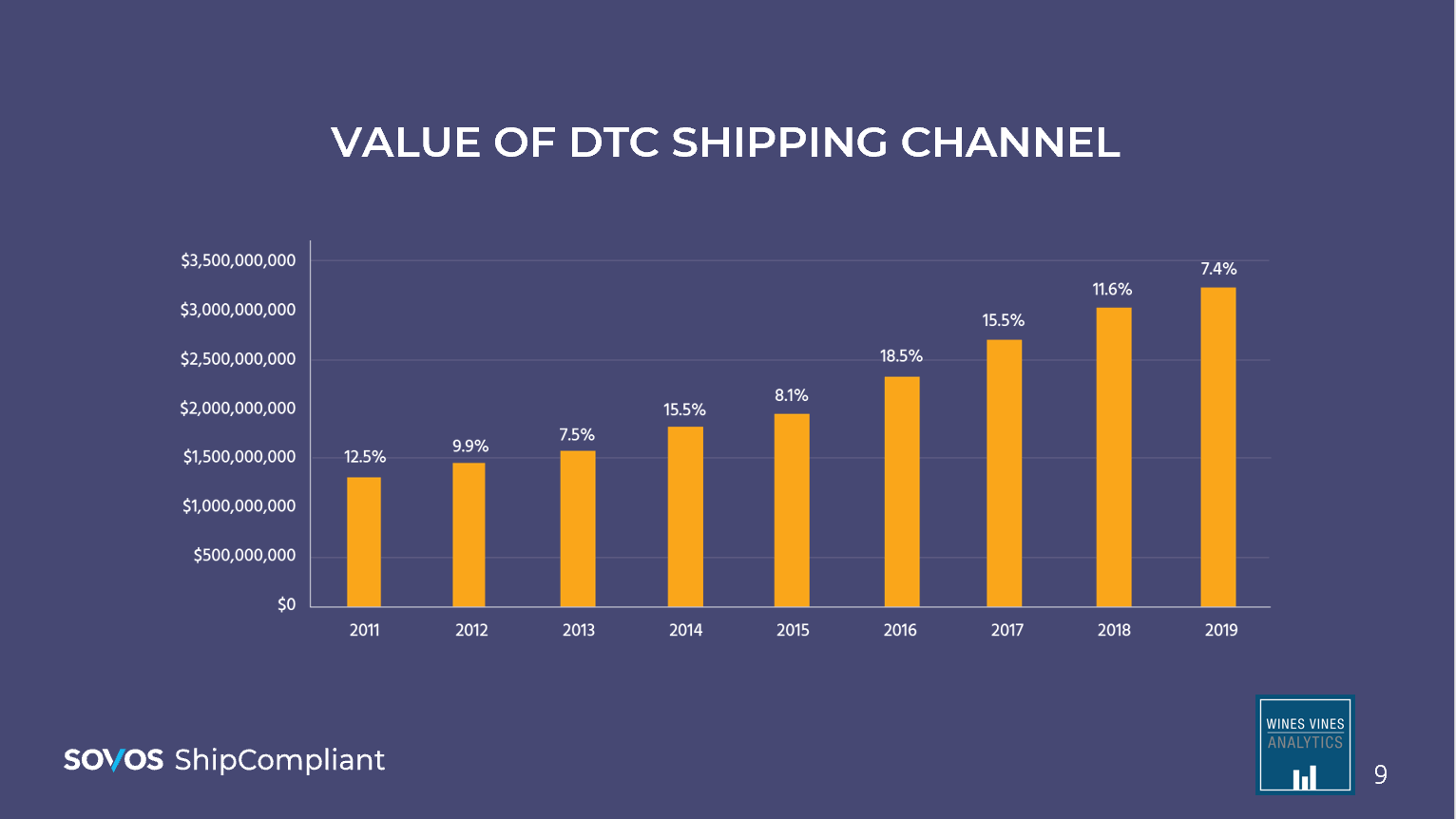 Average bottle price saw the largest increase in the past eight years from $39.70 to $40.70. In comparison, the average on-premise bottle purchase is about $11.This gives insight into what consumers are looking for in DtC versus on-premise wine purchases. DtC consumers are seeking out more rare, unique and higher priced bottles. This large price increase demonstrates the premiumization trend is still strong within the DtC channel. It also signals consumer confidence in the DtC market, and their trust that DtC shippers and carriers can safely deliver products that they have spent a premium price on.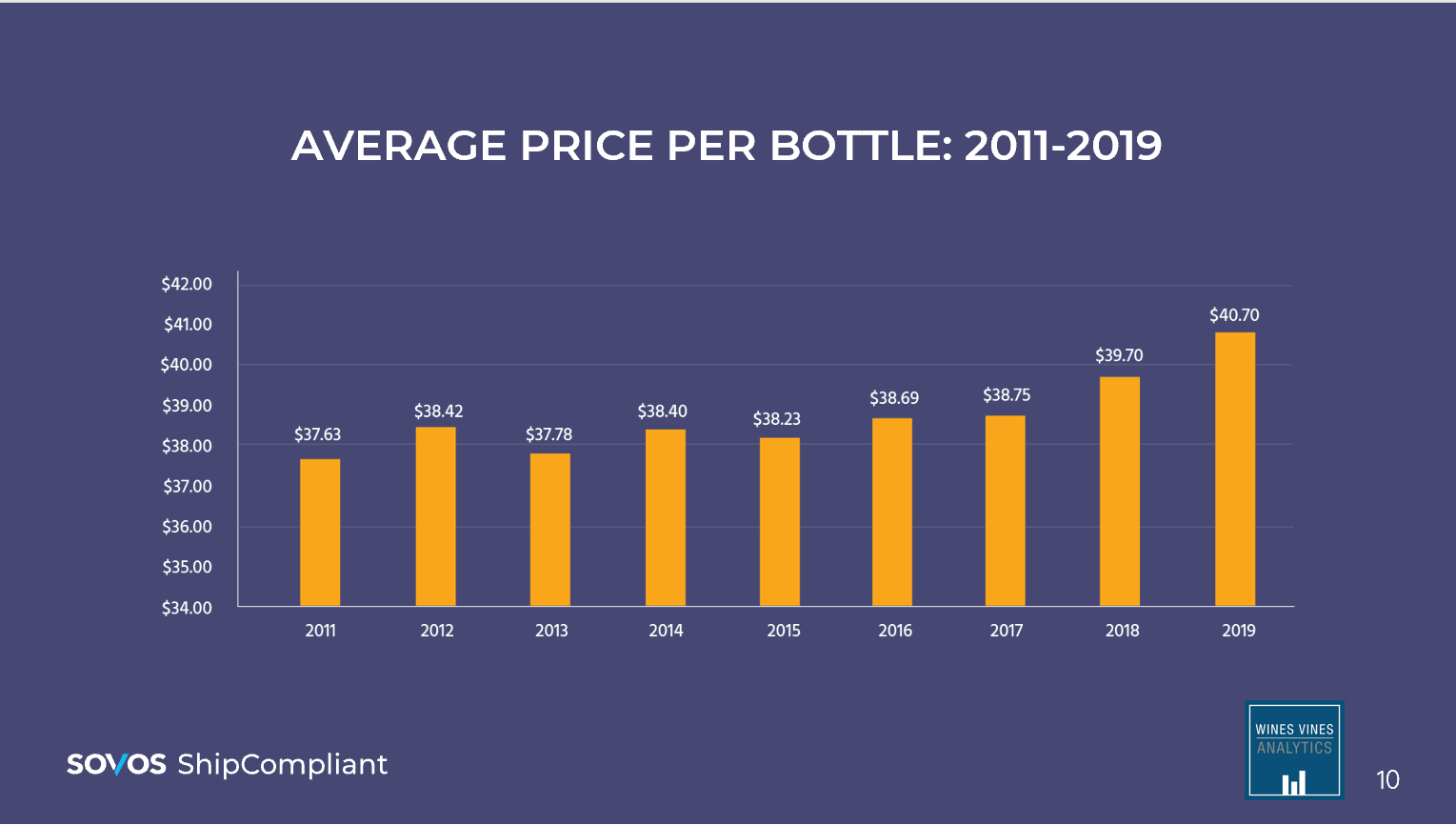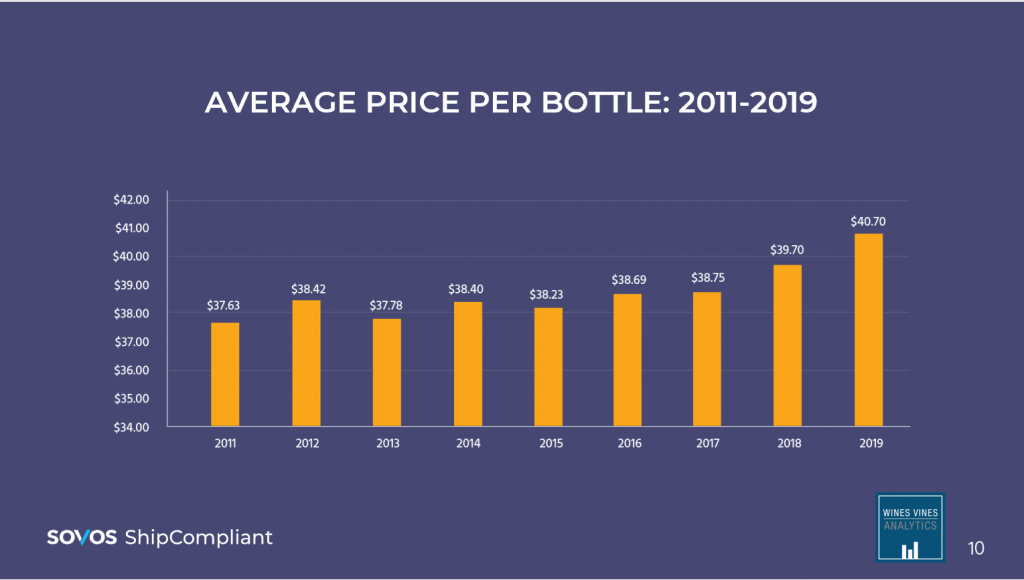 Napa and Sonoma continue to be the leaders for total volume and value growth by region. Sonoma has grown significantly in volume shipped but Napa retains the lead when it comes to value shipped. Among other regions, Oregon continues to have strong growth in both volume shipped and value shipped. This year we've separated out the California Central Coast from the Rest of California, to better signal growth from those important wine growing regions.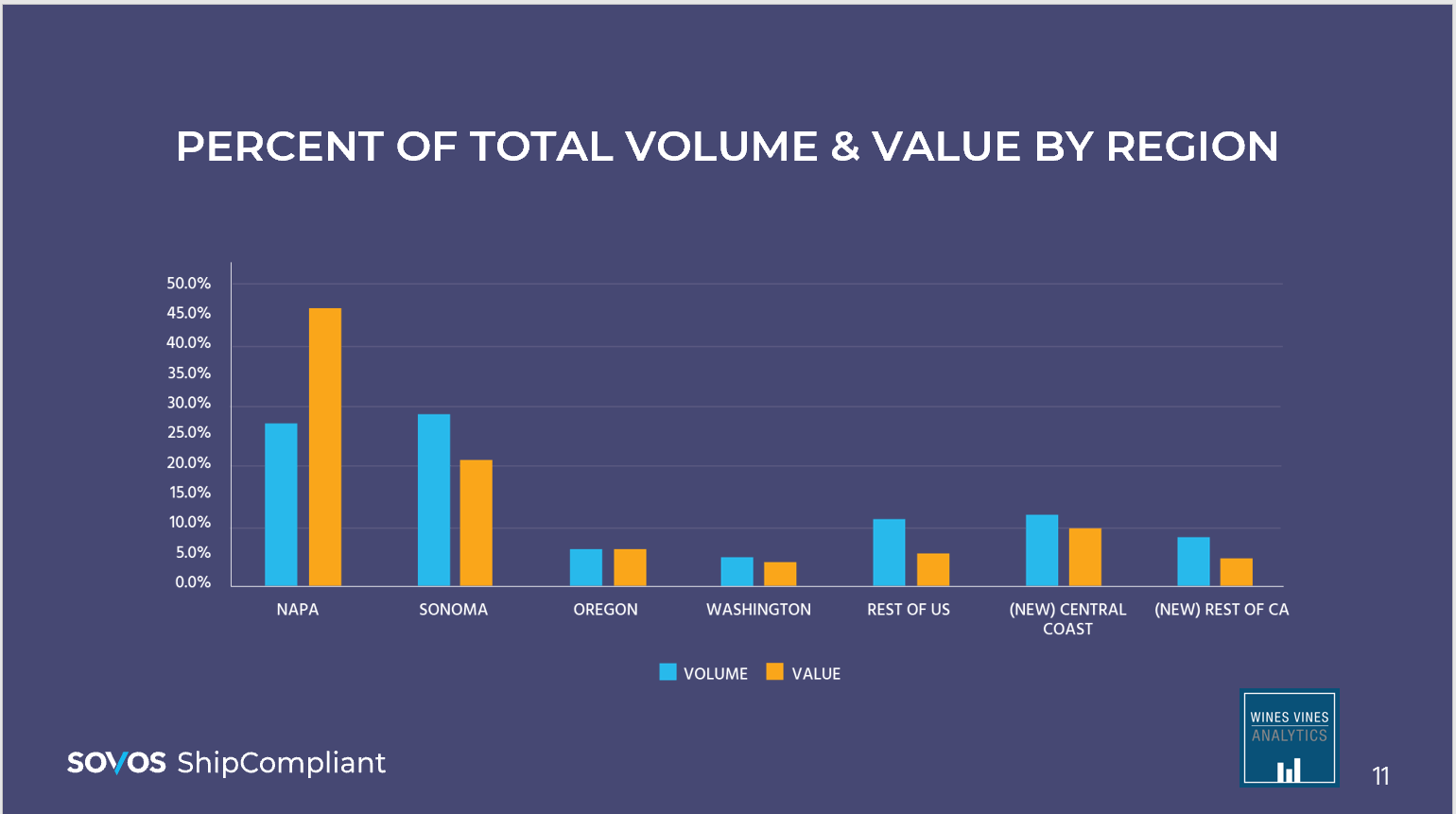 For the second year, Sonoma shipped more wine cases than Napa. This trend demonstrates the influence and success of Sonoma County. Factors contributing to this include the influence of marketing to spur tasting room sales along with saturation in the Napa market.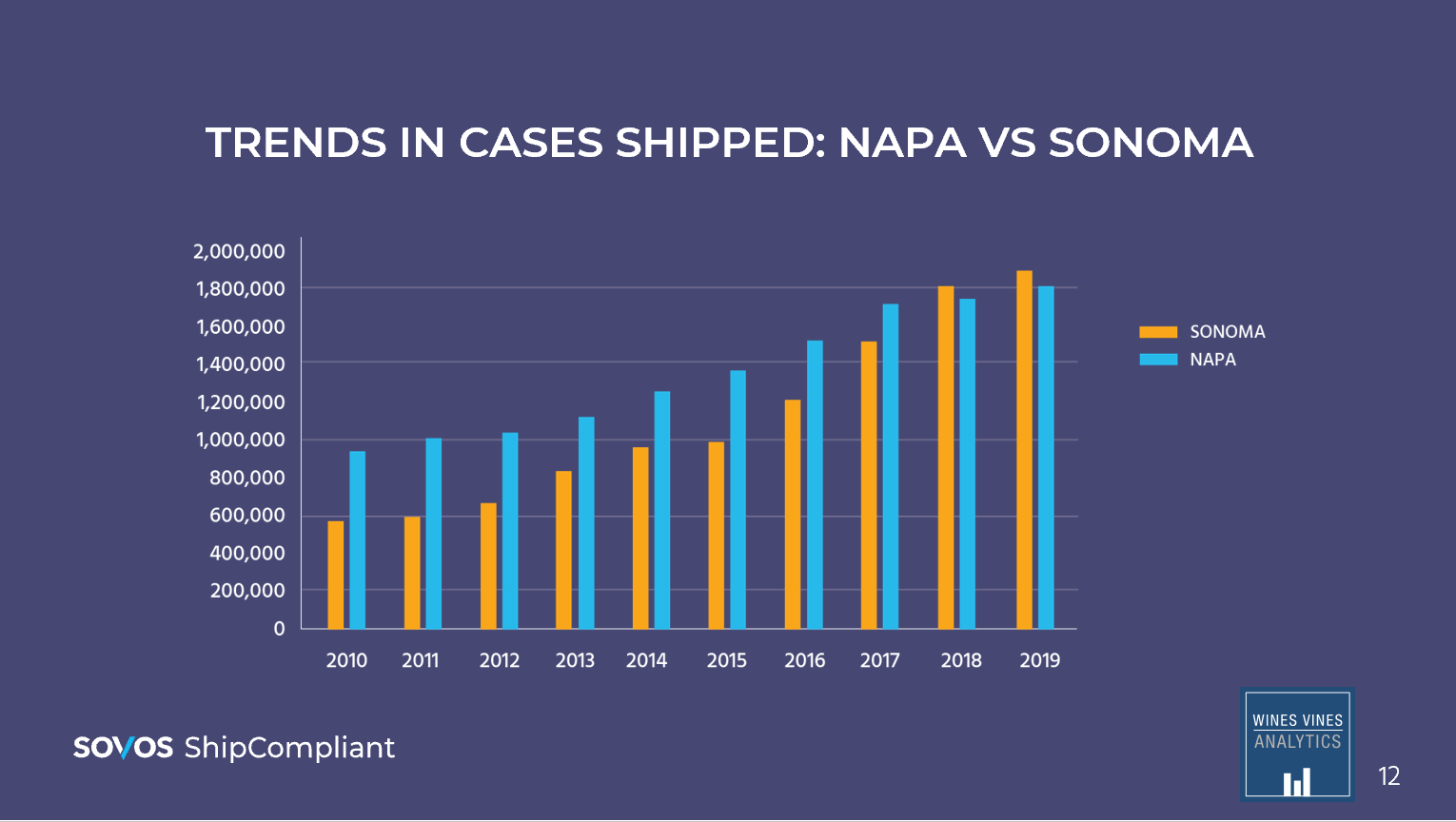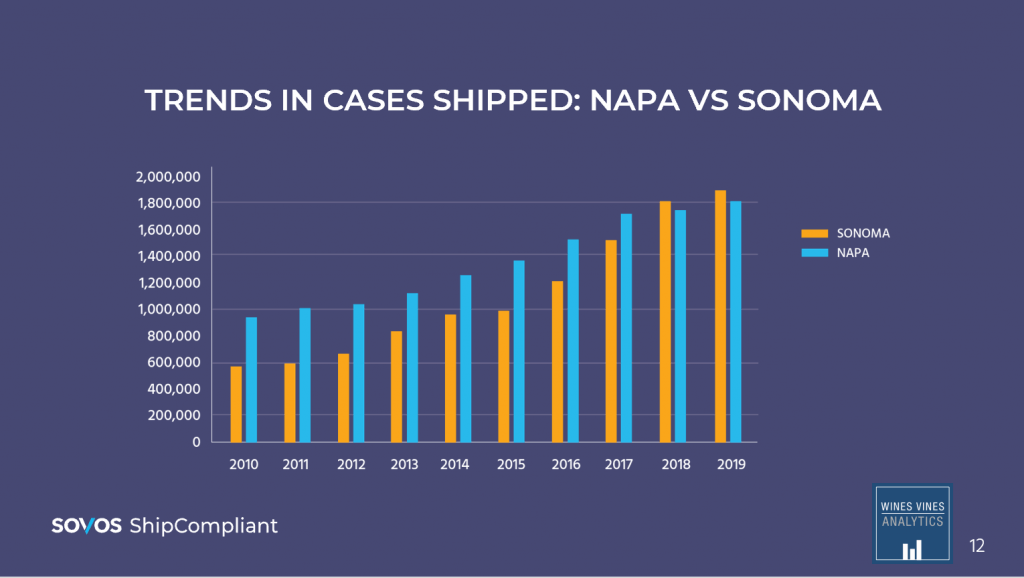 Oregon's DtC market continues to grow. Pinot Noir is the most popular varietal in Oregon with a value of $143 million, a volume of 233 thousand cases shipped, and an average bottle price of $51. Much of Oregon's success can be attributed to shipments made within Oregon, as that region has spurred tourism efforts to bring more locals to wineries. Oregon residents per capita receive more DtC shipments than in any other state, demonstrating how engaging your own residents and community can be extremely effective.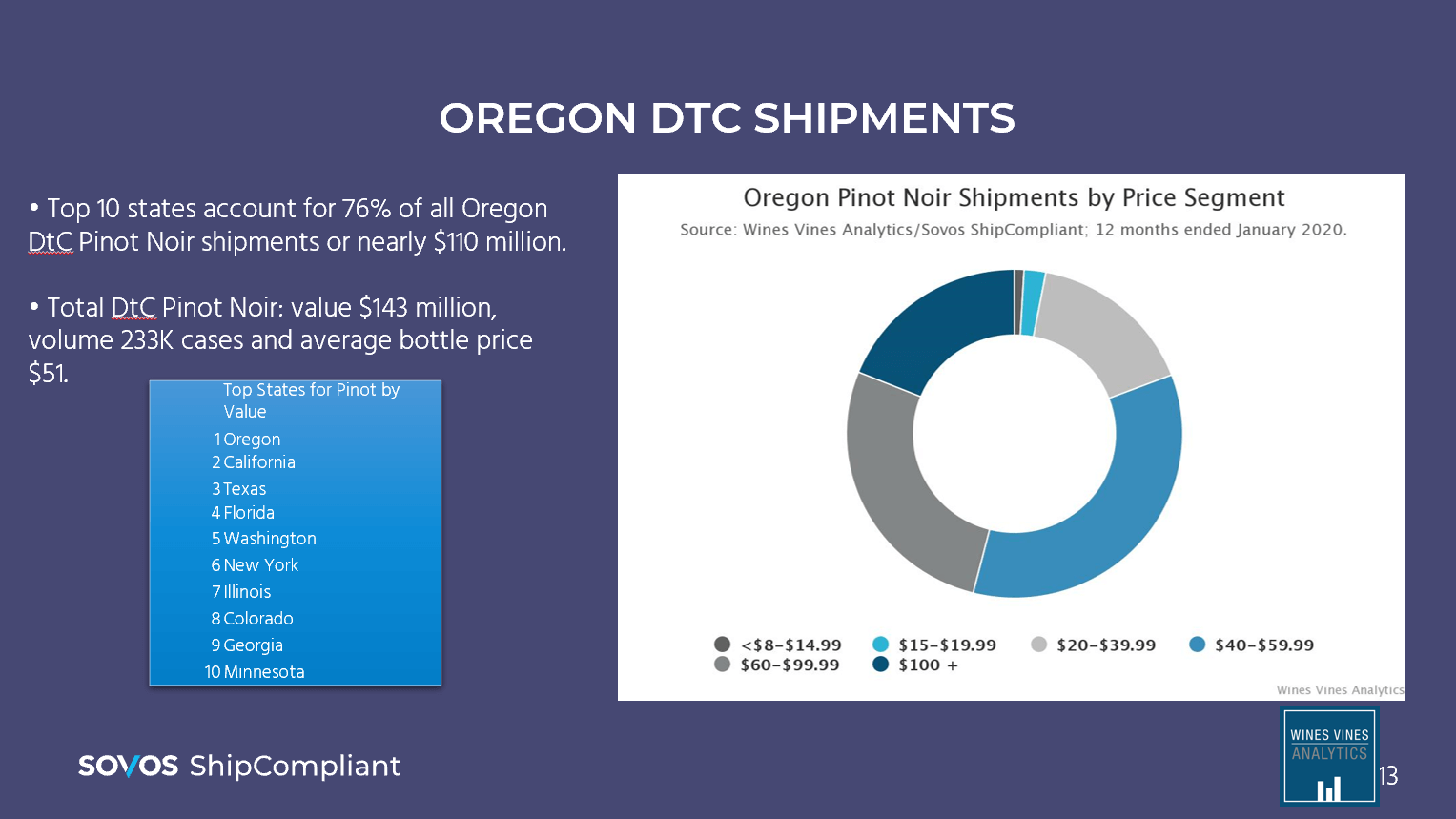 The Central Coast region produced more than 11 million cases in 2019 and the number of wineries continues to grow. This region includes the counties of Santa Cruz, Monterrey, Santa Barbara, San Benito and San Luis Obispo. DtC shipments in this region had a value of $324 million and a volume of nearly 800 thousand cases shipped.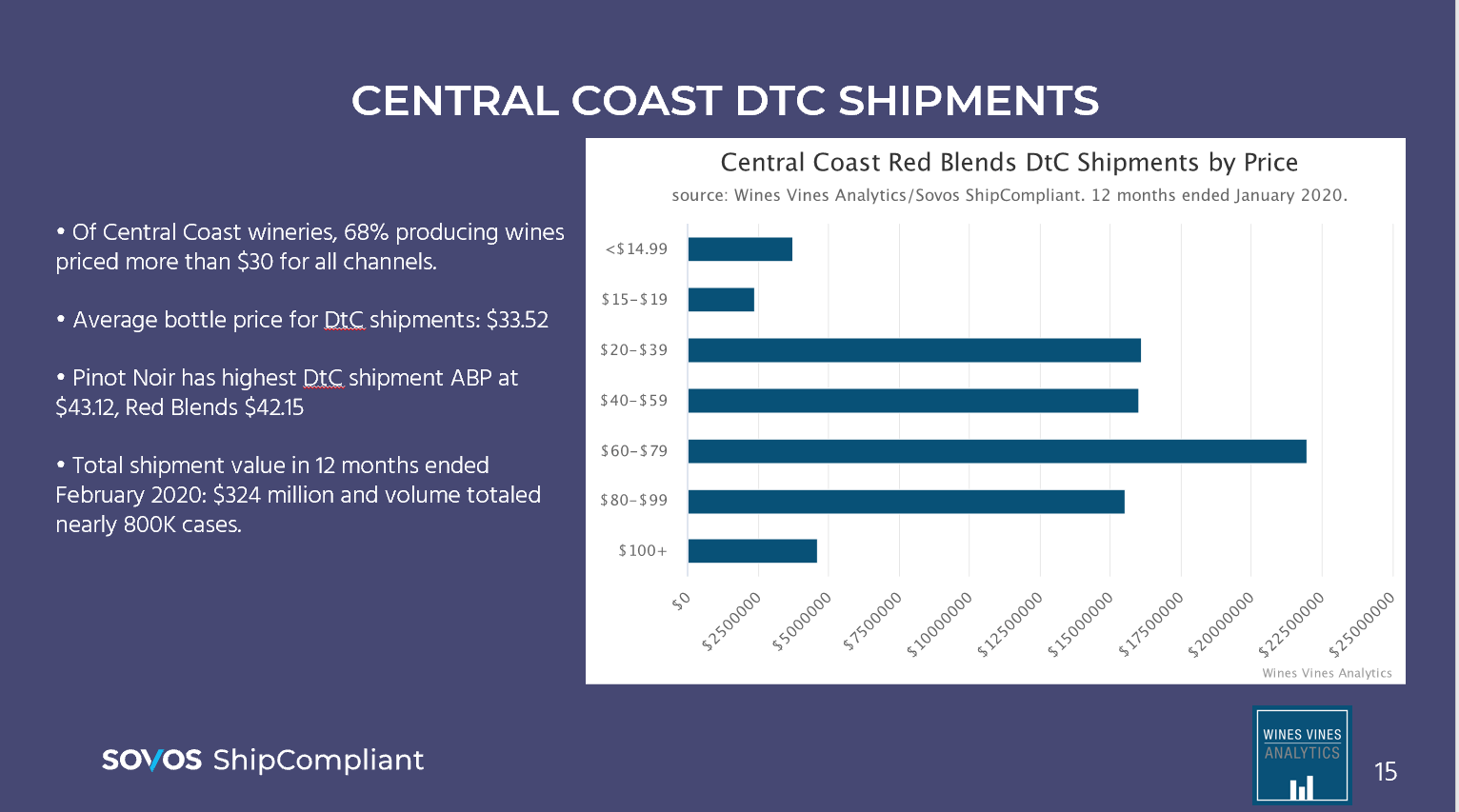 Large wineries saw impressive growth in value and volume. Large wineries are still a small segment of the overall market, but saw a 28.8 percent increase in value shipped and 12.9 percent increase in volume shipped. This shows that there is increasing interest by big players to get into the DtC market. The segment "very small wineries" saw strong growth in value shipped with a 10 percent increase despite a small reduction in volume shipped, reflecting that premiumization is still a relevant trend in DtC shipping.
The varietals Syrah/Shiraz and Cabernet Franc saw the largest increases in value and volume shipped. These two varietals saw great growth in the DtC channel, despite still being less popular within the three-tier system. This growth could signal that consumers will increase demand for these varietals in the three-tier system in the future, and also how the DtC channel can be utilized to sell novel or unfamiliar varietals.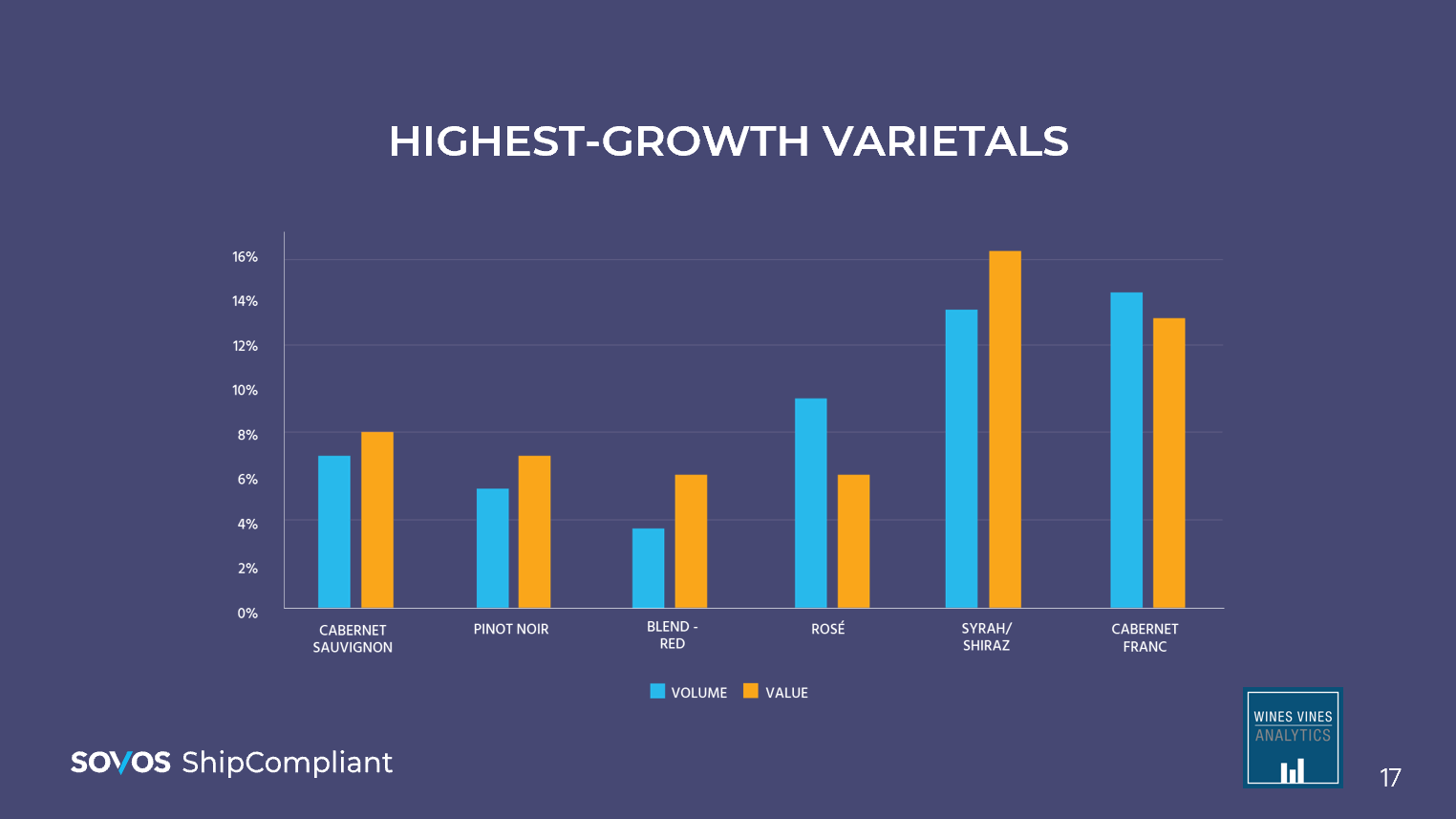 The top varietals shipped by volume continue to be Cabernet Sauvignon, Pinot Noir, Red Blend, Chardonnay and Zinfandel.
Top ship-to destination states remain similar to the past several years with no new states opening up to DtC shipping.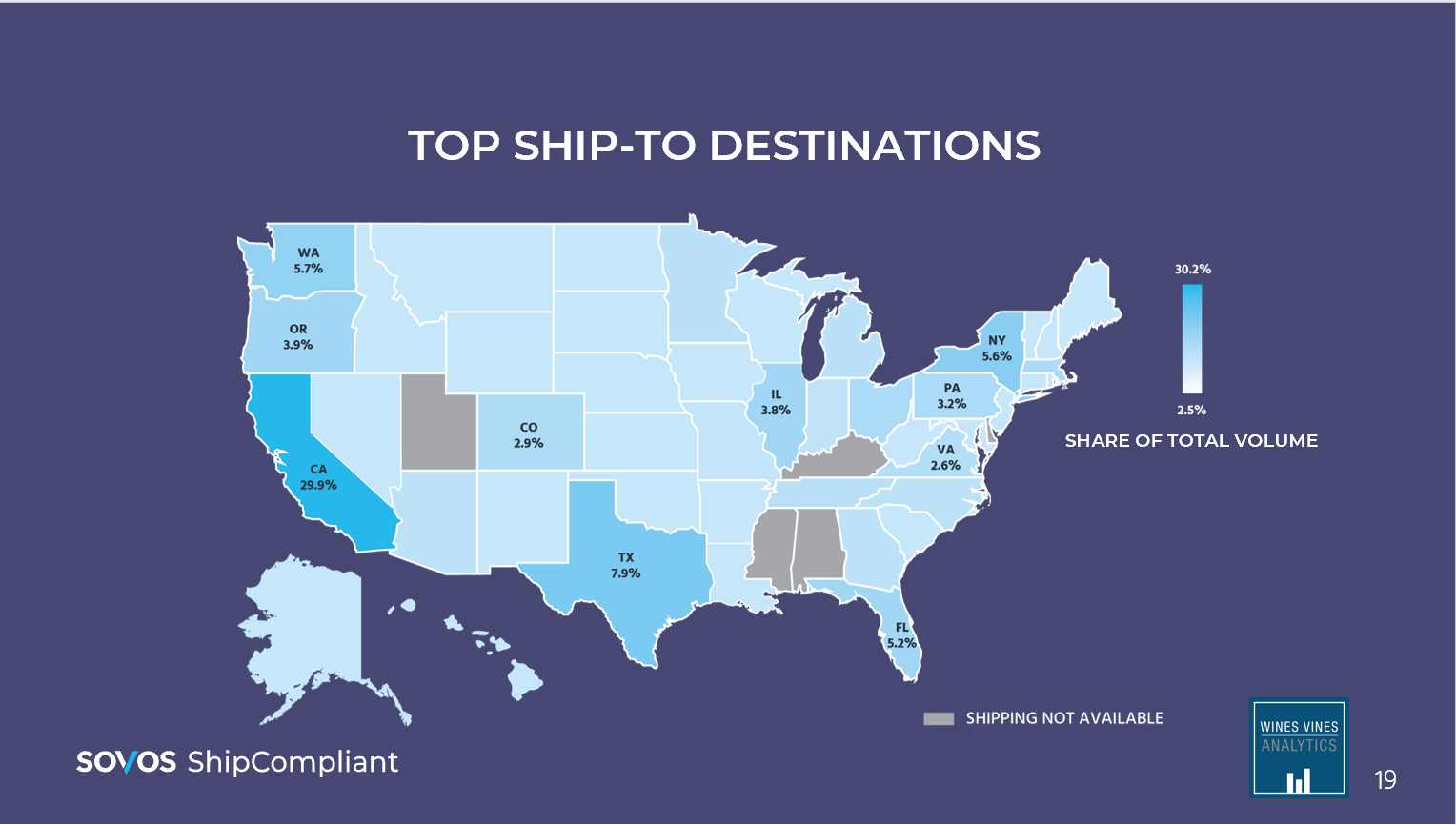 Older generations continue to dominate the DtC shipping channel. This graph starkly shows how Millennials and Gen-X are less active in the wine market. However, this means there are a lot of opportunities to expand with these different age segments. As younger generations gain purchasing power, it is likely they will gain interest in the wine market. However, by engaging with these younger generations today can spur earlier entry. When appealing to younger generations consider messaging, availability/ accessibility on any device, and wine type. It is cliche, but younger generations do seem to respond more to personal stories, engaging experiences, and novel products, which are all areas that DtC wine shippers can excel at.
Watch the full webinar here, and send any questions to askshipcompliant@sovos.com, where we'll round up the questions we receive and answer them in periodic blog posts.