Prepare Your SAP Solutions for the Digital Future of Tax
How will tax impact processes in your S/4HANA upgrade? Download our new ebook to learn how to prepare S/4HANA for continuous tax compliance.
Stay ahead of disruptive changes in tax and safeguard the value of your SAP implementation
Technology has transformed your business and your products, and it's about to change your ERP. But, it's also transforming tax, and it could have a significant impact on your plans for S/4HANA.
In an effort to close the tax gaps and minimize corporate tax evasion, governments are using big data and modern technology to enforce tax collection of transactional taxes, such as VAT and Sales & Use Tax. Companies that don't keep up face potential financial penalties, loss of reputation--and costly disruption to your most important SAP initiatives.
Sovos keeps you ahead by offering the first complete solution for modern tax. And with more than two decades of experience with SAP, Sovos has built its solutions to make sure tax doesn't disrupt your ERP initiatives.
Learn more about Sovos for SAP
The Sovos Intelligent Compliance Cloud is the first complete solution for modern tax certified for SAP.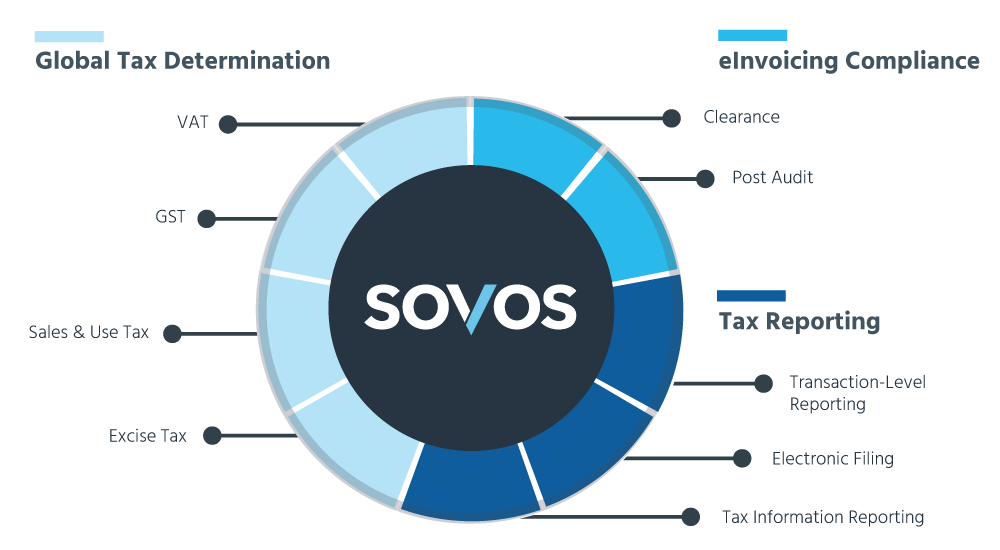 Sovos Global Tax Determination

Real-time tax rates for sales and use tax, excise tax, VAT and GST

• Improve accuracy with support for millions of product and jurisdictional combinations

• Buy and sell anywhere with global coverage of sales tax, excise tax, VAT and GST

• Defend audits with a single line of sight into all your tax data

Sovos eInvoicing Compliance

Meet the increasing demands of tax-compliant eInvoicing in more than 60 countries

• Avoid disruptions with real-time management of clearance eInvoicing responses

• Audit-proof your business with support for e-signature and e-archiving requirements

• Prepare SAP for real-time, transaction level compliance on every continent

Sovos Tax Reporting

Fully automate reporting and payment for traditional and modern, transaction-level tax reporting

• Avoid late fees and penalties by eliminating human error

• Reduce the burden on your staff with optimized work flows

• Track under or over payments to avoid penalties and correct over charges from vendors
Sovos Intelligent Compliance Cloud for SAP
Ready for the Future of Tax
With tax automation functionality from Sovos and the S/4HANA ERP suite, Sovos and SAP have created a unique solution enabling SAP users to tackle the challenge of modern tax. Components of the Intelligent Compliance Cloud are available both integrated with and embedded in SAP solutions.
Sovos offers SAP customers the security and innovation that comes with a long-standing partnership. Certification for S/4HANA is coming in July 2018, and Sovos has partnered with SAP for more than 20 years. Its solutions are certified to work with the R/3 and ECC platforms.
Closely Aligned with SAP

As part of SAP's PartnerEdge for App Development program, Sovos has also partnered with SAP to shape the future of tax software in the S/4HANA Cloud solution. Sovos and SAP have created an early adopter program for companies using Sovos Global Tax Determination and Sovos eInvoicing Compliance components of the Intelligent Compliance Cloud.

More Adaptable

Sovos combines world-class regulatory analysis with a unique service-driven architecture to do the hard work for you, monitoring thousands of taxing jurisdictions and updating your SAP solutions with the accurate tax content in real time.

Connected

Sovos connects all your tax applications with your patchwork of business systems, from ERP to e-commerce, giving you a single pane of glass into your business and connecting with thousands of governments around the world.

Global

Sovos' complete solution means you never need to solve a problem twice. As tax enforcement continues to shift from manual to digital, Sovos keeps you ahead with market-tested solutions for every type of tax reporting and tax-compliance eInvoicing in the world.