We've previously discussed the details of direct-to-consumer (DtC) beer shipping, and what shippers must keep in mind to stay compliant. It's also important to stay current on the latest DtC beer shipping regulations. That way shippers can make any necessary changes to remain compliant should more (or fewer) states allow beer to be shipped directly to consumers, or should certain protocols (e.g., volume limits) change within a state.
Let's take a deeper dive into some of the more recent DtC beer shipping regulation changes.
Consumer demand v. regulatory reality
Even though 92% of regular craft beer drinkers who would like to purchase beer DtC would do so monthly if permitted in their state, just 12 states and the District of Columbia allow DtC beer shipping. That means that only 14.8% of the legal drinking age U.S. population is able to get beer sent directly to their residence. Comparatively, 96.7% of the age 21+ population can have wine shipped to them.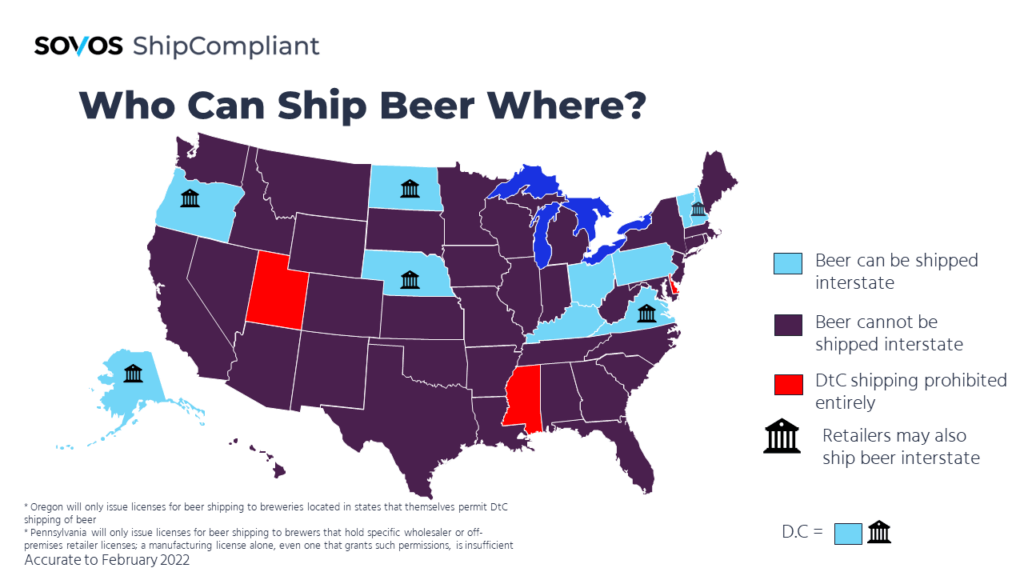 Producers and consumers want the expansion of DtC beer shipping. Data shows how the success of the DtC wine market has led to profitability for states and that shipping directly to consumers can be done safely. The future may be unclear, but the desire for DtC beer shipping continues to grow strong.
Moving forward 'with the times'
While the DtC beer shipping map did not expand in 2021, California and New York both had legislation move forward that would potentially allow for it. Both bills are being reintroduced in the 2022 sessions. Of course, there can be numerous reasons why a piece of legislation does not move forward. In-state retailers and distributors sometimes have objections; other times when a bill's language accounts for more than one type of product (e.g., both beer and spirits) it can be difficult to properly account for the intricacies of each.
Additionally, it's worth remembering that changes like this can take time. For example, while Alabama became the 47th state to allow for DtC wine shipping in 2021, there had been previous versions of legislation that did not pass. A 2019 bill died in the Alabama Senate when the state ABC opted to create a study group to examine all alcohol related bills.
Nonetheless, when Alabama Governor Kay Ivey did sign the bill, she praised State Representative Terri Collins for putting the legislation forward "because it is certainly something the people of Alabama want available to them."
"We are moving Alabama with the times, and I am proud to officially make the wine shipment bill law," Ivey said in a statement.
It will likely take similar perseverance and continued support from consumers for DtC beer shipping to also keep moving "with the times."
Two steps forward, one step back
In a less positive move for DtC beer shipping, Nevada took a 180 degree turn in 2021 and effectively eliminated direct shipments of beer and spirits to consumers from producers, or any alcoholic beverage from out-of-state retailers. Previously, the state allowed breweries, distilleries and retailers to sell and ship their products directly to Nevada residents.
While the change further aligns Nevada with the majority of the country (in allowing only DtC wine shipping), it can definitely be a bit frustrating for consumers and producers that are hopeful for greater access to DtC beer shipping.