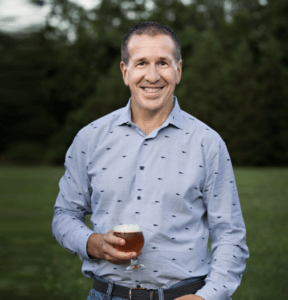 By Marc Sorini
Marc Sorini is General Counsel for the Brewers Association. Prior to joining the BA, he represented small and independent craft brewers for over two decades as a partner with McDermott Will & Emery law firm, representing the BA and its predecessor organization, the Brewers Association of America (BAA). Sorini's accolades include Go-To Thought Leader by The National Law Review, Lawyer of the Year for food and beverage law by The Best Lawyers in America, and MVP of the Year by Law360, among many others.
The Brewers Association's recent DtC beer shipping report in partnership with Sovos ShipCompliant trains a spotlight on direct-to-consumer shipping, one that's drawing increasing interest from craft beer drinkers and craft brewers alike. It's just one of the areas where the Brewers Association sees opportunities for positive evolution of the laws governing the distribution of beer.
Beer in this country has experienced a renaissance in the past two decades, driven by consumers' search for differentiated, quality products and a desire to patronize small, often local, businesses. Until the COVID-19 pandemic disrupted society, beer consumers often found choice by "voting with their feet" to visit breweries, taprooms and other venues where craft beer thrived. The pandemic made it much harder for consumers to venture outside their home to enjoy new beer experiences, so it is time to bring new beer experiences to the consumer.
It is no secret that the pandemic brought significant, and likely long-lasting, changes to business and government alike. In our industry, gubernatorial Executive Orders transformed overnight regulatory structures that had been in place for decades. As society looks out hopefully towards the end of the pandemic, the need to satisfy beer-lovers' needs in new yet responsible ways has lawmakers, regulators and the public re-thinking long held notions about alcohol control.
One notable change has been the convergence of on- and off-premise retail rights in the COVID (and likely post-COVID) era. Until very recently a restaurant, a bar or a brewpub were strictly limited to on-premise sales. Today many of those businesses are bringing meals with drinks to the consumer.
DtC Shipping Extends Brewers' Reach
To reach consumers further from their brewery locations, more and more brewers are "shipping." By shipping we mean delivery through a common carrier, thereby extending the brewery's reach to consumers far away. You now see the interest of brewers and distillers in doing what wineries have been doing successfully and responsibly for 15 years.
Other direct-to-consumer models that rely on local retailers only give consumers a very small subset of products available because most are not widely distributed and therefore not available for delivery from a local retail outlet. While the three-tier system does a great job for larger brands, for little brands, reaching faraway consumers through local retailers is simply not practical. Giving some sort of direct outlet to consumers is going to be an important thing for craft brewers going forward.
As the click-and-delivery economy continues to grow, restricting beer delivery will prove increasingly limiting for small brewers trying to reach the consumer looking for a niche product. Limiting delivery will favor the large, dominant brands. It's not very hard to find an IPA that's made by a subsidiary of one of the two big brewers anyplace in the country. But for over 99% of the Brewers Association's members, such wide distribution is not the reality. The bottom-line is that if the consumer can only select what's available at the local retailer, selection will be limited and small brewers will be largely left out of the delivery revolution, which is a definite concern of ours.
We see local delivery and more far-flung shipping as complementary to each other, much as they are in the wine industry today. We also recognize that delivery and shipping must be done right. It must be done responsibly. Fortunately, proven models to ship alcohol beverages responsibly already exist. The wine industry has been using and proving these methods for several decades.
Back to the Future
One distribution development we continue to see progress on is what I call distribution for small brewers going "back to the future." If you look at the market of the 1930s, you had small brewers (the so-called "old regionals") often relying on direct-to-retail self-distribution. That was a normal distribution model for smaller brewers back in the 1930s and 1940s. As the marketplace evolved, that practice declined and, in some places, became something that couldn't legally be done. That might have made sense in an era of only giant brewers, but now that we have many small brewers again, it's time to go back to the future. The three-tier system does great for a brand of scale, and a small brand that grows to a certain scale can successfully enter that system. But while a brand is growing, having an alternative outlet is important. We're seeing progress on self-distribution in a number of states.
The math is simple: the brands of over 8,000 breweries will not fit within traditional distribution channels, which usually consist today of just a few wholesalers serving a given territory. Having 98% of the volume pass through traditional distribution channels works and that's perfectly fine. But if a 2,000 barrel-per-year brewery wants to sell to the five restaurants within a half mile of it, the regulatory structure should have the flexibility to allow that. In sum, smart complements to the three-tier system exist to help the smallest brewers thrive, and the Brewers Association is working with state guilds to promote those complements.
An Independent Middle Tier
We recognize that an independent middle tier is critical to the success of small brands. We do not want a market where the distribution system is controlled by a couple of large suppliers, or a market where distribution is largely handled in-house by a couple of giant retailers. You see that in other countries, and it's not great for small brands. Similarly, we recognize that the Brewers Association's largest members would not have the success that they've enjoyed if they had to buy their own trucks and self-distribute across the United States. That level of capital investment would have been impossible. So, we see real benefits from an independent middle tier, but we also think the system needs to have more flexibility. If you are a tiny brand, you want the ability to grow your brand through local self-distribution, and if you succeed you will graduate up into a three-tier distribution model later on.
The Brewers Association also believes that franchise laws need significant reform. In wine and spirits, fewer large markets give wholesalers franchise protection, but in beer distribution such laws are almost universal. Those laws were designed for an era (the 1970s and 1980s) when you had mostly giant brewers distributing through small mom-and-pop wholesalers. Today the dynamics are completely different, and you have giant multi-million case wholesalers dealing with small mom-and-pop brewers. In that context, franchise laws just don't make sense.
In short, the Brewers Association believes in sensible systemic changes that can help small businesses thrive, deliver value and selection to consumers, and will not crash the three-tier system. Reasonable evolution ultimately will make the entire system stronger and better for all.