Whilst the UK leaving the European Union (EU) on 31 December 2020 seems like a long time ago, UK businesses still have to deal with changes to the processes in place when importing goods from suppliers in the EU.
Customs Declarations
Throughout 2021, goods imported into Great Britain from the EU were subject to several easements from a customs perspective. This was to reduce the burden of completing full customs declarations and dealing with all of the consequences of importing goods that were previously not subject to import documentation and controls.
UK businesses were unprepared, partly due to impacts from the COVID-19 pandemic, so these simplifications were extended a few times during 2021. As of 1 January 2022, goods moving between the EU and Great Britain will be subject to full customs declarations and controls. Subsequently, there is no longer the ability to defer customs declarations as was previously the case.
Additionally, any customs duty due on goods will be due at the time of entry rather than when the customs declaration is submitted, as was the case in 2021. Businesses can achieve delayed payment of the customs duty by applying for a duty deferment account with HMRC. In some instances, it can be achieved without the need for a financial guarantee to be lodged, so it is worth considering.
Due to the negotiations between the UK government and the EU on the Northern Ireland Protocol, imports of non-controlled goods from Ireland and Northern Ireland will not be subject to these changes. The previous easements will still apply. This means that customs declarations can be delayed for up to 175 days. The UK government will make further announcements once the discussions on the Protocol have been completed. We will update further when that happens.
Import VAT
Regarding import VAT, Postponed Import VAT Accounting (PIVA) remains available and, whilst not compulsory, it is recommended, as it provides a valuable cashflow benefit.  It applies to imports from all countries and not just the EU. Unlike in some EU countries, it is not automatically applied and has to be claimed when the import declaration is submitted. Therefore, the importer must advise whoever submits the declaration to complete it accordingly. If it is not claimed, import VAT is payable at the time of entry and will have to be recovered on the VAT return – HMRC continues to issue the C79 certificate when VAT is paid at the border, and it is required evidence to recover VAT.
Businesses will also need to remember to download the monthly PIVA statement from HMRC's website – this is required to determine the amount of import VAT payable on the VAT return. This needs to be done within six months as it is not available after that time.
Intrastat declarations
Another change is regarding Intrastat reporting for imports into Great Britain from the EU.  Arrivals declarations were required during 2021 to provide the UK government with trade statistics, given that importers could delay submitting full customs declarations. Intrastat arrivals are now only required for goods moving from the EU to Northern Ireland – this is because Northern Ireland is still considered part of the EU for goods.
The EU-UK Trade and Cooperation Agreement provisions have to be considered when importing goods from the EU especially regarding the origin of the goods and whether the import is tariff-free. This has been in place since 1 January 2021, but there are practical changes that are considered further in our article which discusses the origin of goods and claiming relief on trade between the EU and UK. These changes mean that imports from the EU are treated in the same way as imports from any other country, except for goods from Ireland and Northern Ireland, which are still subject to special arrangements.
We recently launched the 13th Edition of our annual Trends report, the industry's most comprehensive study of global VAT mandates and compliance controls. Trends provides a comprehensive look at the world's regulatory landscape highlighting how governments across the world are enacting complex new policies and controls to close tax gaps and collect the revenue owed. These policies and protocols impact all companies in the countries where they trade no matter where they are headquartered.
This year's report looks at how large-scale investments in digitization technology in recent years have enabled tax authorities in much of the world to enforce real-time data analysis and always-on enforcement. Driven by new technology and capabilities, governments are now into every aspect of business operations and are ever-present in company data.
Businesses are increasingly having to send what amounts to all their live sales and supply chain data as well as all the content from their accounting systems to tax administrations. This access to finance ledgers creates unprecedented opportunities for tax administrations to triangulate a company's transaction source data with their accounting treatment and the actual movement of goods and money flows.
The European VAT landscape
After years of Latin America leading with innovation in these legislative areas, Europe is starting to accelerate the digitization of tax reporting. Our Trends report highlights the key developments and regulations that will continue to make an impact in 2022, including:
VAT reporting processes become digital and more frequent – Existing VAT reporting is becoming more granular and more frequent in many EU Member States, with the majority quickly evolving towards real-time controls with or without electronic invoice mandates.
Public procurement standards will play a major role in the design of various continuous transaction control (CTC) models – Frameworks such as PEPPOL are increasingly adopted by public administrations as large buyers of goods and services – the standards and platforms used for these transactions will increasingly be repurposed for electronic invoicing as a key enabler of VAT digitization.
"Own the Transaction" CTC model becomes more popular – More tax administrations aim not only to receive reporting data from business transactions but use legislation to become the invoice exchange platform themselves.
This trend is gaining traction after Turkey and Italy introduced it as core concepts in their CTC legislation, while countries like France and Poland are introducing similar models.
SAF-T is here to stay – The OECD's Standard Audit File for Tax (SAF-T) will remain an inspiration for European tax administrations not only to enforce VAT via real-time or near-real-time controls, but to obtain copies of taxpayers' entire accounting books on their own systems for broader tax controls and audit support as well.
EU E-commerce VAT package and digital services – Changes introduced in July 2021 to the One Stop Shop (OSS) and the launch of an Import One Stop Shop (IOSS) concept have drastically changed requirements for all e-commerce vendors and marketplaces selling low-value goods or digital services to European consumers.
According to Christiaan van der Valk, lead author of Trends, governments already have all the evidence and capabilities they need to drive aggressive programs toward real-time oversight and enforcement. These programs exist in most of South and Central America and are rapidly spreading across countries in Europe such as France, Germany and Belgium as well as Asia and parts of Africa. Governments are moving quickly to enforce these standards and failure to comply can lead to business disruptions and even stoppages.
This new level of imposed transparency is forcing businesses to adapt how they track and implement e-invoicing and data mandate changes all over the world. To remain compliant, companies need a continuous and systematic approach to requirement monitoring.
Trends is the most comprehensive report of its kind. It provides an objective view of the VAT landscape with unbiased analysis from our team of tax and regulatory experts.  The pace of change for tax and regulation continues to accelerate and this report will help you prepare.
In a blog post earlier this year, we wrote about how several Eastern European countries have started implementing continuous transaction controls (CTC) to combat tax fraud and reduce the VAT gap. However, it's been an eventful year with many new developments in the region, so let's take a closer look at some of the changes on the horizon.
Latvia
Latvia has recently revealed its new CTC regime plans. The Latvian government approved a report prepared by the Ministry of Finance to implement an electronic invoicing system in the country. The concept described in the report envisages the introduction of electronic invoicing as mandatory for B2B and B2G transactions from 2025 under the PEPPOL framework. The details about the system, including the legislation and technical documentation, are expected in due course.
Serbia
Serbia is another country moving rapidly towards a CTC framework, and apparently, various stakeholders find this movement rather quick. The Ministry of Finance recently announced that upon the request for a transition period to adapt to the new system of e-invoices, they have decided to postpone the date for entry into force of CTC clearance for B2G transactions until the end of April 2022. It must be noted that there has been no delay concerning B2B transactions. 
According to the revised calendar:
From 1 May 2022: B2G e-invoicing through a CTC portal will become mandatory
From 1 July 2022: All taxpayers will be obliged to receive and store e-invoices
From 1 January 2023: All taxpayers will be obliged to issue B2B e-invoices through the CTC system.
Slovenia
Slovenia is also looking to introduce CTCs. In June 2021, the Ministry of Finance submitted a draft law to the Slovenian parliament, aimed at introducing mandatory B2B e-invoicing in the country. According to the draft regulation, all business entities would be obliged to exchange e-invoices exclusively in their mutual transactions (B2B). In the case of B2C transactions, consumers could opt to receive their invoices in electronic or paper form. However, the Ministry of Finance withdrew the draft law due to disagreement with various stakeholders but intends to review it by simplifying the process and reducing the administrative burden on businesses. 
Discussions around the introduction of CTCs in the country continue among various stakeholders, e.g., the local Chamber of Commerce. However, seeing as national elections are expected in Slovenia in April 2022, the CTC reform is not expected to gain much traction until summer 2022 at the earliest.
Slovakia
Earlier this year, we reported that the Slovakian Ministry of Finance had prepared draft legislation to introduce a CTC scheme. The aim was to lower Slovakia's VAT gap to the EU average and obtain real-time information about underlying business transactions. Public consultation for the draft law was completed in March 2021. However, no roll-out timeline was published at the time.
Over the past months, the Slovakian government has launched the CTC system and published new documentation. The CTC system is called Electronic Invoice Information Systems (IS EFA, Informačný systém elektronickej fakturácie) and is a unified process of electronic circulation of invoices and sending structured data from invoices to the financial administration. The timeline for the gradual roll-out of entry into force looks as follows: 
Phase 1: From January 2022, CTC e-invoicing will be introduced for B2G, G2G, and G2B transactions; and 
Phase 2: From January 2023, CTC e-invoicing will be introduced for B2B, B2C, and G2C transactions. 
Poland 
There have been serious developments regarding Poland's CTC framework and system, the Krajowy System e-Faktur (KSeF). The CTC legislation was finally adopted and published in the Official Gazette on 18 November 2021. Starting from January 2022, KSeF goes live as a voluntary system, meaning there is no obligation to use this e-invoicing system in B2B transactions. It is expected that the system will be mandatory in 2023, but no date has been set yet for the mandate. 
Romania
With the largest VAT gap in the EU (34.9% in 2019), Romania has also been moving towards introducing a CTC regime to streamline the collection of taxes to improve and strengthen VAT collection while combating tax evasion. In October 2021, Government Emergency Ordinance (GEO) no. 120/2021 introduced the legal framework for implementing e-Factura, regulating the structure of the Romanian e-invoice process and creating the framework for basic technical specifications of the CTC e-invoicing system. While the Romanian e-Factura went live as a voluntary system on 6 November 2021, no timeline has yet been published for a mandate. Suppliers in both B2B and B2G transactions may opt to use this new e-invoicing system and issue their e-invoices in the Romanian structured format through the new system.
Welcome to our Q&A two-part blog series on the French e-invoicing and e-reporting mandate, which comes into effect 2023-2025. That sounds far away but businesses must start preparing now if they are to comply.
The Sovos compliance team has returned to answer some of your most pressing questions asked during our webinar.
We have outlined the new mandate, e-invoicing specifically, and questions around this topic in our first blog post.
This blog will look at the other side of the mandate – e-reporting obligations. These will apply to B2C and cross-border B2B transactions in France, which must be periodically reported.
Payments E-reporting
First let's look at common questions around payments e-reporting.
What are the invoice and payment statuses to be reported?
Here is a slide from our webinar showing invoice statuses, whether these are mandatory, recommended, or free, origins, action to take if rejected, status data, and when it needs to be reported: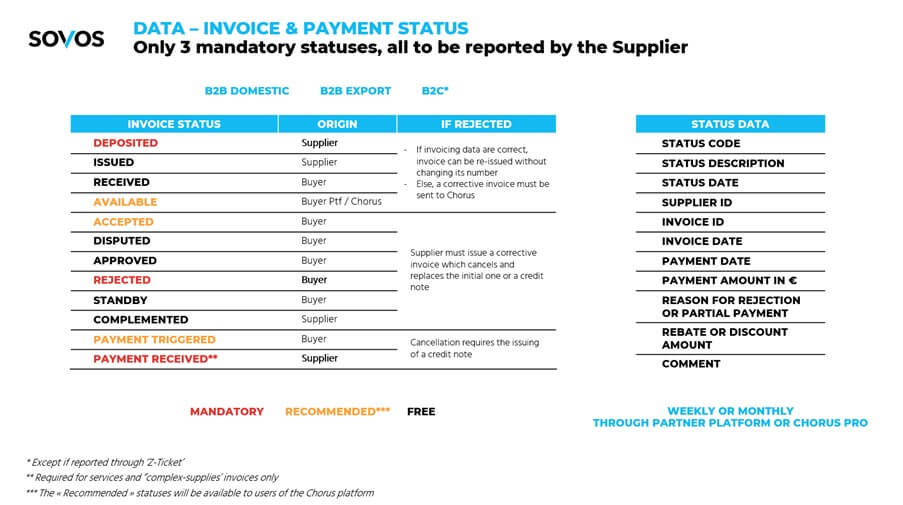 Who is responsible for payment e-reporting? The buyer, the seller, or both?
It was initially rumoured to be both on the buyer and the seller side, but the latest information from DGFIP clearly states that it will be the responsibility of the seller to report the invoice status, and, if applicable, its payment status.
Some further clarification is needed though since the seller is dependent on the buyer's response on some status (e.g. 'invoice rejected').
'Partner' platform certification requirements
Your e-invoicing and e-reporting project cannot be done in isolation. This is a significant project with many dependencies that involve external third parties.
There will be one or, in most likelihood, several third parties in the middle of the transaction chain. This will include Chorus Pro, chosen by the French government as the official and obligatory platform for businesses to issue e-invoices to public administrations.
This section covers common questions on partner platform certification requirements.
Is there a list of official validated partner platforms?
The 13 July 2021 DGFIP workshop dedicated to this matter highlighted that there would be a registration process for third-party platforms, as well as taxpayers who would want to run their own platform.
The registration process will consist of two phases:
Phase 1. A prior selection by the tax authorities based on the general profile of the candidate (e.g. are they up to date in their own tax payment duties?) and the services they propose;
Phase 2. Within 12 months after registration, an independent audit would have to performed that demonstrates that the platform meets the DGFIP requirements, such as:
Updating of the e-invoicing central directory
Issuing, transmitting / receiving e-invoices (including guaranteeing integrity and authenticity, as well as an advanced authentication process)
Processing and transmitting to Chorus Pro e-invoicing, e-reporting and payment status data

<liPerforming the control and mapping activities (extraction of invoicing data for both e-invoicing and e-reporting, certain invoice validation checks – mandatory fields, check sums, Customer ID verification – mapping to and from a minimum set of mandatory formats, compliance with GDPR, etc)
A few other key points to note are:
The registration and audit would need to be periodically renewed.
The consequences for non-compliant platform are not defined, an escalation process leading to the withdrawal of the registration would apply.
The platform operator might be French or foreign (although there is still a question mark as to whether non-EU operators will be permitted).
Implementation timeline
What is the current expectation on when exact required fields with be supplied by the government (invoice specs with all required fields and values)?
Excel files are available as a draft document at a very detailed level which Sovos can provide on request. The final specs should be known by the end of September 2021.
In our recent webinar, Sovos covered the new French e-invoicing and e-reporting mandate, and what this means for businesses and their tax obligations.
We are witnessing a global move towards Continuous Transaction Controls (CTCs), where tax authorities are demanding transactional data in real-time or near real-time, affecting e-invoicing and e-reporting obligations.
As such, from 2023, France will implement a mandatory B2B e-invoicing clearance and e-reporting obligation in an effort to increase tax efficiency, cut costs, and fight fraud.
The pace towards this mandate has been accelerating lately with the adoption of the Finance law for 2021, followed by a number of workshops organised by the Ministry of Finance — namely the Direction Générale des Finances Publiques (DGFIP).
In the first of two blogs on the mandate, we answer some of your most pressing questions asked during our webinar.
In part one, we focus on setting the scene in terms of scope, and cover questions around e-invoicing specifically, invoicing file formats, processes and controls, and archiving.
The second blog covers questions around e-reporting obligations.
Scope of the regulation
In this section, we answer questions on the scope of the regulation, such as which companies must comply with the mandate and how.
Are non-resident companies (foreign companies with only a French VAT-registration) obliged to fulfil this new regulation? Are foreign legal entities with a French VAT number in scope?
The Budget Laws for 2020 and 2021 introduced the CTC scheme from a legal perspective. Both include "persons subject to VAT" in the scope.
VAT registration is a strong indication that a company is subject to VAT, but classification as a VAT "taxable person" also depends on other factors.
Therefore, it is not as simple as just looking at whether a company has a local VAT registration, to decide whether it is subject to VAT and therefore targeted by the mentioned budget laws.
However, the scope cannot be unilaterally decided by France as the French CTC scheme is dependent on a derogation from the EU Council.
As a comparison, Italy initially included all taxable persons in the scope of its e-invoicing clearance mandate, including those with a mere VAT registration but no establishment. But in this case, the EU Council limited the scope (of its derogation) to persons established in Italy.
From an e-invoicing perspective, we can therefore expect that France will need to follow the Italian path (due to its reliance on a derogation from the EU Council), limiting the scope to established persons.
DGFIP has however suggested that companies that are non-established but VAT registered will be in scope of the reporting obligation.
Is import of goods in the scope of e-reporting? What about import of services?
Only imports (supplies from outside of the EU) of services are in the scope of the current proposal.
E-invoice formats
In this section, we discuss permitted e-invoice formats.
The fact that the new regime creates a specific process for domestic B2B e-invoicing does not change the need for businesses to demonstrate the integrity and authenticity of each invoice.
This can be done through one of the 3 legal methods defined by the existing regulations:
EDI
Qualified electronic signature or seal
The Business Controls option using Audit trail
To ensure there's no impact of the reform on integrity and authenticity demonstration methods, one can still apply any of them.
However, with the new regime, e-invoicing data sent to the DGFIP does need to be in a structured format.
Will digital signatures be required?
Digital signatures are not strictly required today and will not be strictly required in the new scheme. Integrity and authenticity will still need to be ensured though, irrespective of invoice format, as is the case today.
The options remain the same; use of digital signatures, use of EDI with security measures, or the BCAT option whereby the audit trail should prove the transaction and its authenticity and integrity.
Are PDF and XML invoice file formats still possible to receive from 2023-2025?
The legal invoice format can be anything, as long as the supplier and buyer agree on it and the integrity and authenticity are guaranteed. Also, a human readable version (normally a PDF) is required upon audit as part of the general EU requirements.
What e-invoicing formats are permitted?
This is not fully defined yet, but DGFIP has indicated the following syntax, based on the EN16931 standard:
Structured format: UBL invoice / CII D16B / XCBL
Hybrid format: Minimum UBL invoice / CPP hybrid / FACTUR-X (PDF-A3) / Minimum CII
Those formats would apply to:
Submission of invoicing data to Chorus Pro by suppliers who don't go through a partner platform
Issuing of legal invoice by Chorus Pro to buyers who don't use a partner platform
Reporting of clearance data (out of the legal e-invoice) to Chorus Pro by the supplier's partner platform
Exchange of legal invoices by the supplier and buyer partner platforms unless they agreed to some other format (NB: for this last case, partner platforms should be able to process those formats at a minimum level by default. But nothing would prevent them from deciding to use any other format if both the supplier and the buyer agree, e.g. EDIFACT).
E-invoicing process and controls
In this section, we answer questions around the processes for sending and receiving e-invoices, what information they need to include, and the Chorus Pro platform.
Will the e-invoice need to be sent real-time?
Yes, it can be considered a "real-time clearance system". As part of the e-invoicing obligation, the reporting of mandatory data to the tax authorities and the issuance of the original invoice to the buyer by the supplier's partner platform should happen right after receiving the invoicing data from the supplier.
If the invoice doesn't have all the mandatory information like the SIRET number of a customer, will the Chorus Pro platform clear it?
It will be mandatory to mention the SIRET number (ID) of the French trading parties.
For non-French EU parties, the VAT intracom number will need to be mentioned.
For non-EU parties, some local ID will be expected.
If the applicable ID is missing, the data will be rejected by Chorus.
If the ID is wrong, the invoice will be addressed to the wrong buyer and will eventually have to be cancelled (if e-invoicing) or may be penalised by tax authorities if audited.
Will Chorus Pro also be validating the VAT rates used?
No, or at least not on the fly when submitting the invoicing data to Chorus Pro. Our understanding is that those verifications will be done by the tax authorities after the fact, using data analytics / AI algorithms.
Are there common data, connection and bridges with the current SAF-T?
The French version of SAF-T (FEC) must still be available on demand from the tax authorities.
Archiving
In this section, we answer questions around compliant archiving of e-invoices.
Does the Chorus Pro/Tax Authority portal provide a compliant electronic archive for AP/AR invoices in France?
Yes. However, in our experience, even though a tax authority's archiving solution would be available for taxable persons, few larger companies choose to solely rely on it for evidence purposes and instead continue to use their compliant internal or third-party archiving solutions.
This decision is ultimately based on the fact that the tax authority's archiving solution poses a conflict of interest: it is maintained by the tax authority, which, from a legal perspective, is not an independent party but rather the counterparty in a fiscal claim.
In fact, from discussions with many experts and customers over that past year, we see that the market request for third-party archiving services is even stronger after the introduction of clearance, especially as customers see a need to store not only the invoice but also response messages from the CTC portal to further maintain evidence of compliance.
More than 170 countries throughout the world have implemented a VAT system, and some of the most recent adopters are the Gulf countries. In a bid to diversify economic resources, the Gulf countries have spent the past decade investigating other ways to finance its public services.
As a result, in 2016 the GCC (Gulf Cooperation Council), consisting of Saudi Arabia, UAE, Bahrain, Kuwait, Qatar and Oman, signed the Common VAT Agreement to introduce a VAT system at a rate of 5%.
The first step: VAT adoption across the GCC
Following the VAT agreement, Saudi Arabia and UAE implemented VAT in 2018. Bahrain followed with a VAT regime in 2019. Most recently Oman enforced a 5% VAT from April 2021, and looking ahead both Qatar and Kuwait are expected to enact VAT laws within the next year.
The second step: VAT digitization
After the implementation of VAT and the increase of VAT rate from 5% to 15%, Saudi Arabia has taken the next step to digitize the control mechanisms for VAT compliance.
The E-invoicing Regulation enacted in December 2020 sets out an obligation for all resident taxable persons to generate and store invoices electronically. This requirement will be enforced from 4 December 2021.
Saudi Arabia has made considerable progress since it first introduced VAT in 2018. The Saudi E-invoicing Regulation is expected to not only encourage digitization and automation for businesses, but also to achieve efficiency in VAT controls and better macro-economic data for its tax authority, a development which will likely be replicated by other GCC countries soon.
Considering the efforts involved in the digitization of government processes and the VAT implementation timeline, the next candidate for similar e-invoicing adoption would likely be the UAE. While there are currently no plans for a mandatory framework, the UAE has announced bold plans for general digitization. According to the UAE government website, "In 2021, Dubai Smart government will go completely paper-free, eliminating more than 1 billion pieces of paper used for government transactions every year, saving time, resources and the environment."
The spread of VAT digitization is typically the second reform following VAT adoption. As Bahrain and Oman also have VAT systems in place, introduction of mandatory e-invoicing in the next a few years in these countries would not come as a surprise. The adoption of e-invoicing in Qatar and Kuwait would depend on the success of VAT implementation, therefore it is not easy to estimate when their VAT digitization journey will begin but there is no doubt that it will happen at some stage.
The next step for VAT adoption across the GCC
After the adoption of e-invoicing, the Gulf countries may continue to digitize other VAT processes, including VAT returns. Pre-population of VAT returns using the data collected through e-invoicing systems is another trend that the countries are moving towards.
Regardless of the shape and form of digitization, there will be many moving parts in terms of VAT and its execution. Businesses operating in the region should be prepared to invest in their VAT compliance processes to avoid unnecessary fines and reputational risk for non-compliance.
A current mega-trend in VAT is continuous transaction controls (CTCs), whereby tax administrations increasingly request business transaction data in real-time, often pre-authorising data before a business can progress to the next step in the sales or purchase workflow.
When a tax authority introduces CTCs, companies tend to view this as an additional set of requirements to be implemented inside ERP or transaction automation software by IT experts. This kneejerk reaction is understandable as implementation timelines tend to be short and potential sanctions for non-compliance significant.
But businesses would do better to approach these changes as part of an ongoing journey to avoid inefficiencies and other risks. From a tax authority perspective, CTCs are not a standalone exercise but part of a wider digital transformation strategy where all data that can be legally accessed for audit purposes is transmitted to them electronically.
It's all about the data
In many tax authorities' vision of digitization, each category of data is received at 'organic' intervals that follow the natural cadence of data processing by the businesses and data needs of governments.
Tax administrations use digitization to access data more conveniently, on a more granular level, and more frequently.
A business that doesn't consider this continuum from the old world of reporting and audit to the new world of automated data exchange risks over-focusing on the 'how' – the orchestration of messages to and from a CTC platform – rather than keeping a close eye on the 'why' – transparency of business operations.
Data received quicker and in a structured, machine-exploitable format is infinitely more valuable for tax administrations as it gives them an opportunity to perform deeper analysis of both varying taxpayer and third-party sources of data.
If your business data is incomplete or faulty, you are likely exposing yourself to increased audits, as your bad data is under scrutiny and more transparent to the taxman.
Put differently, in a digitized world of tax, garbage-in will translate to garbage-out.
How to prepare for CTCS – automation is key
Many companies already have the magic formula to fix these data issues at their fingertips. Start by preparing for this wave of VAT digitization with a project to analyse internal data issues and work with upstream internal and external stakeholders – including suppliers – to fix them.
Tools designed to introduce automated controls for VAT filing processes can help achieve better insight into the upstream data issues that need ironing out. These same tools can also help you through the CTC journey by re-using data extraction and integration methods set up for VAT reporting for CTC transmission, thereby creating better data governance and keeping a connection between these two naturally linked processes.
A lot of bad data stems from residual paper-based processes such as paper or PDF supplier invoices or customer purchase orders. Taking measures now to switch to automated processes based on structured, fully machine-readable alternatives will make a big difference.
Improving invoice data is not the only challenge. With the inevitable broadening of document types to be submitted under CTC rules (from invoice to buy-side approval messages, to transport documents and payment status data) tax administrations will cross-check more and more of your data, as well as trading partners' and third parties' data — think financial institutions, customs, and other available data points.
Tax administrations are unlikely to stop their digitization efforts at indirect tax. Mandates to introduce The Standard Audit File for Tax (SAF-T ) and similar e-accounting requirements show how quickly countries are moving away from the old world of tax and onsite audits.
All this data, from multiple sources with strong authentication, will paint an increasingly detailed and undeniable picture of your business operations. It is just a matter of time before corporate income tax returns will be pre-filled by tax administrations who expect little to no legitimate changes from your side.
'Substance over form' is a popular aphorism in the world of tax. As more business applications and data streams become readily accessible by tax administrations, you need to start considering data quality and consistency as a first step towards thriving in the world of digitized tax enforcement.
Aim for more, not less, insight into your business than the taxman
In the end, tax administrations want to understand your business. They don't just want data, they want meaningful information on what you do, why you do it, how you trade, with whom and when. This is also exactly what your owners and management want.
So the ultimate goals are the same between businesses and tax administrations – it's just that businesses will often prioritise operational efficiency and financial objectives whereas tax administrations focus on getting the best, most objective information possible.
Tax administrations introducing CTCs as an objective may be a blessing in disguise, and there are benefits of introducing better analytics to your business to comply with tax administration requirements.
The real value lies in real-time insight into business operations and financial indicators such as cash management or supply chain weaknesses. This level of instant insight into your own business also enables you to always be one step ahead, leaving you in control of the picture your data is providing to governments.
CTCs are the natural next step on a journey to a brave new world of business transparency.
In this blog, we provide an insight into continuous transaction controls (CTCs) and the terminology often associated with them.
With growing VAT gaps the world over, more tax authorities are introducing increasingly stringent controls. Their aim is to increase efficiency, prevent fraud and increase revenue.
One of the ways governments can gain greater insight into a company's transactions is by introducing CTCs. These mandates require companies to send their invoice data to the tax authority in real-time or near-real-time. One popular CTC method requires an invoice to be cleared before it can be issued or paid. In this way, the tax authority has not only visibility but actually asserts a degree of operational control over business transactions.
What is VAT?
The basic principle of VAT (value-added tax) is that the government gets a percentage of the value added at each step of an economic chain. The chain ends with the consumption of the goods or services by an individual. VAT is paid by all parties in the chain including the end customer. However only businesses can deduct their input tax.
Many governments use invoices as primary evidence in determining "indirect" taxes owed to them by companies. VAT is by far the most significant indirect tax for nearly all the world's trading nations. Many countries with VAT see the tax contribute more than 30% of all public revenue.
What is the VAT gap?
The VAT gap is the overall difference between expected VAT revenues and the amount actually collected.
In Europe, the VAT gap amounts to approximately €140 billion every year according to the latest report from the European Commission. This amount represents a loss of 11% of the expected VAT revenue in the block. Globally we estimate VAT due but not collected by governments because of errors and fraud could be as high as half a trillion EUR. This is similar to the GDP of countries like Norway, Austria or Nigeria. The VAT gap represents some 15-30% of VAT due worldwide.
What are Continuous Transaction Controls?
Continuous transaction controls is an approach to tax enforcement. It's based on the electronic submission of transactional data from a taxpayer's systems to a platform designated by the tax administration, that takes place just before/during or just after the actual exchange of such data between the parties to the underlying transaction.
A popular CTC is often referred to as the 'clearance model' because the invoice data is effectively cleared by the tax administration and in near or real-time. In addition, CTCs can be a strong tool for obtaining unprecedented amounts of economic data that can be used to inform fiscal and monetary policy.
Where did CTCs begin?
The first steps toward this radically different means of enforcement began in Latin American within years of the early 2000s. Other emerging economies such as Turkey followed suit a decade later. Many countries in LatAm now have stable CTC systems. These require a huge amount of data for VAT enforcement from invoices. Other key data – such as payment status or transport documents – may also be harvested and pre-approved directly at the time of the transaction.
What is e-invoicing
Electronic or e-invoicing is the sending, receipt and storage of invoices in electronic format without the use of paper invoices for tax compliance or evidence purposes. Scanning incoming invoices or exchanging e-invoice messages in parallel to paper-based invoices is not electronic invoicing from a legal perspective. E-invoicing is often required as part of a CTC mandate, but this doesn't have to be the case; in India, for example, the invoice must be cleared by the tax administration, but it's not mandatory to subsequently exchange the invoice in a digital format.
The objective of CTCs and e-invoicing mandates is often to use business data that is controlled at the source, during the actual transactions, to prefill or replace VAT returns. This means that businesses must maintain a holistic understanding of the evolution of CTCs and their use by tax administrations for their technology and organisational planning.
What's on the horizon?
As more governments realise the revenue and economic statistics benefits that introducing these tighter controls bring, we're seeing more mandates on the horizon. We expect the rise of indirect tax regimes based on CTCs to accelerate sharply in the coming five to 10 years. Our expectation is that most countries that currently have VAT, GST or similar indirect taxes will have adopted such controls fully, or partially, by 2030.
Looking ahead, as of today we know that in Europe within the next few years that France, Bulgaria and also Poland will all introduce CTCs. Saudi Arabia has also recently published rules for e-invoicing and many others will follow suit.
Upcoming mandates present an opportunity for a company's digital transformation rather than a challenge. If viewed with the right mindset. But, as with all change, preparation is key. Global companies should allow enough time and resources to strategically plan for upcoming CTC and other VAT digitization requirements. A global VAT compliance solution will suit their needs both today and into the future as the wave of mandates gains momentum across the globe.
Starting in 2023, French VAT rules will require businesses to issue invoices electronically for domestic transactions with taxable persons and to obtain 'clearance' on most invoices before their issue. Other transactions, such as cross-border and B2C, will be reported to the tax authority in the "normal" way.
This will be a major undertaking for affected companies and although the changes are more than a year away, planning should start now. But what does planning mean in the context of a continuous transaction control (CTC) rollout? What have businesses on the cusp of such a transformation learnt when faced with the same challenge in countries such as Italy, India, Mexico and Spain? And how can businesses leverage those best practices for future CTC rollouts?
We share the points businesses should consider when planning for any CTC rollout, which can be used as a checklist for the France 2023 mandate to help you prepare.
Understand the new changes, and be aware of what's ahead
Is your organisation aware of, and do the relevant functional teams understand, the material changes proposed by the government?
Do your teams understand what specifically is changing and do they have a reliable source of information to use as guidance?
In a situation as dynamic as a CTC rollout, do your teams have the means to monitor new developments and analyse future changes?
Is there a process in place in your organisation for implementing new changes once they've been introduced in law?
Understand how your business and operations are affected
Which of your business transactions are in scope? When do they need to be compliant?
How are your intercompany invoices processed today? It's not uncommon for businesses to overlook compliance requirements for their intercompany invoice flows, but in a clearance system these invoices are almost always in scope.
How will invoices be sent to the French tax authority under the new system? Can you manage this internally or is a third party involved?
What information in addition to the invoice information must be sent?
Where an invoice is not required today e.g. B2C sales, what information must be sent?
How should these invoices be archived? Are there any specific legal or technical requirements for such storage?
Design or evaluate potential solutions
Is the CTC reform best solved through an internally developed solution?

If yes, talk to IT as soon as possible so they can start planning and allocate both the necessary time and budget for the project.
If no, who are the service providers that could help?

If external providers are used, how will the data go from your source systems to them and ultimately to the tax authority?
Which of your source systems contain the required data? Is it one or multiple?
Does the external provider have a 'ready to go' extractor for your ERP system/source system? Or, if your organisation relies on an API first strategy, which source systems will you use to send the data on to your provider or the tax authority?
Execute the solution
How much notice does your IT department need for such a project? Resources from IT will be required, regardless of whether it will be an external or internal project.
How much will development and implementation cost? Budget will need to be secured regardless of how you plan on implementing your solution of choice, internal or external.
When does the cost need to be submitted for budget approval?
When do you need to kick off the project? Once the planning is completed and the time required is known (including testing and training) you can work backwards to achieve a start date. This date should be confirmed with IT as soon as possible.
Once you've answered the questions above, you'll be in a good position to both plan the roadmap to ensure compliant processes in time for the entry into force, as well as to estimate the cost and secure the needed funding for the project.
Six months after Brexit there's still plenty of confusion. Our VAT Managed Services and Consultancy teams continue to get lots of questions. So here are answers to some of the more common VAT compliance concerns post-Brexit.
How does postponed VAT accounting work?
Since Brexit, the UK has changed the way import VAT is accounted for. Before January 2021, you had to pay or defer import VAT at the time the goods entered the UK. Because of the volumes of trade between the UK and the EU, the government have understandably changed this. So, now rather than having to pay import VAT you can choose to postpone it to the VAT return. In practice, this effectively means it's paid and recovered on the same VAT return. This is a significant cash flow benefit. It's common among many EU Member States and it was allowed in the UK many years ago. The UK reintroduced it from the start of this year.
There's no need to be approved to use postponed VAT accounting but an election to use it must be made when completing each customs declaration. It doesn't happen automatically and the reality is that businesses can choose whether they want to use it or not. The import VAT is then accounted for in box 1 of the UK VAT return and then recovered in box 4. If you're a fully taxable business and the VAT is recoverable, this will mean that there is no need to make any payment of the import VAT. There are no costs involved in using postponed VAT accounting. The business will have to download a monthly statement from the Customs Declaration Service. The statement shows the postponed amount of VAT.
There are also import VAT accounting mechanisms in place in the EU but they vary from country to country. If you're a UK business and you're going to be the importer of the goods into the EU, there is the ability to use postponed accounting in some other countries but the rules on how it applies can vary. In some countries it's like the UK, so no permission required.
In others you'll need to make an application and meet the conditions in place. If there is no postponed VAT accounting, there may be the opportunity to defer import VAT which can still provide a cash flow benefit. It's really important that companies understand how it works in the Member State of import, and if it's available to them as it can have a big impact on cash flow. It's good news that the UK have reintroduced postponed VAT accounting as it's certainly a benefit and applies to all imports, not just those that come from the EU.
I'm shipping my own goods to a third party logistics provider in the Netherlands. I will ship the goods to customers around the EU. How do I value the goods for customs purposes as they remain in my ownership? They're not of UK origin so customs duty may apply.
This question comes up a lot as customs valuation, like the principle of origin has not arisen for many years for UK companies who have only traded with the EU.
The rules on customs valuation are complex. In this scenario, there is no sale of the goods. So it's not possible to use the transaction value which is the default valuation method. As customs duty is not recoverable, it's essential that the correct valuation method is used. This minimises the amount of duty paid and also to remove the possibility of the customs and VAT authorities challenging a valuation. We would recommend seeking  specialist advice.
If I sell B2C to customers in the EU do I need to register for VAT in each Member State?
When goods go from Great Britain to the EU, we're currently in the transition period between Brexit and the introduction of the EU e-commerce VAT package which comes into play on 1 July 2021. Until then, whether you need to be registered or not in an EU country depends on the arrangements in place with your customer. If you sell on a Delivery Duty Paid (DDP) basis, you're undertaking to import those goods into the EU. So if you do that, you'll incur import VAT on entry into each country and then make a local sale. If you do that in every Member State country, you'll have to register for VAT in every Member State.
It should be noted that these are the rules for GB to EU sales and not those from Northern Ireland. This is because the Northern Ireland protocol treats NI to EU sales under the EU rules. The distance selling rules that were in force before the end of 2020 still apply.
Going forward, the EU has recognised that this isn't really a manageable system. There has been significant abuse of low value consignment relief. LCVR relieves imports of up to €22 from VAT. So they're introducing a new concept – the Import One Stop Shop (IOSS). IOSS will be available from 1 July 2021 as part of the EU E-Commerce VAT package. From this point, the principle is that for goods with an intrinsic value of below €15. you can use the IOSS. IOSS accounts for VAT in all the countries to which you deliver. You only need a VAT registration in one country where you then pay all your VAT. You submit one return in that country on a monthly basis. This should simplify VAT compliance and ease the admin burden.
There will also be a One Stop Shop (OSS) for intra-EU transactions. So the simplifications ahead will reduce the burden to businesses. What's important is making sure you review your options. Make an informed decision as to which is the right scheme for your business. Ensure you can comply with VAT obligations to avoid VAT compliance problems in the future.
As detailed within our annual report VAT Trends: Toward Continuous Transaction Controls, there's an increasing shift toward destination taxability which applies to certain cross-border trades.
In the old world of paper-based trade and commerce, the enforcement of tax borders, between or within countries, was mostly a matter of physical customs controls. To ease trade and optimise resources, many countries have historically applied 'de minimis' rules. These set specific limits (e.g. EUR 10-22 applied in the European Union) below which imported goods had an exemption from VAT.
Cross-border services, which couldn't, or not easily, be checked at the border would often escape VAT collection altogether or be taxed in the country of the service provider. There has been a huge increase in cross-border trade in low-value goods and digital services over the last decade. As a result, tax administrations are taking significant measures to tax these supplies in the country of consumption/destination.
VAT treatment of B2C digital/electronic supplies by foreign suppliers
Since the 2015 publication of the OECD/G20's Base Erosion and Profit Shifting (BEPS) Project Action 1 Report on Addressing the Tax Challenges of the Digital Economy, most OECD and G20 countries have adopted rules for the VAT treatment of B2C digital/electronic supplies by foreign suppliers. The International VAT/GST Guidelines issued in conjunction with the Project Action 1 Report recommend the following approaches for collecting VAT/GST on B2C sales of electronic services by foreign suppliers:
The country of the customer will have the right to levy VAT on the supply
The foreign seller must register for VAT in the customer's country under a simplified registration and compliance regime, and
The foreign seller must collect and remit VAT
Many industrialised and emerging countries have since passed laws on this OECD guidance; most apply to B2C transactions only, although some of these jurisdictions have imposed obligations that apply or could apply to both B2B and B2C transactions.
For low value goods, the OECD has made similar recommendations providing for both a vendor and an intermediary-based collection model. The destination-based taxability trend affects many different areas of consumption tax, including the following examples.
US sales and use tax – the South Dakota v. Wayfair decision
The European Commission's 2018 proposals for a 'definitive' VAT system
EU e-commerce package and digital services
Latin America
EU E-Commerce VAT Package and Digital Services
The EU has been gradually introducing new rules for VAT on services. This is to ensure more accurately accrues to the country of consumption. From 1 January 2015, and as part of this change, where the supply of digital services is taxed changes. It will be taxed in the private end customer's EU location, has their permanent address or usually resides. These changes sit beside the introduction of the One Stop Shop (OSS) system which aims to facilitate reporting for taxable persons and their representatives or intermediaries. Under the EU e-commerce VAT package scheduled to take effect from 1 July 2021, all services and all goods including e-commerce based imports are subject to intricate regulations that include changes to the way customs in all Member States operate.
With this shift toward destination taxability for certain cross-border transactions it's key that companies fully understand the impact. That is not only on their business processes but also comply with changing rules and regulations.
This blog is an excerpt from Sovos' Annual VAT Trends report. Please click here to download your complimentary copy in full.
VAT requirements and their relative importance for businesses have changed significantly in recent years. For data that is transactional in nature, the overall VAT trend is clearly toward various forms of continuous transaction controls (CTCs).
The first steps toward this radically different mode of enforcement, known as the "clearance model", began in Latin America in the early 2000s. Other emerging economies, such as Turkey, followed suit a decade later. And today, many countries in the Latin American region now have stable CTC systems where a significant amount of the data required for VAT enforcement is based on invoices. Other key data is harvested and pre-approved directly at the time of the transaction.
Common clearance system features
There are several high-level features and processes that many clearance systems have in common.
However, many variations exist on this reference model in practice; many countries with a clearance system have implemented extensions and variations on these "standard" processes:
1. OK TO ISSUE: Typically, the process starts with the supplier sending the invoice in a specified format to the tax authorities or a state agent licensed to act on its behalf. This invoice is ordinarily signed with a secret private key corresponding to a public certificate issued to the supplier.
2. OK/NOT OK: The tax authority or state agent (for example, an accredited or licensed operator) will typically verify the signed supplier invoice and clear it by registering it under a unique identification number in its internal platform. In some countries, a proof of clearance is returned, which can be as simple as a unique transaction ID, possibly with a timestamp. In some cases, it's digitally signed by the tax authority/state agent. The proof of clearance may be detached from the invoice or added to it.
3. VALID: Upon receipt of the invoice, the buyer is often obligated or encouraged to check with the tax authority or its agent that the invoice received was issued in compliance with applicable requirements. In general, the buyer usually handles integrity and authenticity control using crypto tools, also used to verify a signed proof of clearance. In other cases, the tax authority or agent completes the clearance check online.
4. OK/NOT OK: If the buyer has used an online system to perform the validation described in the previous step, the tax authority or state agent will re-turn an OK/not OK response to the buyer.
The first "clearance" implementations were in countries like Chile, Mexico and Brazil between 2000 and 2010. They were inspired by this high-level process template. Countries that subsequently introduced similar systems, in Latin America and worldwide, take greater liberties with this basic process model.
Global expansion of CTCs
Europe and other countries passed through a stage allowing original VAT invoices to be electronic. This is without changing the basics of the VAT law enforcement model. This phase of voluntary e-invoicing without process re-engineering is "post audit" e-invoicing. The moment a tax administration audit comes into play is post-transaction. In a post audit system, the tax authority has no operational role in the invoicing process. It relies heavily on periodic reports transmitted by the taxpayer.
Largely due to the staggering improvements in revenue collection and economic transparency demonstrated by countries with existing CTC regimes, countries in Europe, Asia and Africa have also started moving away from post audit regulation to adopting CTC-inspired approaches.
Many EU Member States, for example, are moving toward CTCs not by imposing "clearance" e-invoicing but by making existing VAT reporting processes more granular and more frequent via CTC reporting. These countries will eventually adopt requirements for real-time or near-real-time invoice transmission. This is as well as electronic transmission of other transaction and accounting data to the tax authority. However, it's not a foregone conclusion that they'll all take these regimes to the extreme of invoice clearance.
CTC reporting from a purely technical perspective often looks like clearance e-invoicing, but these regimes are separate from invoicing rules. In addition, they don't necessarily require the invoice as exchanged between the supplier and the buyer to be electronic.
The impact of CTCs on business
The VAT trend towards CTCs is obvious, but situations in individual countries and regions remain fluid. It's important to align your company with local expertise that understands the nuances of your business and what regulations and rules you're subject to.
VAT accounts for 15-40% of all public revenue globally. We estimate that the global VAT gap – i.e. lost VAT revenue due to errors and fraud – could be as high as half a trillion Euros. The GDP of countries like Norway, Austria or Nigeria are at a similar level and this VAT gap is big enough to significantly impact the economy of many countries. For this reason, tax authorities globally are taking steps to boost lost revenue through VAT digitization.
Up until recently, VAT requirements have traditionally followed three broad categories.
1. Invoice and storage requirements
At a high level, the requirements that apply during the processing of business transactions break down into requirements related to:
The form of invoices: Most countries no longer have such requirements but in some cases businesses still use pre-printed paper invoices from the tax authority. This gives the tax authority tight control over invoice numbering and integrity.
Minimum content requirements: Most VAT countries only recognise an invoice for VAT purposes if it contains certain information. This would include name of the supplier and buyer, type of supply etc. In addition to VAT and other indirect tax laws, commercial and other laws can also dictate invoice content.
Tax determination: For every invoice, suppliers must determine the applicable law and, on that basis, decide the applicable tax rate. Application of certain tax rates also requires reference to an article in the VAT law to be stated on the invoice.
Timing: The moment an invoice must be issued is often set by the VAT law.
Record keeping: An "original" invoice should be archived by each trading partner. This evidences the underlying supply. Archiving requirements often further specify how long it should be kept, location and specific features – such as human readability – that must be present to ensure auditability.
2. Periodic reporting requirements
These are reports for business transaction data in summary or aggregate form or full data from individual invoices. Historically such reporting requirements have often been monthly, with certain less-common reports being quarterly or yearly.
3. Audit requirements
These occur when, during the mandatory retention period for invoices and other records and books, which is typically seven to ten years, a tax authority request access to such records to assess their correspondence to reports.
The trend toward continuous transaction controls (CTCs)
The requirement types listed above, and their relative importance for both business and tax authorities, have changed significantly in recent years. The overall trend is clearly toward various forms of CTCs.
This radically different mode of enforcement, known as the "clearance model" began in Latin America over 15 years ago. Other emerging economies, like Turkey, followed a decade later. Many countries in Latin America now have stable CTC systems where a large amount of the data required for VAT enforcement is based on invoices and other key data is harvested (and often pre-approved) directly at the time of the transaction.
Europe and other countries went through a stage where original VAT invoices could be electronic without changing the basics of the VAT law enforcement model. This phase of voluntary e-invoicing without process re-engineering is often known as "post-audit" e-invoicing. In a post-audit system, the tax authority has no operational role in the invoicing process relying heavily on periodic reports transmitted by the taxpayer. Being able to demonstrate the integrity and authenticity of e-invoices from the moment of issuance until the end of the mandatory storage period is key for trading partners in post audit regimes.
Largely due to the staggering improvements in revenue collection and economic transparency from countries with existing CTC regimes, countries in Europe, Asia and Africa have also started adopting similar schemes. This rapid adoption of CTCs in many additional countries doesn't follow the same simple path of quick migration of the early adopters. In fact, as the trend spreads around the world, it's becoming increasingly clear there will be many different models adding to the complexity and challenges faced by multinational companies today.
We recently launched the 12th Edition of our Annual Trends Report. We put a spotlight on current and near-term legal requirements across regions and VAT compliance domains.  The report, "VAT Trends: Toward Continuous Transaction Controls" is authored by a team of international tax compliance experts and provides a comprehensive look at the regulatory landscape as governments across the globe are enacting complex new policies to enforce VAT mandates, obtain unprecedented insight into economic data and close revenue gaps.
Central to this year's edition is our focus on four emerging tax mega-trends with potential to drive change in the way multinational businesses approach regulatory reporting and manage tax compliance.
The Four Tax Mega-Trends
The mega-trends include:
Continuous Transaction Controls (CTCs) – Countries with existing CTC regimes are seeing improvements in revenue collection and economic transparency. Now, other countries in Europe, Asia and Africa are moving away from post-audit regulation to adoption of these CTC-inspired approaches.
A shift toward destination taxability for certain cross-border transactions – Cross-border services have historically often escaped VAT collection in the country of the consumer. Due to a large increase of cross-border trade in low-value goods and digital services over the past decade, administrations are taking significant measures to tax such supplies in the country of consumption or destination.
Aggregator liability – With the increase of tax reporting or e-invoicing obligations across different taxpayer categories, tax administrations are increasingly looking for ways to concentrate tax reporting liability in platforms that naturally aggregate large numbers of transactions already.  Ecommerce marketplaces and business transaction management cloud vendors will increasingly be on the hook for sending data from companies on their networks to the government, potentially even inheriting liability for paying their taxes.
E-accounting and e-assessment – Combining CTCs with obligations to synchronize entire accounting ledgers makes onsite audit necessary only in cases showing major anomalies across these rich data sources. Over time, the objective is for VAT returns and other tax reports to be prefilled by the tax administration based on taxpayers' own, strongly authenticated source system data.
According to Christiaan van der Valk, lead author of the report and vice president of strategy at Sovos, continuous transaction controls have emerged as the primary concern for multinational companies looking to ensure tax compliance despite growing diversity in VAT enforcement approaches. Tax authorities are steadfast in their commitment to closing the VAT gap. As a result they will use all tools at their disposal to collect revenue owed. This holds especially true for the aftermath of COVID-19, when governments are expected to face unprecedented budget shortfalls.
VAT Trends: Toward Continuous Transaction Controls
Beyond the mega-trends, our report includes a major review of country and regional requirement profiles. These profiles provide a snapshot of current and near-term planned legal requirements across the different VAT compliance domains. The report also examines how governments have embraced digital transformation to speed revenue collection, decrease fraud and narrow VAT gaps.
"VAT Trends: Toward Continuous Transaction Controls" is the most comprehensive report of its kind. It provides an objective view of the VAT landscape with unbiased analysis from tax and regulatory experts with years of experience navigating the world's most complex tax environments. If you are a tax, IT or legal professional working with multi-national companies, we strongly encourage you to download and become familiar with the subject-matter contained within. The pace of change for tax and regulatory environments is accelerating and this report will get you prepared.
With two weeks to go until the first mandatory phase of the Indian e-invoicing reform go live, the GST Council slammed the breaks. Or at least, bring it to a significant temporary standstill of 6 months. As a result, the India e-invoicing reform is now postponed until 1 October 2020
Following a long list of complaints — both from the private sector toward the GST Council, as well as from the GST Council vis-á-vis the IT infrastructure provider that powers the GST Network, Infosys — the council decided to revisit the 1 April go-live in a recent meeting held today, Saturday 14 March.
GST Council Decisions
The GST council made a number of important decisions, including most notably:
Delaying the first mandatory go-live of the e-invoicing reform with six months, from 1 April 2020 until 1 October 2020
Delaying the obligation for B2C invoices. Those issued by the largest taxpayers in India, with a threshold above Rs.500 Crore. This is to include a QR code, from 1 April 2020 until 1 October 2020
Excluding certain types of taxable persons from the scope of the e-invoicing reform
The obligation to generate QR codes. For example, insurance companies, banks, and other financial institutions. Also non-banking financial institutions, and passenger transportation services
Postponing the entry into force of the new GST returns until 1 October 2020
Calling the chairman of Infosys to attend the next three GST Council meetings. This is for the purpose of reporting status updates of technical and infrastructure improvements to the underlying IT platforms that are the foundation of the on-going GST control reforms
The decisions made in the 39th meeting of the GST Council will require either that the legislative framework (Notifications) published in early December be amended or entirely replaced with new ones to reflect the new reality. However, it wouldn't be unreasonable to expect even further delays to the roll out of this reform. This given to the recent economic volatility triggered by the ongoing pandemic. Only once both global markets as well as the underlying technical platforms of the GST control reform seem to stabilize will the post-October timeline of the roll out be fully certain.
Is India postponing the mandatory implementation deadline for e-invoicing? For more than a year, India has been on the path to digitizing tax controls, with the first mandatory go-live for transmission of invoice data to a governmental portal scheduled for 1 April 2020. The very high pace of the roll-out of this reform made many taxpayers concerned that they might not realistically be able to meet the implementation deadline. As a result, leading many to hope that the Indian authorities might instead chose to postpone the go live date.
The latest news from India is that it looks as if these authorities may indeed consider a delay. Or at least discuss the possibility of – a delay to the go-live date. According to The Economic Times, the Indian government is going to discuss whether there is a need to defer the implementation deadline in the next meeting of GST Council, which is scheduled for the 14th of March. So far, a 3-month deferral is an option. This means that should the GST Council grant a delay, the first go-live would take place in July 2020.
Take Action
Get in touch to find out how Sovos can help your business meet the e-invoicing deadline in India.