Welcome to our Q&A two-part blog series on the French e-invoicing and e-reporting mandate, which comes into effect 2023-2025. That sounds far away but businesses must start preparing now if they are to comply.
The Sovos compliance team has returned to answer some of your most pressing questions asked during our webinar.
We have outlined the new mandate, e-invoicing specifically, and questions around this topic in our first blog post.
This blog will look at the other side of the mandate – e-reporting obligations. These will apply to B2C and cross-border B2B transactions in France, which must be periodically reported.
Payments E-reporting
First let's look at common questions around payments e-reporting.
What are the invoice and payment statuses to be reported?
Here is a slide from our webinar showing invoice statuses, whether these are mandatory, recommended, or free, origins, action to take if rejected, status data, and when it needs to be reported: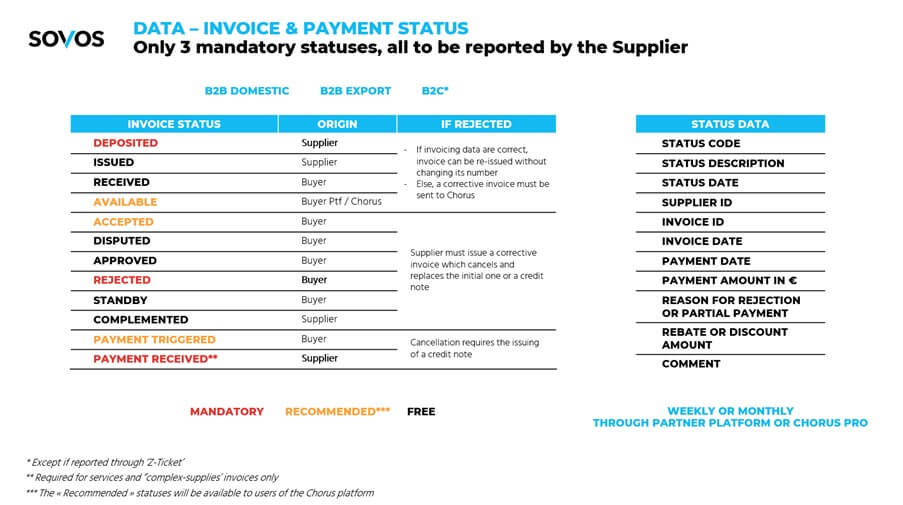 Who is responsible for payment e-reporting? The buyer, the seller, or both?
It was initially rumoured to be both on the buyer and the seller side, but the latest information from DGFIP clearly states that it will be the responsibility of the seller to report the invoice status, and, if applicable, its payment status.
Some further clarification is needed though since the seller is dependent on the buyer's response on some status (e.g. 'invoice rejected').
'Partner' platform certification requirements
Your e-invoicing and e-reporting project cannot be done in isolation. This is a significant project with many dependencies that involve external third parties.
There will be one or, in most likelihood, several third parties in the middle of the transaction chain. This will include Chorus Pro, chosen by the French government as the official and obligatory platform for businesses to issue e-invoices to public administrations.
This section covers common questions on partner platform certification requirements.
Is there a list of official validated partner platforms?
The 13 July 2021 DGFIP workshop dedicated to this matter highlighted that there would be a registration process for third-party platforms, as well as taxpayers who would want to run their own platform.
The registration process will consist of two phases:
Phase 1. A prior selection by the tax authorities based on the general profile of the candidate (e.g. are they up to date in their own tax payment duties?) and the services they propose;
Phase 2. Within 12 months after registration, an independent audit would have to performed that demonstrates that the platform meets the DGFIP requirements, such as:
Updating of the e-invoicing central directory
Issuing, transmitting / receiving e-invoices (including guaranteeing integrity and authenticity, as well as an advanced authentication process)
Processing and transmitting to Chorus Pro e-invoicing, e-reporting and payment status data

<liPerforming the control and mapping activities (extraction of invoicing data for both e-invoicing and e-reporting, certain invoice validation checks – mandatory fields, check sums, Customer ID verification – mapping to and from a minimum set of mandatory formats, compliance with GDPR, etc)
A few other key points to note are:
The registration and audit would need to be periodically renewed.
The consequences for non-compliant platform are not defined, an escalation process leading to the withdrawal of the registration would apply.
The platform operator might be French or foreign (although there is still a question mark as to whether non-EU operators will be permitted).
Implementation timeline
What is the current expectation on when exact required fields with be supplied by the government (invoice specs with all required fields and values)?
Excel files are available as a draft document at a very detailed level which Sovos can provide on request. The final specs should be known by the end of September 2021.
In our recent webinar, Sovos covered the new French e-invoicing and e-reporting mandate, and what this means for businesses and their tax obligations.
We are witnessing a global move towards Continuous Transaction Controls (CTCs), where tax authorities are demanding transactional data in real-time or near real-time, affecting e-invoicing and e-reporting obligations.
As such, from 2023, France will implement a mandatory B2B e-invoicing clearance and e-reporting obligation in an effort to increase tax efficiency, cut costs, and fight fraud.
The pace towards this mandate has been accelerating lately with the adoption of the Finance law for 2021, followed by a number of workshops organised by the Ministry of Finance — namely the Direction Générale des Finances Publiques (DGFIP).
In the first of two blogs on the mandate, we answer some of your most pressing questions asked during our webinar.
In part one, we focus on setting the scene in terms of scope, and cover questions around e-invoicing specifically, invoicing file formats, processes and controls, and archiving.
The second blog covers questions around e-reporting obligations.
Scope of the regulation
In this section, we answer questions on the scope of the regulation, such as which companies must comply with the mandate and how.
Are non-resident companies (foreign companies with only a French VAT-registration) obliged to fulfil this new regulation? Are foreign legal entities with a French VAT number in scope?
The Budget Laws for 2020 and 2021 introduced the CTC scheme from a legal perspective. Both include "persons subject to VAT" in the scope.
VAT registration is a strong indication that a company is subject to VAT, but classification as a VAT "taxable person" also depends on other factors.
Therefore, it is not as simple as just looking at whether a company has a local VAT registration, to decide whether it is subject to VAT and therefore targeted by the mentioned budget laws.
However, the scope cannot be unilaterally decided by France as the French CTC scheme is dependent on a derogation from the EU Council.
As a comparison, Italy initially included all taxable persons in the scope of its e-invoicing clearance mandate, including those with a mere VAT registration but no establishment. But in this case, the EU Council limited the scope (of its derogation) to persons established in Italy.
From an e-invoicing perspective, we can therefore expect that France will need to follow the Italian path (due to its reliance on a derogation from the EU Council), limiting the scope to established persons.
DGFIP has however suggested that companies that are non-established but VAT registered will be in scope of the reporting obligation.
Is import of goods in the scope of e-reporting? What about import of services?
Only imports (supplies from outside of the EU) of services are in the scope of the current proposal.
E-invoice formats
In this section, we discuss permitted e-invoice formats.
The fact that the new regime creates a specific process for domestic B2B e-invoicing does not change the need for businesses to demonstrate the integrity and authenticity of each invoice.
This can be done through one of the 3 legal methods defined by the existing regulations:
EDI
Qualified electronic signature or seal
The Business Controls option using Audit trail
To ensure there's no impact of the reform on integrity and authenticity demonstration methods, one can still apply any of them.
However, with the new regime, e-invoicing data sent to the DGFIP does need to be in a structured format.
Will digital signatures be required?
Digital signatures are not strictly required today and will not be strictly required in the new scheme. Integrity and authenticity will still need to be ensured though, irrespective of invoice format, as is the case today.
The options remain the same; use of digital signatures, use of EDI with security measures, or the BCAT option whereby the audit trail should prove the transaction and its authenticity and integrity.
Are PDF and XML invoice file formats still possible to receive from 2023-2025?
The legal invoice format can be anything, as long as the supplier and buyer agree on it and the integrity and authenticity are guaranteed. Also, a human readable version (normally a PDF) is required upon audit as part of the general EU requirements.
What e-invoicing formats are permitted?
This is not fully defined yet, but DGFIP has indicated the following syntax, based on the EN16931 standard:
Structured format: UBL invoice / CII D16B / XCBL
Hybrid format: Minimum UBL invoice / CPP hybrid / FACTUR-X (PDF-A3) / Minimum CII
Those formats would apply to:
Submission of invoicing data to Chorus Pro by suppliers who don't go through a partner platform
Issuing of legal invoice by Chorus Pro to buyers who don't use a partner platform
Reporting of clearance data (out of the legal e-invoice) to Chorus Pro by the supplier's partner platform
Exchange of legal invoices by the supplier and buyer partner platforms unless they agreed to some other format (NB: for this last case, partner platforms should be able to process those formats at a minimum level by default. But nothing would prevent them from deciding to use any other format if both the supplier and the buyer agree, e.g. EDIFACT).
E-invoicing process and controls
In this section, we answer questions around the processes for sending and receiving e-invoices, what information they need to include, and the Chorus Pro platform.
Will the e-invoice need to be sent real-time?
Yes, it can be considered a "real-time clearance system". As part of the e-invoicing obligation, the reporting of mandatory data to the tax authorities and the issuance of the original invoice to the buyer by the supplier's partner platform should happen right after receiving the invoicing data from the supplier.
If the invoice doesn't have all the mandatory information like the SIRET number of a customer, will the Chorus Pro platform clear it?
It will be mandatory to mention the SIRET number (ID) of the French trading parties.
For non-French EU parties, the VAT intracom number will need to be mentioned.
For non-EU parties, some local ID will be expected.
If the applicable ID is missing, the data will be rejected by Chorus.
If the ID is wrong, the invoice will be addressed to the wrong buyer and will eventually have to be cancelled (if e-invoicing) or may be penalised by tax authorities if audited.
Will Chorus Pro also be validating the VAT rates used?
No, or at least not on the fly when submitting the invoicing data to Chorus Pro. Our understanding is that those verifications will be done by the tax authorities after the fact, using data analytics / AI algorithms.
Are there common data, connection and bridges with the current SAF-T?
The French version of SAF-T (FEC) must still be available on demand from the tax authorities.
Archiving
In this section, we answer questions around compliant archiving of e-invoices.
Does the Chorus Pro/Tax Authority portal provide a compliant electronic archive for AP/AR invoices in France?
Yes. However, in our experience, even though a tax authority's archiving solution would be available for taxable persons, few larger companies choose to solely rely on it for evidence purposes and instead continue to use their compliant internal or third-party archiving solutions.
This decision is ultimately based on the fact that the tax authority's archiving solution poses a conflict of interest: it is maintained by the tax authority, which, from a legal perspective, is not an independent party but rather the counterparty in a fiscal claim.
In fact, from discussions with many experts and customers over that past year, we see that the market request for third-party archiving services is even stronger after the introduction of clearance, especially as customers see a need to store not only the invoice but also response messages from the CTC portal to further maintain evidence of compliance.
Starting in 2023, French VAT rules will require businesses to issue invoices electronically for domestic transactions with taxable persons and to obtain 'clearance' on most invoices before their issue. Other transactions, such as cross-border and B2C, will be reported to the tax authority in the "normal" way.
This will be a major undertaking for affected companies and although the changes are more than a year away, planning should start now. But what does planning mean in the context of a continuous transaction control (CTC) rollout? What have businesses on the cusp of such a transformation learnt when faced with the same challenge in countries such as Italy, India, Mexico and Spain? And how can businesses leverage those best practices for future CTC rollouts?
We share the points businesses should consider when planning for any CTC rollout, which can be used as a checklist for the France 2023 mandate to help you prepare.
Understand the new changes, and be aware of what's ahead
Is your organisation aware of, and do the relevant functional teams understand, the material changes proposed by the government?
Do your teams understand what specifically is changing and do they have a reliable source of information to use as guidance?
In a situation as dynamic as a CTC rollout, do your teams have the means to monitor new developments and analyse future changes?
Is there a process in place in your organisation for implementing new changes once they've been introduced in law?
Understand how your business and operations are affected
Which of your business transactions are in scope? When do they need to be compliant?
How are your intercompany invoices processed today? It's not uncommon for businesses to overlook compliance requirements for their intercompany invoice flows, but in a clearance system these invoices are almost always in scope.
How will invoices be sent to the French tax authority under the new system? Can you manage this internally or is a third party involved?
What information in addition to the invoice information must be sent?
Where an invoice is not required today e.g. B2C sales, what information must be sent?
How should these invoices be archived? Are there any specific legal or technical requirements for such storage?
Design or evaluate potential solutions
Is the CTC reform best solved through an internally developed solution?

If yes, talk to IT as soon as possible so they can start planning and allocate both the necessary time and budget for the project.
If no, who are the service providers that could help?

If external providers are used, how will the data go from your source systems to them and ultimately to the tax authority?
Which of your source systems contain the required data? Is it one or multiple?
Does the external provider have a 'ready to go' extractor for your ERP system/source system? Or, if your organisation relies on an API first strategy, which source systems will you use to send the data on to your provider or the tax authority?
Execute the solution
How much notice does your IT department need for such a project? Resources from IT will be required, regardless of whether it will be an external or internal project.
How much will development and implementation cost? Budget will need to be secured regardless of how you plan on implementing your solution of choice, internal or external.
When does the cost need to be submitted for budget approval?
When do you need to kick off the project? Once the planning is completed and the time required is known (including testing and training) you can work backwards to achieve a start date. This date should be confirmed with IT as soon as possible.
Once you've answered the questions above, you'll be in a good position to both plan the roadmap to ensure compliant processes in time for the entry into force, as well as to estimate the cost and secure the needed funding for the project.
France is introducing continuous transaction controls (CTC). From 2023, France will implement a mandatory B2B e-invoicing clearance and e-reporting obligation. With these comprehensive requirements, alongside the B2G e-invoicing obligation that is already mandatory, the government aims to increase efficiency, cut costs, and fight fraud. Find out more.
France shows a solid understanding of this complex CTC subject, but some questions remain.
Introduction
France announces VAT changes spurred on by international reforms for continuous controls of VAT transactions ("Continuous Transaction Controls" or "CTCs"). The French government aims to increase efficiency, cut costs and fight fraud through the roll-out of mandatory B2B e-invoice clearance. This coupled with an e-reporting obligation gives the tax administration all relevant data for B2B and B2C transactions. This will start with large companies.
A mixed CTC system
In the report 'VAT in the Digital Age in France' ( La TVA à l'ère du digital en France), la Direction General des Finances Publiques – or DG-FIP – describes its aim to implement this mixed solution. Whereby mandatory clearance of e-invoices (ideally for all invoices, without exceptions such as threshold amounts etc) will lay the foundation.
This will provide the tax authority with data relating to any domestic B2B transaction. However, in order to effectively be able to combat fraud, including the carousel type, this is not enough; they need access to all transaction data. Therefore, data that the tax authority will not receive as part of the e-invoice clearance process – notably B2C invoices and invoices issued by foreign suppliers that will not be subject to a domestic French mandate, as well as certain payment data – will be subject to a complementary e-reporting obligation. (The requirement to report this latter data electronically does not mean that the underlying invoices must be e-invoices; parties can still transmit in paper between themselves.)
The Clearance architecture
The report describes how the DG-FIP has considered two potential models for the e-invoice clearance process. This is via the central Chorus Pro portal (currently the clearance point for all B2G invoices). These are the V and the Y model.
In the V model there is one public platform that serves as the clearance point; the central Chorus Pro platform is the only authorized platform via which the invoice can be transmitted to the buyer, or where applicable, the buyer's service provider.
The Y model includes in addition to the central platform certified third-party service providers, which are authorized to clear and transmit invoices between the transacting parties. This alternative is the preferred option by the service provider community. For that reason – and as this model is more resilient because it is not exposed to a single point of failure – the report appears to favour the Y model.
Timeline
As to the timeline, starting in January 2023, all companies must be able to receive electronic invoices via the centralized system. When it comes to issuance, a similar roll out as for the B2G e-invoice mandate is envisaged, starting with large companies.
By 1 January 2023, large companies will be subject to the e-invoice issuance and also the e-reporting mandate
For medium-sized companies these obligations will apply from 1 January 2024
The smallest companies would have until 1 January 2025 to comply
Challenges and road ahead
The report lays a good foundation for the deployment of this mixed CTC system. However many issues will need to be clarified to allow for smooth implementation. Some of which quite fundamental.
The proposed model means that the French tax administration needs to think through the details of service provider certification.
The relationship between the proposed high-level CTC scheme with pre-existing rules around e-invoicing integrity and authenticity. The French version of SAF-T (FEC) and digital VAT reporting options need to be clarified. On that last topic, the French budget law for 2020 that initiated this move towards CTCs suggested that prefilled VAT returns are among the key objectives, even if this does not feature prominently in the DG-FIP report.
Some questions remain about the central archiving facility associated with the CTC scheme.
The proposed central e-invoicing address directory requires careful design (including maintenance) and implementation.
The report proposes a progressive and pedagogical deployment. This will ensure that businesses will manage this -for some radical – shift to electronic invoicing and reporting. The ICC's practice principles on CTC are referenced, specifically noting the importance of early notice and ICC's advice to give businesses at least 12-18 months to prepare. The first deadline comes up in just over two years' time. It leaves only 6-12 months for the French tax administration to work out all details and get the relevant laws, decrees and guidelines adopted. This is if business should have what ICC believes is a reasonable time to adapt.
Back in June this year, many heads were turned when the French Minister of Public Accounts and Action, Gérald Darmanin, went on record stating that the French Government has the intention of making e-invoicing mandatory also for B2B transactions. Now it seems that the Government – spearheaded on this topic by Minister Darmanin as well as by the Minister of Finance Bruno Le Maire – has moved from word to action. The French Finance Bill for 2020, formally presented after the meeting of the Council of Ministers on 27 September, codifies the plan to extend the B2G e-invoicing obligation in force today to cover also B2B e-invoices.  
What's new?
In just three short paragraphs, the draft finance law outlines the major principles for the budding reform. While much is left to be clarified by later decrees, art. 56 of the Finance Bill introduces the main rule that electronic form for invoices will be mandatory and that, as a result, paper invoices will no longer be permitted. It also introduces language that means that e-invoices most likely also will be cleared by the tax authority, or otherwise have the data transmitted to the tax authority to enable control of the VAT on the invoice. France will effectively, and not surprisingly, be joining the ranks of other countries such as Mexico, Turkey, Italy and Brazil, who have implemented measures to tackle its VAT gap through real-time VAT control mechanisms. 
The timeline of the roll-out of the mandate will, just like the roll-out of the B2G mandate currently in force, be scheduled in stages; gradually becoming applicable for companies depending on the size of the business. The first stage of the mandate will begin on 1 January 2023, and according to the bill the entire economy should be up-and-running under the new e-invoicing system no later than 1 January 2025.  
The Government also states that it, during the course of next year, will present a report to parliament, the Assemblée Nationale, presenting how the reform will be carried out as well as the underlying analysis of which method and what regulations constitute the most appropriate technical, legal and operational solution, particularly as regards the clearance/transmission of invoice data to the tax administration.
What's next?
In addition to the analysis and drafting of both laws and reports that the Government announced, it's also clear that one more critical element needs to be covered before the reform becomes a reality: Brussels.  
Ever since Italy went down this same path and became the first EU country to introduce mandatory clearance B2B e-invoicing, many parallels have been drawn between the two countries. They share a similar situation in terms of VAT gap and IT infrastructures, which have made many experts (rightly) assume that France would follow down the path Italy set out. However, in order to lawfully do so, Italy had to seek and obtain permission from the EU Council to deviate from the provisions of the EU VAT Directive (2006/112/EC). The French Government has acknowledged that it will need to do the same.