With more companies focusing on global integration, cross-border supply chains and expanding ecommerce, governments across the globe are introducing new ways to enforce tax rules and close their tax gaps. The evolving global regulatory environment produces unique tax determination and reporting challenges in the United States and additional VAT and e-invoicing compliance challenges around the globe. These regulations can interrupt operations and impede growth for unprepared businesses.
The era of digital tax and continuous compliance is here and presents two very different sets of challenges: immediate operational issues followed by long-term, strategic issues.
Immediately, companies face both compliance and cost issues. When a country introduces a new digital e-invoicing or e-reporting requirement, the local business unit needs to respond. However, the parent company most likely already uses a core ERP system such as SAP with its tax logic and transaction processing modules baked in. Such systems rely on standardization with local adjustments to any regulatory last mile.
This approach to tax localization no longer works in an era where tax authorities are announcing aggressive, real-time tax mandates. [Details of which may be found in our new white paper.] So, in order to comply with the new regulations around e-invoicing, e-matching, e-reporting and e-audits, local managers are pressed to create digital workarounds as these mandates arrive.
Often times, the pressure because of the timing is to use disparate, local vendors or create point solutions. This, unfortunately, if it continues unchecked, leads to the reality of a reverse digital transformation, where you end up with many different point solutions for this digital tax problem across your global landscape.
Centralizing Finances and Tax Compliance
And this reality is going to be a significant challenge in the SAP Central Finance deployment scheme and transition state, as this will take months, maybe years and it's highly likely that your business will be affected by new government mandates and schema changes during this time. Not to mention the data matching problems that arise from data living inside and outside the legacy ERP systems that are difficult to cope with while in the middle of a transition.
It's crucial to recognize that a country-by-country, local approach is not only inefficient but also raises tax compliance risks. The opportunity here is to take inventory of changes across all jurisdictions in order to build a more consistent, efficient and effective enterprise-wide approach. This should incorporate all key business processes including VAT invoicing, payment, inventories and any other activities with an impact on taxation.
Protecting SAP Central Finance from global tax mandates
The alternative to this reverse digital transformation is a global strategy for tax compliance.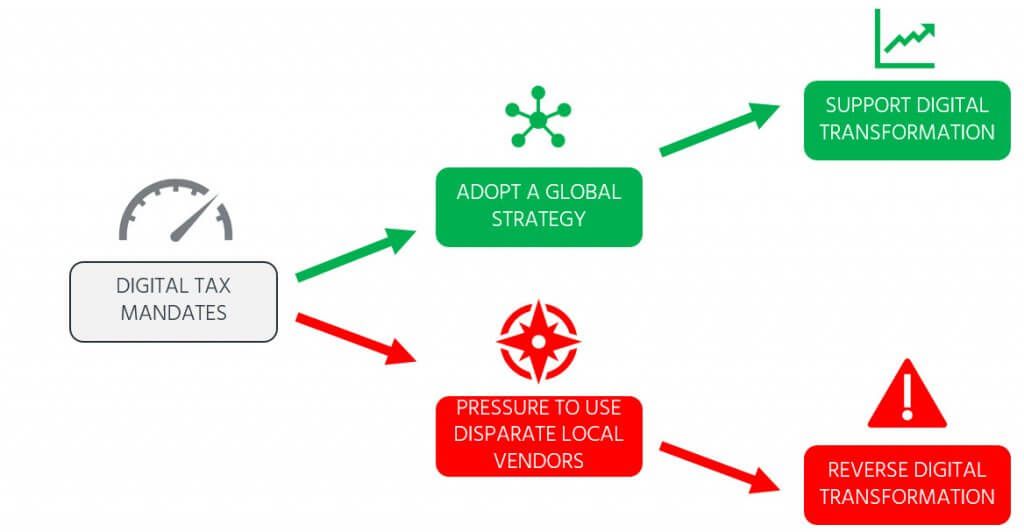 By using a unified system for tax compliance where regulatory updates are delivered automatically, the need for manual intervention each time regulations change is removed. CTOs also avoid surprises of an unknown point solution running custom code in another region and impeding their migration to SAP Central Finance and ultimately SAP S/4HANA.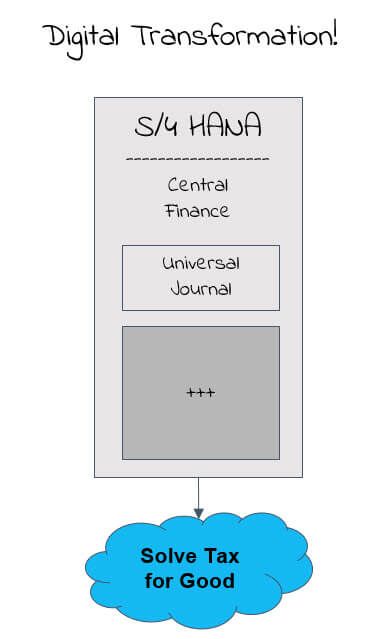 A global tax compliance strategy should be at the forefront of your SAP Central Finance project plans. Take inventory of your exposure, including local point solutions for digital tax determination, custom reporting built in-house, and SAP and third-party localizations.
For SAP customers moving to SAP Central Finance, given the massive scope of the project and the sensitivity of the data involved, tax compliance will likely start out as an afterthought in migration plans. But it shouldn't be. Global tax mandates are complex and change constantly, and they can be invasive in a company's business processes. Failure to comply not only courts potentially significant financial penalties, it can also seriously affect cash flow, as well as relationships with suppliers and customers.
So how do you go from this…
…to this?