The insurance market for 2019 was marked by two key trends:  insurers implementing post-Brexit strategies, and the continuous rise of insurtech companies. But classic and more traditional insurance companies and captives have not surrendered.
A hard Brexit has been anticipated by UK insurers
British insurance companies have carefully planned for the different flavours of Brexit and the resulting consequences.  Most have set up subsidiaries on the European continent well ahead of the initial deadline of 29 March 2019. The countries to benefit the most from UK insurers' Brexit strategy are Ireland and Luxembourg. Both countries have welcomed several big London players as they set up a subsidiary in Dublin and Luxembourg city. Belgium also played the game well by securing the implementation of Lloyds of London EEA subsidiary in Brussels. The Netherlands have also benefited as the domicile chosen by P&I clubs along with Ireland to house their post-Brexit subsidiary. Conversely, France and Germany haven't attracted a significant number of UK insurers.
The fact that UK insurers have set up subsidiaries and physically moved staff to the continent shows they have taken no risks in their Brexit strategy. Their key objective will be to maintain business continuity by assuming that a hard (or no-deal) Brexit was likely to happen, which could remove their automatic access to the EU common market. A fact that might have been overshadowed is that Brexit doesn't only affect UK insurers' strategies as US insurance companies are also affected. While they would naturally have put the UK high on their domicile list when choosing where to set up a European subsidiary, they're now having to consider a shift to other domiciles such as Ireland or the Netherlands.
Insurtech companies keep rising
Insurtechs continue to benefit from a strong growth in capital invested with USD 6.37 billion raised in 2019 which is an increase of more than 50% from 2018 (USD 4.15 billion).  The US continues to lead the trend with most of the insurtech unicorns based there, followed by China and India.
While these companies used to focus on providing support functions to the insurance market, they are now starting to operate as standalone insurance companies. Their emphasis is mainly on private insurance. Most of the success stories so far have been in specialised markets such as health insurance (Clover Health, OscarHealth), car insurance (Root insurance) and home insurance (Hippo, Lemonade). The trend is spreading to Europe, with companies such as Alan (France) and Friday (Germany) having recently been granted authorisation to sell insurance locally.
There are three recent examples which illustrate the increasing influence of insurance technology.  First, we've seen some US insurtechs start to see significant growth in their annual turnover. Root Insurance has seen a steep growth in premiums collected: USD 187 million for the first semester 2019 which is 800% more than the first semester 2018 figures.
Secondly, some insurtechs are starting to look outside their domestic market. Lemonade, the leading US insurtech in home insurance, has recently announced it will start offering coverage in Europe, starting in Germany.
And finally, insurtech companies are becoming part of any Mergers and Acquisitions (M&A) strategy adopted by classic insurance companies – the latest significant example being Assurance IQ (another US unicorn), which was recently acquired by Prudential Financial. This is part of classic insurance companies' strategies to keep their dominant position on the market: acquiring insurtech companies in the short term to not face tougher competition in the longer term.
Mergers and Acquisitions
Perhaps an indirect result of Brexit, M&A activity during 2019 within Europe was quieter than in recent years and in particular in 2018 when we saw the merger of two big players: AXA and XL. The insurance market has seen several big mergers over the last few years, with Tokio Marine taking over HCC Insurance in 2015 and Ace buying out Chubb, as well as Sompo acquiring Endurance in 2016. Recent M&A are more focused on specialised markets, with for instance cyber insurers being added to large groups (Tokio Marine HCC) or classic insurers acquiring insurtech companies as previously mentioned.
On the other side of the Atlantic, M&A has mainly been driven by brokers in the first half of 2019 for a total of USD 3 billion of M&A coming from less than 300 deals according to PwC.  
Consolidation of the Captives market
The number of new formed insurance and reinsurance captives fell in 2018 according to Captive Review. While 345 new licences were granted, 551 of them have been revoked. The US, Bermuda and the Caribbean continue to drive the captive market, accounting for more than 80% of all insurance captives. Europe remains stable while Asia Pacific, Middle East and North Africa still show small numbers.
If the number of insurance captives continues to fall, the volume of premiums collected will continue to grow, suggesting that the market is at the age of maturity and parent companies are willing to manage more risks in-house. This is probably true for regions like North America, the Caribbean and Europe. However, there is still a growth potential in other regions, Asia Pacific in particular, where only 168 insurance and reinsurance captives were active in 2018.
Source: Captive Review 2019 Domiciles Report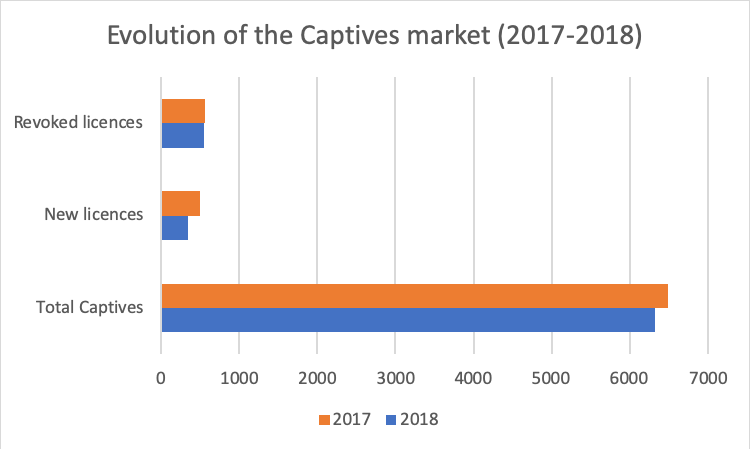 Source: Captive Review 2019 Domiciles Report
While the Brexit saga is likely to come to an end this year and M&As will continue to occur on a regular basis as the insurance market is consolidating, the most disruptive trend in the coming years is likely to come from insurtech companies and to a certain extent from insurance captives if Asia develops an appetite for it.