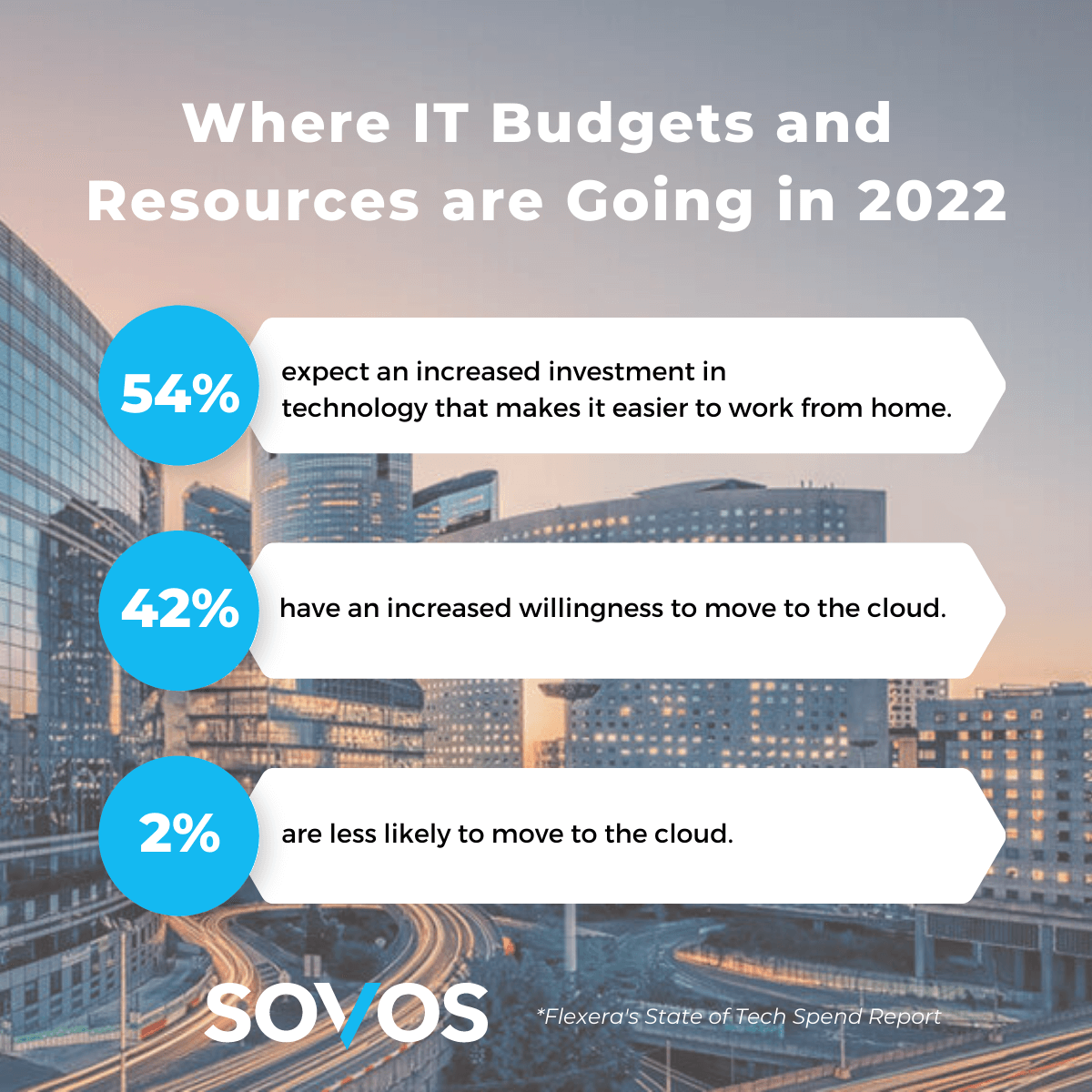 According to research firm Gartner, IT spending will reach an estimated $4.5 trillion in 2022. This represents a 5.1% increase as compared to 2021. This much needed increase allows businesses to focus on technology updates and advancements that had to be placed on the backburner due to the COVID-19 pandemic. IT departments are now eager to switch their focus to more long-term projects as they are pivoting priorities and adjusting to a new normal.
Where IT budgets and resources are going in 2022
IT management solutions firm Flexera recently issued its State of Tech Spend Report in which respondents, all executives and high-level managers in IT with significant knowledge of their organizations' overall IT budgets, weighed in on what to expect in the year to come. The report highlighted the importance of post-pandemic IT preparation:
54% of those surveyed expect increased investment and resources to be applied to technology that makes it easier and more seamless for employees to work from home.
42% of those surveyed state an increased willingness to move to the cloud in a post-pandemic world.
Only 2% reported a decreased willingness to consider cloud technology.
These findings show the importance of a hybrid and flexible work environment for employees in 2022 and beyond. With the likelihood of working from home, at least in some capacity, here to stay, IT departments need to ensure that they are prepared to tackle any challenges that may arise.
Government mandates are lurking – setting new expectations for IT
Government mandated e-invoicing laws are quickly ramping up around the world and represent a potential threat to your IT budgets and best laid plans. Organizations and their IT departments must be prepared for the new realities that accompany government mandated e-invoicing. These mandates have authorities in the data stack of businesses, examining transactions in real-time as they traverse your network. This takes the control away from organizations who no longer have the benefit of deciding when to implement these protocols or upgrades. Remaining compliant is now at the forefront of IT priorities and critical business concerns to ensure commerce and business remain operational.
With compliance no longer being a sole tax issue, IT leaders and other senior leadership must work together to align business functions across the board. IT needs to ensure the resources and tools are in place to meet government mandated obligations, no matter the company's industry, or locations. Real-time monitoring of your data comes with real-time enforcement that can range in severity from significant fines to shutting your business down completely. These are major setbacks for any organization that can be avoided by implementing a technological strategy to address the global mandate challenges.