States continue to enforce unclaimed property (UP) compliance. UP is broadly defined as any property held by companies in which the owner is lost and/or there has been no customer-generated activity for a statutorily mandated period of time, known as the dormancy period. Research conducted by Sovos found that there is nearly $77 billion in unclaimed assets in the United States, and states are looking for their share. Though reporting UP to the appropriate state is a company's responsibility, it has been reported by at least one organization that less than 20% of companies are in full compliance with UP laws. Noncompliance can result in costly audits, large interest and penalties as well as damage to company reputation.
Sovos wants to provide you with the necessary tools to stay up-to-date and compliant in this ever-changing industry, that's why we have created the UP Compliance Hub.
What's included in the Unclaimed Property Compliance Hub?
Sovos' Compliance Hub provides your company with the tools needed to ensure compliance in the constantly evolving world of UP. Sovos' regulatory experts continuously update the hub to keep you informed on changes as they occur. Subscriptions are customizable to fit your unique business needs and compliance objectives.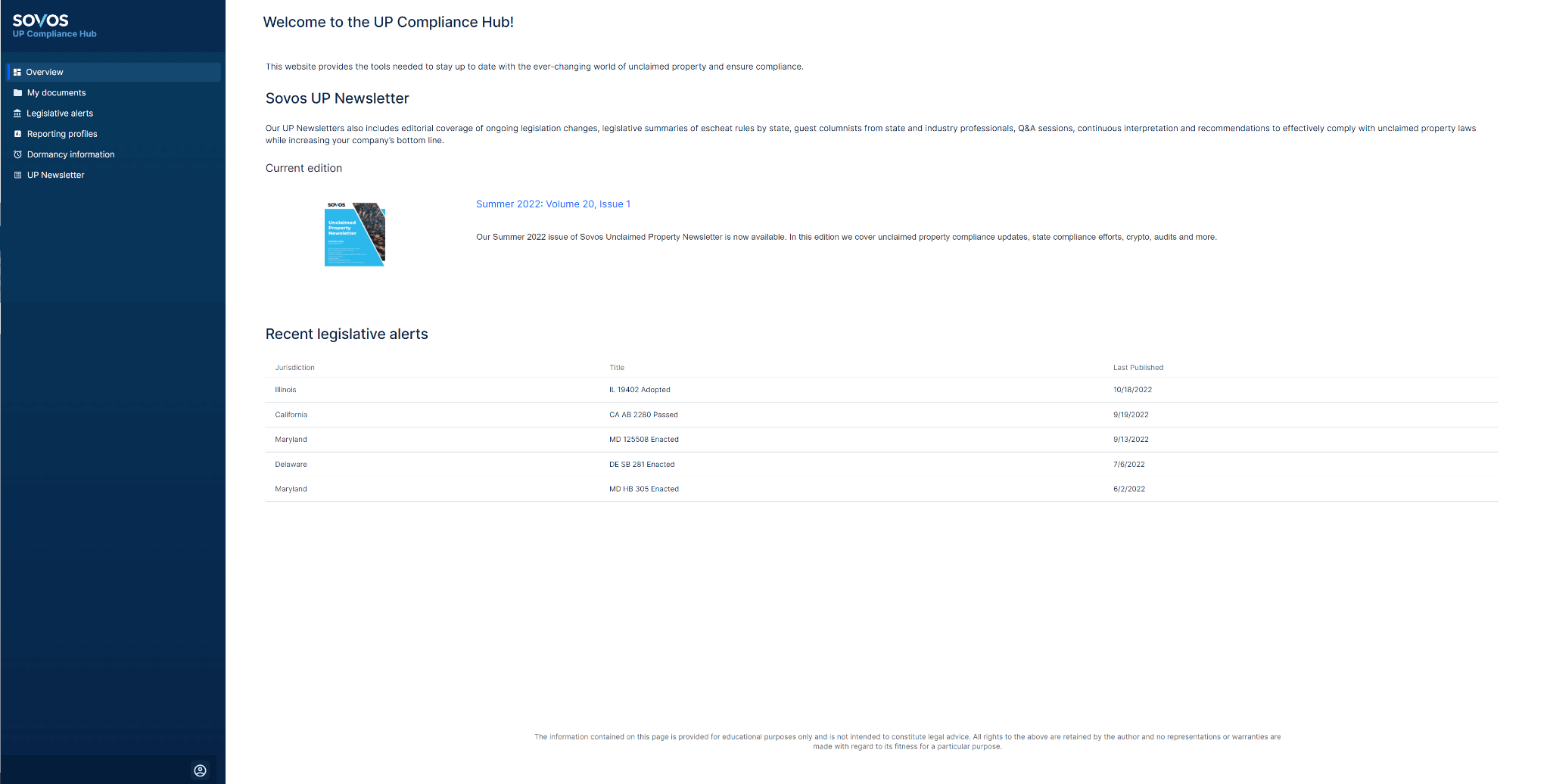 What can a subscription do for you?
Provide access to legislative alerts as developments occur and a cumulative listing of all historical legislative activity.
Learn the mechanics of reporting and remitting UP to each reporting jurisdiction housed in "State Profiles" updated each reporting season.
Look up dormancy periods per property type by state with Sovos' dormancy module.
Access matrices providing requirements for all reporting jurisdictions on a variety of UP issues including due diligence, contact, securities and more.
Learn about UP developments and trends in Sovos' UP newsletter
Choose from three subscription levels of access based on your needs. Whichever level you choose, Sovos' UP Compliance Hub will help you gain transparency and control of your tax engine.