The 2021 1099 tax reporting season is rapidly approaching and the changes and updates are still coming – from the IRS and states. How can you ensure you're ready for the busy season in time? We have four key ways to stay up-to-date on the latest reporting requirements, as well as highlights of notable 2021 changes.
Update your system based on regulatory updates and changes. The IRS released the annual Publication 1220 Specifications for Electronic Filing of Forms 1099, etc. in September and then again in October. Make sure you are working off of the most recent version. States also just started releasing requirements. In the last week, Sovos recorded updates from nine states related to Form 1099-NEC Nonemployee Compensation reporting for the upcoming season. Make sure you are tracking the requirements for all of the states in which your organizations' payees reside and all of the Form types your company plans to issue for 2021 1099 reporting. Or have a partner, like Sovos, that manages all of these processes for you.
Check the health of the name/Taxpayer Identification Number (TIN) combinations. Check those combinations against the IRS TIN matching database so that you can get those issues fixed before your organization files to avoid backup withholding notices (i.e., B notices)  and penalty notices (i.e., P notices). Reacting to B and P notice compliance is costly to your organization and creates a negative client or payee experience. Proactively identifying name/TIN mismatches and cleaning up the discrepancies before filing 1099 information is best practice.
Pilot test the January process to ensure data is being produced as expected and that there are no errors. Whether it's changes to the IRS and state requirements or changes to your own organizational systems and processes, it is important to perform a "dry run" of producing the 1099s for printing and mailing (a small sample should suffice) and for filing the information with the IRS and applicable states. Sovos clients benefit from the individual transmittal testing completed with the IRS and states in advance to ensure that files are not rejected during that busy January season.
Don't forget the state requirements when reporting. Over 40 states require some form of direct state tax reporting for various 10-series and W-2 forms. Some require filing at different thresholds, some don't participate in the IRS sharing program (i.e., CFS) and even some that do participate in CFS still require your organization to directly file 1099 and W-2 information. Make sure you know which states your organization is obligated to report to and what those requirements are. 
2021 regulatory changes to note
The IRS did add Form 1099-NEC to the Combined Federal/State Filing (CFSF) program for the 2021 season. Form 1099-NEC is reported for nonemployee compensation payments amounting to $600 or more during the year (formerly reported in Box 7 of Form 1099-MISC). The form was introduced for the 2020 reporting season but was not included in the CFSF, resulting in 36 states plus D.C. implementing requirements for businesses to file the Form 1099-NEC information directly.
Despite the fact that the IRS included the Form in the CFSF for 2021, businesses need to continue to look at individual state reporting requirements to determine how to file this Form for 2021. So far only one state has confirmed that it will use CFSF and not require direct state reporting (Arkansas). Stay up to date on these changes on our blog: Latest Updates: State Direct Reporting Requirements for Form 1099-NEC.
Your organization should be aware of some 2021 filing requirements  that modernized IRS systems have impacted.  Secure Access changes impacted the IRS Filing Information Returns Electronically (FIRE) system. Existing FIRE users may experience login difficulties and should pay special attention to use exact business naming conventions in the user login.  Also, the process by which a company can apply for a Transmitter Control Code (TCC) has been updated. The TCC is required before a business can submit information returns in AIRS or FIRE or other IRS systems.
For small business filers who previously submitted 1099s to the IRS on paper, watch for the finalization of the Proposed Regulations related to the IRS electronic filing threshold requirements. The Regulations propose that for 2021 season, filers will be required to submit information returns electronically if they issue at least 100 forms (rather than the existing threshold of 250 forms). Additionally, the IRS proposes to change the method by which your organization determines it has reached that 100 form threshold. Specifically, your company needs to aggregate all returns including Forms W-2, 1095, 1099, and 1042-S when determining whether the threshold for electronic filing has been met. States, such as Ohio, are also implementing their own efile threshold changes for certain forms. 
Prior year extensions of time to furnish Recipient copies of Affordable Care Act (ACA) Forms 1095-B and C are not extended to the 2021 season. The IRS released the annual Publication 5165 Publication 5165 Guide for Electronically Filing Information Returns and confirmed that the 2021 due date to furnish the recipient statement is January 31, 2022 and explains how filers may request an extension of time.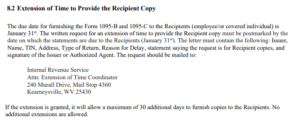 Streamline your tax information reporting and withholding
Tax information reporting and withholding requirements are constantly changing. Business cannot assume that just because specific requirements were in place one year, that they will be the same next year. Every year, Sovos reports 620 million tax forms, making us the #1 private filer of 10-series forms filed to the IRS. Companies have relied on our wide breadth of tax information reporting solutions for over 30 years. Sovos' tax information reporting, withholding management and tax identity management solutions reduce manual work by up to 90%. This empowers our clients to focus on their most important business goals while ensuring compliance.
Take Action
Download this white paper to learn some of the most common issues organizations face during year-end 1099 reporting, along with best practices to help your business avoid them.