The digital transformation of tax around the globe is putting enormous pressure on NetSuite-driven businesses large and small looking to confidently expand into new markets, launch new products and services and adapt as global regulatory compliance demands become more complex and real-time.
This new business complexity puts an additional onus on tax and IT teams, who do not have real-time access to updated sales tax and VAT data, to constantly update tax rate and rules changes (i.e. through rate files or manual updates), increasing audit risk and opening the company up to additional audits and fines.
NetSuite OneWorld and SuiteTax with Sovos S1
A powerful component of NetSuite OneWorld 16, SuiteTax centralizes all tax functions within the NetSuite modules. NetSuite has been making enhancements to the NetSuite SuiteTax engine to support the most complicated international tax jurisdictions around the globe, and Sovos has successfully transitioned a client from legacy NetSuite tax using the new SuiteTax API layer.
While NetSuite centralizes finances, the Sovos S1 platform has been protecting NetSuite users by centralizing compliance in the cloud and providing updated sales tax and VAT rates and rules without disrupting ERP functions.    
"With our migration over to NetSuite and the recent Wayfair ruling, Frontstream was in search of a robust tax calculation integration within SuiteTax. When reviewing the competition, we chose Sovos due to the knowledgeable sales process, competitive pricing and overall confidence instilled in Sovos' expertise. Throughout our relatively quick implementation, the support team was extremely responsive and courteous and as we continue our relationship, we are confident Sovos is the partner that can help us address our tax compliance needs."  – Steve Collin, Controller, Frontstream
IDC Names Sovos Leader in Sales Tax and VAT Automation
NetSuite SuiteWorld users were recently provided an additional level of confidence in choosing Sovos as their strategic business partner as IDC, the premier global provider of market intelligence, advisory services, and events for the information technology, telecommunications, and consumer technology markets, recently named Sovos a leader in its 2019 sales tax and VAT automation applications vendor assessment report. Evaluating the leading sales tax and VAT automation vendors for current capabilities and future strategy that align to customer needs, Sovos was lauded for its strong cloud platform and APIs, globalization, growth plans, roster of multinational customers, as well as its e-invoicing compliance capability which is critical for multinationals to support global regulatory demands.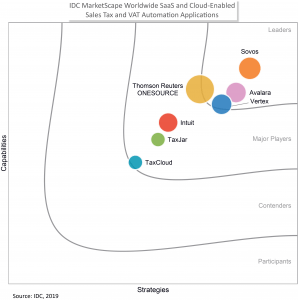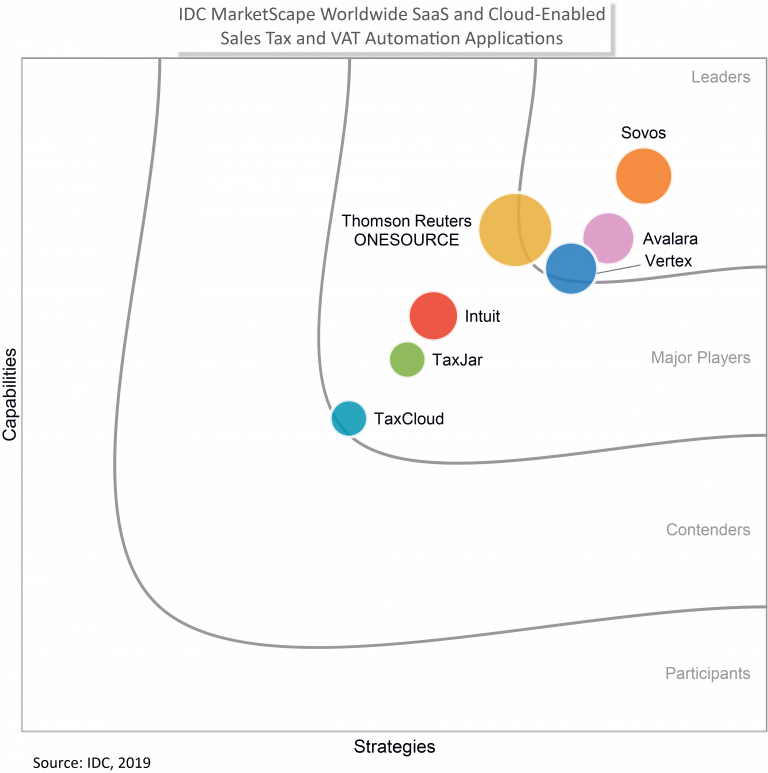 Sovos and NetSuite Sales Tax History
It was three years ago that "Sovos achieved "Built for NetSuite" status. Today, for businesses that require modern tax compliance needs, Sovos provides a full end-to-end solution from tax determination to exemption certificate management, automation of sales and purchase transactions to simplify consumer use tax calculations and accrual, to filing state and local returns with ease. Sovos Global Tax Determination for NetSuite SuiteTax provides your business real-time access to the same, always-accurate, rates, unsurpassed performance, reliability and data security that gives confidence to the world's most complex and demanding businesses.
"Sovos Sales Tax SuiteApp coupled with NetSuite simplifies tax calculation and compliance with confidence to allow our customers to focus on the core values and initiatives that drive their businesses. This partnership can enable clients to deliver the engaging experience they expect from NetSuite with the knowledge and expertise of Sovos Sales Tax," said Guido Haarmans, Senior Vice President Business Development for Technology Partners at NetSuite.
With Sovos' industry-leading regulatory analysis behind it, NetSuite SuiteTax enables accurate NetSuite sale tax calculations, applying millions of unique combinations of tax rates and product rules in real time. Improve the accuracy of your filings by creating a single line of sight into your transaction systems with rates and rules that are always up to date without the need for IT intervention. And, protect your data behind best-in-class, enterprise-grade security through the Sovos S1 platform. Whether you're a multinational manufacturer, retailer or a small business, Sovos is built to safeguard your business from the burden and risk of tax as your business grows.