In another blow to proponents of expanded direct-to-consumer (DtC) shipping of wine, a court in the Southern District of Ohio earlier this week ruled in favor of the state, rejecting plaintiff's claims that Ohio's DtC shipping laws for retailers were discriminatory and harmful to consumers.
What happened in this case?
The case, Block v. Capera (2:20-cv-03686, Southern District of Ohio), involved a Chicago-based wine retailer and an Ohio resident who alleged they were harmed by Ohio's laws, which permit in-state retailers to ship wine while denying that permission to out-of-state retailers. The plaintiff's argument noted the deleterious market effects of Ohio's laws, which discriminate on their face against out-of-state interests, and the potential loss to the Ohio resident, who cannot access the many wines that are sold somewhere in the U.S. but not in Ohio.
However, the Ohio court rejected these claims, granting the state's motion for summary judgment, putting an abrupt stop to the case. Summary judgment is an action commonly taken by courts on a finding that there is "no genuine dispute of fact" so that a judgment can instead be made on a "matter of law." That is, because the disputants do not disagree as to what happened to cause the case to be brought in the first place, the judge needs only to look at what the law says to make a ruling. In this case, the judge determined that the law indeed does support Ohio's ability to discriminate against out-of-state retailers.
Notably, the summary judgment motion in this case did not include much of a discussion about Ohio's law or its constitutionality. Instead, the motion essentially decided that this argument had already been decided by the Sixth Circuit Court of Appeals, which found in favor of a similar discriminatory retailer DtC wine shipping law in Michigan in the 2021 Lebamoff v. Whitmer case.
Why did the court rule this way?
As a subordinate court to the Sixth Circuit, the court in this latest case was probably judicially correct in adopting the previous ruling. It is still disappointing, though, that this court almost entirely refrained from taking the plaintiff's arguments seriously, instead cursorily adopting the position that under the 21st Amendment, any laws that states enact regarding their alcohol markets is valid. This is especially disheartening as the original Sixth Circuit ruling that this court takes as granted similarly failed to address the actual concerns of the consumers and retailers who sued to begin with.
The summary judgment motion does point out the rigorous licensing and auditing that Ohio retailers must undertake to operate in the state. Unfortunately, it then assumes as truth that, with out-of-state delivery of alcohol, " 'the least regulated (and thus the cheapest) alcohol will win.' " (Baker, p. 24, quoting Lebamoff, 956 F.3d at 872).
This assumption ignores the fact that no state has an unregulated alcohol market—retailers everywhere must be licensed and submit to local audits. While Ohio does have price controls that might make a given bottle of wine slightly more expensive on the shelf in Cincinatti than in Chicago, this claim also ignores the costs associated with a Chicago retailer shipping their products to Ohio residents, including freight and the costs of getting licensed by Ohio and paying taxes to Ohio (if Ohio were to follow its practice for how out-of-state wineries and breweries can ship DtC into the state).
Further, it ignores the fact that the current DtC wine market is dominated by more expensive products (the average bottle price of a DtC shipped wine hovers around $40 versus around $11 for wine purchased in retail stores) and by products that are not widely distributed. An Ohio resident is not going to pay shipping and handling and wait a week to save a couple bucks on a bottle of Yellowtail they can easily find down the street—they are looking to find the rare 100-point Burgundy that may be purchased in a few select import stores in the largest of markets but is not available in Ohio.
Nevertheless, the court's ruling here is determinative in its support for Ohio's current laws. While this is only one case among many active across the country, and the plaintiffs may appeal the ruling to a higher court, admittedly proponents of retailer DtC shipping of wine have not had much success in these cases.
At a certain point, it seems that if states will keep winning these cases as a matter of law, the better course of action would be to change the laws and grant retailers similar DtC shipping permissions as are available to manufacturers. The market for DtC shipping by wineries has proved time and again to be popular, profitable and fully capable of adhering to state regulations, like licensing, preventing sales to minors and paying taxes, and there is ultimately little to the argument that retailers cannot also meet these standards if given the chance.
Take Action
Download our complimentary ebook to learn more about DtC alcohol shipping essentials.
Among the numerous rules and regulations that suppliers of beverage alcohol have to deal with, those governing the advertising and marketing of their products may not always be top of mind. However, both federal and various state regulators have signaled their intent to ramp up policing of this area of alcohol regulation, particularly when it comes to advertising on the internet.
Indeed, as suppliers increasingly move online, both in terms of direct-to-consumer (DtC) shipping and using social media to get their message out, it is critical for them to remember that these rules do matter and need to be followed.
We look here then at some of the basic rules that dictate how suppliers can advertise their products and the various trade practice rules that restrict how they can advertise sales made through third parties.
Advertising your own products
Advertising and marketing beverage alcohol products is primarily regulated at the federal level. The Federal Alcohol Administration Act (FAAA) sets out that advertising of alcohol may not be misleading or otherwise deceptive to consumers, but also must include adequate information as to the brand and contents of the alcohol being advertised.
Through the FAAA, the Tax and Trade Bureau (TTB) is enabled to propose and establish further regulations restricting advertising of alcohol advertising on a more minute level. These regulations can be found in chapter 27 of the Code of Federal Regulations: part 4 (for wine), part 5 (for distilled spirits), and part 7 (for malt beverages).
These regulations articulate what the TTB considers to be necessary information and what is deemed inappropriate. Alcohol advertisements must clearly display the name, city and state of the advertiser along with the class or type of product, and, for distilled spirits, the alcohol content at bottling.
There are also items that the TTB prohibits from appearing in advertising, including:
Any statement that is false or otherwise tends to create a misleading impression, including those regarding the contents of the product or its geographical origin.
Any statement that disparages competitors.
Any statement that is obscene or indecent.
Any statement that made might lead a consumer to believe the product was endorsed, made or used by the U.S. government or the armed forces.
Any health statements that are untruthful, misleading and/or unsubstantiated by clear scientific or medical research.
In 2013, the TTB issued an Industry Circular that makes it very clear that these restrictions apply to more or less all forms of social media.
This can seem daunting to manage, but support is available through the TTB's Market Compliance Office, which provides helpful resources and guides for the industry. While advertisements are not required to be approved, the TTB does provide an optional pre-clearance review to ensure compliance.
Beyond these legal restrictions on advertising, there are a variety of conventions within the industry limiting when, where and how alcoholic products are marketed. These include strictly avoiding markets and media targeted to minors and not depicting people consuming alcohol (though fun times are always to be had).
Advertising and trade practice law
Beyond the restrictions on what can appear in ads, there are rules governing how suppliers and manufacturers can reference retail locations and other places consumers can find their products. These rules are not really about advertising per se, but instead come from trade practice laws at both the federal and state levels that prevent suppliers from providing retailers with anything of value.
As such, it can be illegal for a supplier to share the costs of advertising with a retailer or note anything more than a basic reference to available retail locations. Suppliers should also refrain from listing only one retailer in their advertising, as that can be evidence of an exclusive deal.
One perhaps unexpected area where these rules can catch suppliers unaware is on social media when advertising of festivals or other tasting events. While it can be permissible to provide very basic pertinent information, such as time and place, anything lavish or laudatory of the event could bring scrutiny by regulators.
These trade practice restrictions should also apply to certain online sales, particularly so-called "three-tier DtC" sales where a supplier advertises their own products but then directs customers to a select retailer to fulfill the sale. If it is illegal for a supplier to privilege a single retailer in their advertisements, it seems a clear provision of something of value for them to offer "nationwide" availability by a select retail partner.
That these restrictions apply to online advertising is not an idle or toothless thought. Earlier this year, the Texas Alcoholic Beverage Control (TABC) circulated a draft advisory on marketing practices related to online marketplaces. While this is just a draft so far, the TABC was clear that it considers the online environment to be well within its jurisdiction and that it intends to police ecommerce as vigilantly as it does brick and mortar stores.
This is all a good reminder to beverage alcohol suppliers that many things that might seem like "normal" behavior online may not be permitted for them. From selling merchandise online to using social media, caution must be paid. A good rule of thumb for the alcohol industry is that "because internet" is no excuse for breaking the law.
Take Action
Learn more about the intricacies of beverage alcohol rules and regulations.
Direct-to-consumer (DtC) alcohol shipping can at times seem convoluted and increasingly complicated. States continue to evolve their DtC shipping requirements, which can understandably create some confusion over what is and is not allowed. However, working with the right partner can help to clear up some of that confusion.
Here are some of the top misconceptions – and their corresponding truths – surrounding DtC shipping of beverage alcohol.
I can ship DtC anywhere
• Absolutely not. When DtC shipments occur – whether for beer, wine, spirits or cider – those shipping products need to adhere to the rules of the state where the consumer is located and will receive the shipment.
• Rules differ by state and by product type. Just because you can ship wine DtC in one state does not mean that you can automatically ship beer to a consumer in the same location.
Is age verification really that critical?
• Yes. It is illegal in every state to sell or provide alcohol to minors, even accidentally. Proper age verification protocols, including obtaining the signature of an adult who is over the age of 21 at the time of delivery, ensure that you stay compliant and show you are a positive member of the beverage alcohol community.
• Every state requires some level of action, whether it's requiring at-delivery ID checks, collecting recipient signatures or both. Additionally, some states have stricter requirements, such as point-of-sale (POS) age checks. Check the rules of every state in which you want to ship.
After I ship, it's not my problem
• Even after you have shipped a product to the customer, the responsibility is not automatically shifted entirely onto the carrier or to the customer. Your DtC shipping license will be on the line should anything illegal occur (e.g., a minor receiving alcohol, a customer receiving a product in a state that does not allow DtC shipping of that product).
• You must use a compliant delivery service that abides with all licensing and reporting requirements imposed on them by the states. Currently, the USPS is prohibited from delivering alcohol in the country.
I don't need to worry about sales tax
• You absolutely need to worry about taxes for DtC shipping of beverage alcohol. Know the rules for each state in which you are shipping because that establishes where you must remit sales taxes and which tax rules apply.
• If you are working with a marketplace, do not assume that they will automatically handle applicable sales taxes.
Vendor contracts are never too good to be true
• If it seems too good to be true, it probably is. DtC alcohol shipping often needs the support of third-party services, but it's essential to ensure that all state laws are being followed.
• Make sure you know how a service works, what a third-party service will and won't do, and that they understand how laws vary from one state to the next.
• At the end of the day, it's your name on the bottle and your business that's at risk. If a state finds your products are being shipped improperly, they're going to have questions and will not accept "we were told it was fine" as an excuse.
The summer months can be ideal for enjoying a hard cider, but it's always a good time for cider producers to brush up on three-tier compliance rules. Before expanding into new markets, you must be familiar with the specific rules of each state.
In this blog, we will cover the major regulatory and tax rules that cider producers should keep in mind as they plan to expand into different states.
How is cider defined?
A good starting point is to determine each state's definition of cider. Because ciders are made from fermented apples or pears, they usually fall under the legal definition of "wines." But there are places in the country where ciders are instead regulated as "beer" or are even their own distinct product type. Even where they are deemed a "wine," ciders often receive a reduced excise tax rate based on their ABV.
Licensing
The typical first step when selling into a new state is to get licensed. A license allows the holder to sell to in-state wholesalers, but make sure to apply for the appropriate license as an out-of-state supplier of cider. The cost for a license can range from free to $1,500 and often needs to be renewed annually. Some states also require the supplier to hold a bond up to $100,000 in the state before they can apply for a license.
Registration
Labels contain critical information that identifies the contents and producers of the product, and because of this they are highly regulated by the federal and state governments. While only ciders with an ABV exceeding 7% are required to get a COLA from the TTB, all ciders must still follow each state's individual labeling and registration requirements to be sold there. Many states also use their label registration process to govern their franchise and other wholesaler protectionist rules. As such, they may require copies of distributor agreements territory assignments to be provided during a label registration.
Distributor relationships
In the three-tier system, there may not be a more important partnership than that between suppliers and distributors. Many states have rules regarding the relationship between suppliers and distributors, including restricting the termination or even renegotiation of distributor agreements. This makes choosing the right partner a crucial decision from the get-go.
The best advice when it comes to looking for a distributor is to talk with your attorney. Direct, specific legal guidance is the best way to know your obligations as well as your distributor's restrictions. By setting up your wholesaler agreement correctly the first time, you're avoiding future problems that can seriously affect your business' bottom line.
Filings
Due to the varying definitions of cider, the excise tax rate of your product may vary in some states based on the ABV. In most states, it is the responsibility of the wholesaler and not the supplier to remit the excise tax, though Maryland, Wisconsin, Pennsylvania and West Virginia are notable exceptions where it is out-of-state suppliers that remit excise taxes on cider.
Even where wholesalers remit the tax due, states stay up to date on the sales within their jurisdiction by requiring follow-up shipping reports from licensed suppliers. As with most beverage alcohol regulation, the schedules and information required varies between states. Some require a monthly occurrence and copies of all invoices sent to wholesalers in the state, others only require information regarding shipments made to military bases and a few states don't require any follow-up reporting.
A lot has changed in the direct-to-consumer (DtC) wine shipping channel since the January release of our Direct-to-Consumer Wine Shipping Report—changes in volume and value that have the market resembling pre-pandemic patterns.
Note: The proprietary data featured in this mid-year report is compiled from an algorithm measuring total DtC shipments based on millions of anonymous direct shipping transactions filtered through the ShipCompliant system and paired with Wines Vines Analytics' comprehensive data on U.S. wineries, resulting in the most accurate depiction of the DtC wine shipping channel. 
As the market continues to evolve from unprecedented numbers due to the lockdowns of 2020, we're seeing a return to normalcy. This new normal is one that includes new buyers who recently entered the DtC channel, as well as a return to buying patterns seen in previous years.
While the overall volume of wine shipped across the country so far this year is down 9% from the same period in 2021, at 3.7M cases, the total value is up 3%, at $1.95B. But again, this reflects a return to normal trends after a 2020 that saw a tremendous 27% increase in volume.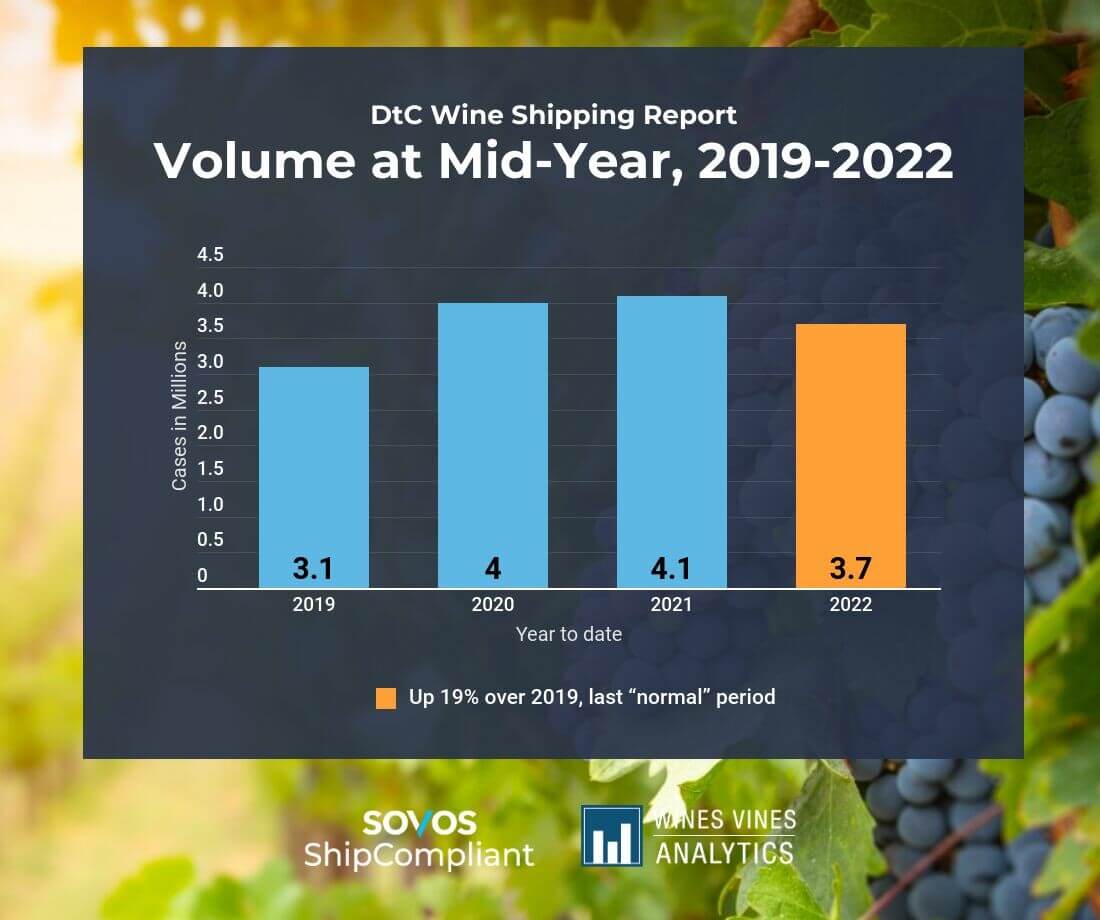 "The decline in volume is not that unexpected considering the record highs of the previous two years, seasonal patterns and the recovery of the on-premise sector where consumers are back to buying wines they may have been purchasing via DtC," said Andrew Adams with Wines Vines Analytics. "And while it's very encouraging to see shipment value remain positive, there is growing concern among wineries that challenges in the wider U.S. economy may hinder value growth through the second half of the year."
Here is a deeper look at the changes in the DtC shipping channel between January and the end of June, 2022.

Average bottle price
Average bottle price has climbed to $43.78, an impressive 14% increase. Interestingly, the regions with the highest priced bottles also showed the biggest increases in price from 2021 to 2022. The average price of a bottle from Napa is now $79.74, an increase of 20%. Sonoma, Oregon, the Central Coast, Washington and the Rest of California also saw an increase in bottle prices. The average bottle price from wineries in the remainder of the U.S. was down 3% from the first half of 2021, averaging $21.78.
Destination state
California is once again the top destination state, producing and shipping the most wine. The top destination states in descending order are California, Texas, Florida, New York and Washington. The top five destination states have remained the same since Pennsylvania fell from the fifth spot last year. Of the states listed, Florida saw the largest value change in wine shipped, with an increase of 13%.
Aside from California, the remaining top four states each averaged 6% of total market share.
Winery location
California wineries outside of Napa, Sonoma or the Central Coast experienced an 8% increase in volume shipped, with the rest of the country seeing a reduction in volume growth. This area has shown consistent growth since 2019 and now makes up nearly 12% of the total volume of wine shipped in the country. When comparing the first half of 2022 to the same six-month period in 2019, the Central Coast is the only region with flat shipment volume.
Winery size
Reflecting a return to more in-person and carry-out sales, wineries of all sizes experienced a drop in volume from 2021 to 2022 at the mid-year. Volume dropped the most among wineries producing under 1,000 cases per year (down 15%), followed closely by wineries producing 5,000 to 50,000 cases per year. The smallest drop was among wineries producing 1,000 to 5,000 cases.
Wine varietal
Cabernet Sauvignon, holding the largest share of overall sales by varietal (29%), saw a 1% decrease in volume from 2021 to 2022 at the mid-year, but a 17% increase in value. Red Blends, with the second largest share, saw an 11% decrease in volume and a 7% increase in value. The varietals leading the way with average bottle price growth are Red Blends (21%), Cabernet Sauvignon (19%) and Merlot (16%). Only Pinot Gris saw negative bottle price performance (-8%).
Moscato saw impressive growth in volume (48%) and value (57%) compared to last year—though notably, Moscato is growing on a small sales base, with the lowest overall sales among varietals tracked. The only other varietal group with growth in volume has been Syrah/Shiraz, with a 3% increase.
The largest decrease in volume growth were White Blends (down 22%), Petite Sirah (down 20%) and Rosé (down 19%), with Sangiovese, Riesling and Merlot following closely behind.
What's next for DtC wine shipping?
Wine consumers who found their way to the DtC channel in the last two years appear to be staying put, and wineries are once again benefiting from a reversion to pre-pandemic buying patterns, reflected in increased volumes of higher-priced wine sales. Though the future remains uncertain, we will be here to provide commentary on the market. In a few months, our full report on 2022 will be released in January 2023. Until then, discover our 2021 findings by downloading your complimentary copy of the 2022 Direct-to-Consumer Wine Shipping Report.
This data was compiled in partnership with Wines Vines Analytics, a leading source for wine industry data. 
The legal landscape for direct-to-consumer (DtC) shipping of alcohol is a hodgepodge of rules and regulations that vary from state to state. This follows the broad principle set out in the 21st Amendment that each state shall govern the "transportation or importation . . . therein of intoxicating liquors." As such, New Hampshire can permit the DtC shipping of all alcoholic beverages, Oklahoma can limit its residents to receive only six cases of wine from any given domestic winery, and Utah can prohibit all incoming DtC shipments of any alcohol from any source.
However, some states appear to be taking a further step in restricting domestic manufacturers from accessing the DtC market: prohibiting DtC shipping to consumers in other states.
To be clear, claims of such a prohibition do not seem to be widespread, and they are largely anecdotal (though various manufacturers have related to the author that they have directly been told by state officials they cannot ship to consumers in other states).
This claim that state officials could prohibit their local licensees from shipping to consumers in another state, if such shipments were in full compliance of the laws of that other state, is extremely dubious constitutionally. But it is still a major potential threat to the DtC alcohol shipping market as the claim alone has had a chilling effect among several manufacturers who had planned to enter the DtC alcohol shipping market.
What are the states claiming?
Under the U.S. Constitution, only Congress is authorized to regulate interstate commerce (the "Commerce Clause"). States are permitted to manage commerce within their borders, but they are, with some exceptions, restricted from passing any laws that interfere with or restrict trade with other states.
One of those exceptions is, naturally, the alcohol market. Coming out of Prohibition, the idea was that local communities needed the authority to impose local rules and standards on how alcohol should be produced, sold and consumed. Hence Section 2 of the 21st Amendment, which abrogates Commerce Clause principles for sales of alcohol.
With this power, states can impose restrictions on activities like DtC shipping of alcohol but cannot do so in other markets. And states do impose a lot of restrictions on the DtC shipping of alcohol, primarily regarding who can ship alcohol and what alcoholic products can be shipped DtC. Currently, 47 states and D.C. permit the DtC shipping of wine, but only around 11 permit shipping of beer and seven permit shipping of spirits.
Following those laws, some states are alleging that, because DtC shipping of beer or spirits to their residents is prohibited, their local beer and spirits manufacturers are also prohibited from shipping beer or spirits into other states—even if those other states fully legalize DtC shipping of beer or spirits and the manufacturer is fully compliant with the laws of that other state. That is, because DtC imports are illegal in a state, therefore DtC exports must also be illegal.
The author has heard manufacturers in Wisconsin (for beer) and Virginia (for spirits) say that they have been told in no uncertain terms by their local regulators that they may not DtC ship their products into states that allow such DtC shipments. While this is a limited number of states, and is largely anecdotal, the potential threat that this claim could have on the DtC market is very real.
Is this constitutional?
The big question is, can states do this? Can they assert under the 21st Amendment the authority to prohibit not merely the importation of alcohol, but also its exportation? Unfortunately, the answer is maybe (though there are assuredly many alcohol attorneys out there who would forcefully say no).
Alcohol manufacturers rely on the rights granted to them as licensees in the states where they operate. As such, they must look to the local statutes to identify what they are permitted to do—and prohibited from doing.
Generally, state statutes do authorize locally licensed manufacturers to export their products freely, as long as it complies with the laws of the destination state. However, that is not always clearly stated—or stated in a way that explicitly includes DtC shipping. For example, Wisconsin's statutes for brewers (WRS § 125.29) allows them to sell and ship product to wholesalers, and to sell to consumers for off-premises consumption from licensed premises, but it does not set out how and where (or technically, if) brewers can sell to parties in other states. A Wisconsin regulator might then argue that, without that explicit permission, a DtC shipment to a consumer in a different state is not authorized.
But it is also not clear at all whether that Wisconsin regulator's claim would hold up in court. While the 21st Amendment does not use the word "exports," it does authorize states to control how alcohol is transported in their borders, which might give some merit to the argument they can prohibit local manufacturers to avail themselves of the third-party carriers who make DtC shipping possible.
It is a shaky argument to make, though, particularly in light of the 2019 Tennessee Wine & Spirits case, in which the Supreme Court set out that state laws that impose restrictions on the interstate commerce of alcohol must be clearly and demonstrably tied to the state's interests in fostering the health and safety of its residents. It is very hard to see why Wisconsin prohibiting its brewers to ship to Nebraskans, in full compliance with the laws of Nebraska, is in any way related to the health and safety of Wisconsinites.
At least until it is resolved by courts, though, this remains an open question. And manufacturers are right to be wary of crossing any lines set out by their local regulators—it's little solace to be right in principle at the cost of your manufacturing license. What we should hope for, then, is that state regulators will back down from this argument and make it clear that their licensees are entirely within their rights to sell and ship their products DtC anywhere they want—as long as it is in compliance with laws of the destination state.
The Alcoholic Beverages Control Commission in Massachusetts recently announced that they will be conducting Minimum Purchase Age Compliance Checks in retail stores and aimed at direct-to-consumer (DtC) wine shippers through December 31, 2022. With this information in mind, now is a great time to refresh your age verification knowledge and company policy.
What are age verifications?
Bars, liquor stores and tasting rooms check IDs for each purchase, and online sellers should be doing the same. By conducting age checks at the time of online purchase, you're ensuring that all laws are being followed. Online age verifications can include requiring a scanned image of the purchaser's ID or can be done through a third-party service like LexisNexis or IDology. Both services use public data to corroborate that the purchaser's name and address matches with someone over the age of 21.
Not all states require DtC shippers to conduct age verifications, but by making them standard practice, you can ensure compliance with all sales in all states (where permitted). When it comes to the possibility of minors obtaining alcohol, it's better to err on the side of caution and conduct thorough age checks for each sale, no matter which jurisdiction you're shipping to. (Of course, an automated compliance solution can help run age verification along with other DtC shipping compliance check.)
Adult signatures are a must
All alcohol shipments require the carrier to check the ID of the recipient and obtain the signature of an adult who is of legal drinking age. Though the burden falls to the carriers, noncompliance can result in the loss of your DtC license. Both FedEx and UPS require that delivery of wine can only be made to someone who is present at the time of delivery, who will sign for the package and who will present identification verifying they are of legal age to possess alcohol.
Though states may differ in their age verification requirements, best practice dictates that DtC shippers should cover all bases by conducting them for each sale. By implementing point-of-sale checks, delivery ID checks, and requiring recipient signatures, you're protecting against underage drinking, as well as protecting your business from penalties or lost licenses.
Smaller product categories in wine and beer/malt lead the way 
Summer has officially arrived, and with rising temperatures also come rising beverage alcohol product registrations. While the industry is not seeing the same spikes as during the height of the COVID-19 pandemic, there are still signs of positive growth. There were increases in Product Registration Online (PRO) new product registrations* in the beer/malt category, while both wine and spirits had individual categories with year-over-year or quarter-over-quarter gains.
The following is a breakdown of new product registration data via PRO from the second quarter of 2022 (April, May, June) for wine, beer and spirits.
Beer/Malt
The beer/malt category saw new product registrations tick up 1% from last quarter, while yearly growth is down 20%. Separating those two definitions out, malt new product registrations grew 4% from last quarter, with yearly growth dipping 15%. Beer also saw decreases, with a 2% drop quarter-over-quarter and down 25% from this time last year. Malt beverage specialties (flavored) or FMB new product registrations had 13% growth over the last quarter, while porter new product registrations saw a 33% increase in the same time frame.
Wine
Overall, the number of wine brand registrations in Q2 2022 dropped 18% from Q1, and also saw a 22% decrease from Q2 2021. Saké new product registrations increased 10% from Q1 but dipped 35% compared to last year. Additionally, honey-based dessert wine increased from Q1, with apple-based flavored wine increasing in quarter-over-quarter and year-over-year growth. While it's too early to definitively say, this could be a sign of greater focus on non-traditional wines in general.
Among wine product registrations:
Red and rosé are down 7% from Q2 2021 and saw a 10% dip from Q1.
White wine brand registrations dropped 15% from last quarter.
Sparkling dipped 9% from this time last year and is down 23% from Q1.
Fruit and dessert wine brand registrations decreased 40% year-over-year and 28% quarter-over-quarter.
Spirits
Overall, spirits new product registrations are down 23% from last quarter and are down 36% from this time last year. Additionally, the only category to see a quarterly increase was whiskey, with an 8% rise from Q1. Tequila is the only category to show year-over-year growth, with an 8% increase as well.
*Product Registration Online (PRO) data encompasses nationwide label/brand registrations by PRO users. Product Registration Online processes some 100,000 state registrations annually.
The three-tier system is the most prevalent way that spirits are sold in the United States. We have compiled a comprehensive state-by-state guide that outlines the complex requirements distillers must keep in mind when expanding into a new state. In this blog, we will break down the main regulatory and tax rules that distillers distributing in different states have to comply with.
Licensing
When entering a new state, the first step is almost always to get licensed to sell to in-state wholesalers or approved to sell to the state's control board. It's important to pay attention to the specific requirements needed for a supplier license, as they vary. The price to obtain a supplier license can range from free to thousands of dollars per year. In addition, some states also require spirits suppliers to have $100,000 held in a bond.
Registration
Liquor labels contain critical information that identifies the contents and producers of the product, and because of this they are highly regulated by the federal and state governments. After obtaining a COLA, it's time to get state specific, as nearly 40 states have their own product registration requirements with some requiring yearly renewal. Many states also collect distributor information to manage franchise restrictions, such as documenting the approved territories for distributors or establishing a record of existing relationships in case a party wants to adjust their agreements in the future.
Control States
In control states, government agencies take over one of the standard "tiers" of the three-tier system. Most often, state agencies will act as the wholesaler. In 13 jurisdictions, the state also manages or operates retail stores. All states that utilize the control system apply it to sales and distribution of spirits products.
There are some key differences between selling to a private business and selling your product to the local government. A license may not be necessary when selling to control boards, though you must still be recognized as a potential supplier by the state.
The key difference is that you must "list" your products with the state, convincing them of the value and marketability of your products, much like you might otherwise do with a private wholesaler in other states. This listing process can be complicated and involve additional steps to accomplish. As part of listing, you may need to use a registered in-state representative when submitting quotes to the state. States will only accept quotes during specific time periods, and each product category will need to meet specific criteria.
Selling into a control state may seem like a headache but interacting directly with a state agency can have its perks. Because a supplier will list their products directly with the state, they will not need to file a brand/label registration for those products beyond the listing process. Further, the state does not need to receive regular shipping reports on those distributions because sales are already distributed directly by the state agency.
Filing and reporting
Each state has their own excise tax requirements, reporting and deadlines. Excise taxes are calculated using the volume of alcohol being sold and are levied at both the federal and state levels, meaning that high ABV spirits are taxed more heavily than say, a hazy IPA. By knowing your excise tax, you can properly set prices in the state.
Generally, excise taxes are paid by the "first party to own the product in a state," which typically implies the distributor. But that is not a universal rule, so spirits producers distributing interstate should be aware of any situation where they would be required to remit excise tax themselves.
Many states require suppliers to file follow-up reports that outline their sales to in-state wholesalers. These reports outline what was sold, when and to whom on a monthly basis. Some states require copies of all invoices, while others simply want to know the total volume sold. By keeping tabs on the specific requirements in each territory you do business, compliance doesn't have to be a behemoth.
On July 13, the Uniform Law Commission (ULC) voted to approve a model act that could impose significant burdens on businesses engaged in direct-to-consumer (DtC) shipping of beverage alcohol. (Read on to find out just who the ULC is, anyway.)
While the model bill has not garnered a lot of attention yet, what attention it has gotten has largely been negative, pointing out its questionable legitimacy or the potential damage it could cause the DtC alcohol shipping market.
As drafted, the model act establishes new rules on DtC shipping of alcohol that would both increase the regulatory burdens and risks for legal DtC shippers. However, what effects it actually will have on the DtC alcohol shipping market will only be apparent if and when it is adopted by any state. There is the chance that this won't go anywhere or will prove to be a toothless law.
But anyone active or interested in the DtC alcohol shipping market should be well aware of the model bill and wary of the threat it could pose.
What is the ULC and what is a 'model act'?
The Uniform Law Commission is an organization of lawyers and legal professionals that, according to its website, works to provide "states with non-partisan, well-conceived and well-drafted legislation" on various areas of state law. Since 1892, the ULC has drafted hundreds of uniform acts that states can use as a template when writing their own legislation. These model acts aim to provide a more standardized approach to everything from commercial law to family law to alternate dispute resolution, ideally decreasing the complexity of dealing with 50 states with their own ideas on how to draft statutes.
The ULC itself, though, has no official status and cannot enact or enforce the model acts it drafts. Instead, it is merely a resource that state legislators and statutory drafters can look to when they want to adopt a new law. That said, the ULC does have a lot of credibility, and some of its model acts have been widely adopted across the country (for instance, the Uniform Commercial Code, a set of laws governing commercial practices in place, with some tweaks, in each state).
The model DtC shipping act is thus part of this legacy, an attempt to create a clear, unified law that could resolve the confusion around DtC shipping of alcohol that exists today.
What is in the model DtC shipping act?
When the ULC established a drafting committee to look into DtC shipping of alcohol back in 2019, its original mandate was to create a model act for the legal DtC shipping of beer and spirits. DtC shipping of wine had been firmly established in, at the time, 45 states (Kentucky and Alabama joined the party in the following years), but the interest in expanding those provisions to beer and spirits was clear. To stave off years of legislative wrangling and the enactment of a mishmash of laws, the ULC set out to create a single, uniform act that states could readily adopt and create legal, effective markets for DtC shipping of beer and spirits.
In the intervening years, however, that original mandate was thrown completely out of the window. Instead, the usual suspects who are staunchly opposed to any DtC shipping of alcohol convinced the ULC commission that before anyone adopts what is, by all accounts, an extremely popular idea, they must first fix all problems, real or perceived, within the existing DtC shipping market. In turn, the focus of the commission shifted from DtC shipping of beer and spirits to imposing new regulations on current shippers.
What was ultimately adopted (after months and months of negotiations and Zoom meetings, including educating the ULC commissioners on the particularities of the beverage alcohol industry; not a few admitted to having received illegal DtC shipments themselves in the past) is an act with two main functions:
Regulating fulfillment houses and other third-party shipping services; and
Empowering states to punish resident businesses for violating other states' DtC shipping laws.
There are no other major provisions in the model act, and certainly nothing on creating legal paths for direct-to-consumer shipping of beer and spirits.
Fulfillment house regulations
The fulfillment house regulations largely follow the pattern adopted by other states in recent years, requiring any business that services DtC shipments on behalf of a licensed shipper (i.e., a winery or other seller) to get licensed themselves, to accede to the jurisdiction of the states they get licensed in, and to file regular reports on the shipments they facilitate to those states. While imposing regulations on out-of-state fulfillment houses is somewhat controversial, the real concern here is how unnecessary it is.
Fulfillment houses are seen as a soft target by those who don't like any DtC shipping of alcohol. By imposing onerous burdens on them, the intention is to make it difficult for enough licensees to ship their products to severely disable the whole market. Fulfillment houses are vital for many DtC shippers, who are often small manufacturers without the large warehouses and shipping departments needed to manage a national shipping program.
While there are some legitimate concerns around the use of fulfillment houses (for one, fulfillment houses can appear to be unlicensed shippers, when in fact they are only acting as agents for licensed sellers), there are easier ways to regulate the DtC shipments they manage than adopting the ticky-tacky regulations provided in the ULC's model act.
Extraterritorial jurisdiction
The other main provision, creating cause of actions against local businesses for violating foreign laws, presents a potentially profound constitutional challenge. Currently, state regulators are stymied when they try to take action against unlicensed DtC shippers. If a retailer in Florida is shipping tequila to Iowa, in clear violation of Iowa law, there is little that Iowa can do about it besides send a cease-and-desist letter. Florida, in turn, has no real cause to pursue the retailer.
This is a potential problem with the DtC market, in that some illegal shippers appear to act with impunity. We at Sovos ShipCompliant are clearly on the side of abiding by state laws and do not advocate this kind of action. The problem here, though, is ultimately one of federalism.
Under the Constitution, each state is—to greater and lesser degrees—sovereign. We do not want Texas police traveling across state lines to arrest California residents for violating Texas law, and we do not want California interpreting and applying Texas law.
However, this is potentially what the ULC model act is setting up for the DtC alcohol shipping market. Under its provisions, a state can (and potentially must) investigate its own citizens, and revoke their licenses to locally sell, manufacture or distribute alcohol if they appear to violate the laws of a different state. While this could resolve some lingering issues in the DtC market (namely those Florida retailers shipping tequila into Iowa), any regulator charged with this power should be very leery about using it. Indeed, state regulators have expressed derision at the idea of prosecuting their licensees for violating other state's laws.
This is mostly a problem because often state regulators are ignorant of other state's DtC shipping laws. They may not understand the nuances of how the other state interprets and applies those laws, and if they act on the mere appearance of a violation, they could cause irreparable harm to a law-abiding licensee. There are provisions in the model act requiring state regulators to conduct "evidentiary hearings" and only act on "good cause," but what that would look like in practice is unclear. A winery that loses its production license, even temporarily, for an invalid reason could suffer greatly waiting for their state regulators to clear the dust.
Where do we go from here?
Ultimately, the concern with the ULC model act is its uncertainty.
First, it is completely unknown if any state will actually adopt it (though we should expect the usual suspects to trot it out in front of every state legislature as a panacea to all the alleged ills of DtC shipping). One possible outcome here is that it just quietly goes away.
Second, a model act is merely a model, and state legislatures are free to add and amend as much as they want. Indeed, this might be part of the plan. Once they begin discussing ways to "fix" the DtC shipping market, other more pernicious provisions (even prohibitions) could be slipped in as well. Along that line, statutes themselves are subject to a range of rulemaking and interpretations that could take a burdensome, but acceptable, requirement and make it an outright barrier (see Alabama, which adopted such a restrictive licensing process for DtC shippers and fulfillment houses that many have decided to opt out of shipping there).
There is also the big question of why. What really will be solved by this model act? Will state regulators actually prosecute their constituents for violating foreign laws? Or will this end up a toothless bill, resulting in the usual suspects coming back in a few years saying, "I guess that didn't work, so the only solution is to prohibit it all"?
It's truly unfortunate that a model bill that started out with such a positive aim—expanding a legal process for a practice that is widely popular —ended up so thoroughly cleaving to protectionist special interests.
In the end, the proof of the model act will be in the eating. For active and prospective DtC alcohol shippers, though, the bite might prove poisonous.
More consumers than ever are looking to avail themselves of the market for direct-to-consumer (DtC) shipped beverage alcohol. What was once more a niche market for prized domestically produced wines has gone on to pique consumer interest in accessing the broad range of alcoholic products made within the United States that are not also widely distributed.
However, most state laws prevent consumers from fully accessing that market by restricting the shipping of select product types. Currently, 47 states and the District of Columbia permit some amount of DtC shipping of alcohol, but most restrict it to shipping of wine (largely by wine producers only), though there are efforts to expand access for shipping beer and spirits. A lay consumer may struggle to identify which alcoholic beverages they can actually have shipped to their doorsteps.
Unless you have spent years steeping in alcohol regulatory law, you may not realize that there even are laws on DtC shipping of alcohol. But even then, understanding what specific products may be DtC shipped can require some complex statutory analysis.
To help we provide some advice on how to read a DtC law and understand what products it applies to.
Can I ship it?
The first, and most important, rule about DtC shipping of alcohol is that it may only be done by approved entities and persons. Most states that do permit DtC shipping of alcohol require the shipper (meaning the party who is responsible for the sale and ensuring the package is sent through a carrier) to be licensed. This party will also be responsible for managing the compliance burden related to their shipments, from preventing sales to minors to remitting all due taxes.
But before applying for a DtC license, a prospective shipper should ensure that their products can legally be shipped into the state, which requires parsing the state's laws.
This generally means starting with the state's DtC statutes and simply reading what it says. This can be a high hurdle in itself as it's not always intuitive to find those statutes. In some states, the beverage alcohol laws are their own chapter; in others, they are hidden within a chapter for taxation or public health. Even then, the specific provisions for DtC shipping are not always clearly identified by the name or heading of a statute.
But once you have found the statute, it should identify in the first few paragraphs which products it allows to be shipped. Some states (like New Hampshire) make it rather obvious by permitting the shipping of all alcoholic beverages—simply by using a catchall term like that, they open their market up completely. There may be further specific rules for different products (such as different tax rates), but a producer can be assured that their products may be shipped DtC in the state.
Most states, though, limit their DtC permissions to only wine. On its face, it may be clear from that language that certain products could not be shipped—if only wine may be shipped, then stouts and vodkas would be excluded. But it is not always so obvious. How should a cidery or saké brewer react to that language? Or what if a product is made from a combination of wine and spirits? To fully grok these scenarios, it's necessary to go beyond the DtC statutes and seek out the specific definitions states apply to the different product types.
Yes, you can!
For most states (and the federal government), all alcohol is divided into three parts: malt beverages, vinous beverages and distilled spirits beverages. Malt beverages are those that are produced from fermented grains and cereals; vinous beverages are produced from fermented fruits, vegetables and other agricultural products; and distilled beverages are the product of, naturally, distillation.
However, these are not hard and fast rules. New York, for one, sets out cider under 8.5% ABV and mead as distinct product types. Several states classify ciders under a certain ABV as a type of "malt beverage," and most states include sakés with wines, largely because of their alcoholic content and how they are sold.
These distinctions matter as different rules apply to different product types. Beer products are universally taxed at a lower rate than spirits, but franchise rules are also more common when distributing beer than spirits. The same consideration applies to DtC shipping rules.
If you are a cidery, you stand a good chance that your products will be considered a wine, and therefore are, literally by definition, included in that state's DtC laws. But that would not work in a state like New York, so you need to be careful about how the state defines and regulates your products specifically, and not just assume that your products are good to ship.
The rise of the ready-to-drink (RTD) cocktails market also provides opportunity for confusion, since they can derive their alcoholic content from almost any source. A "margarita" could include tequila proper, or it could be made with fermented neutral grains (so a "beer"), or, perhaps, even with fermented limes (so a "wine"), each regulated differently. Depending on how a state defines a given RTD, whether or not it could be shipped DtC  varies widely.
Through all of this, it is critical to recognize the specific way each individual state defines and regulates the different alcoholic products sold within its borders. What works in one state is never guaranteed to work in a different state.
As more products that straddle the divides between different product categories enter the market, these distinctions are becoming more important to recognize. Some may question whether the definitions and product categories as applied today will necessarily work in the future—would perhaps a system based on the alcoholic content of a product rather than what it's made out of make more sense? But these definitions and regulations do still matter today, and shippers and consumers alike should make sure to apply them properly to avoid any improper shipments, along with the scrutiny, fines and other consequences those improper shipments can entail.
On July 1, 2022, Vermont Act 177 takes effect, creating new ways to sell Ready-to-Drink (RTD) spirits in the state, including permission for distillers to ship these products direct-to-consumer (DtC).
As defined in the act, "RTD Spirits Beverages" are alcoholic beverages obtained from distillation that contain no more than 12% ABV and are packaged in containers no greater than 24 fluid ounces. Additional water and flavoring from fruit juices, sugars and other ingredients are permitted. More generally, the category of RTD spirits is a developing area for the beverage alcohol industry, full of enticing products marketed as margaritas or Moscow mules in a can.
Act 177 also creates a new definition of cider products, as a type of vinous beverage made solely from fermented apples or pears and containing no more than 16% ABV. Further, the law establishes two different tax rates for ciders: those with an ABV less than 7% will be taxed at the beer rate of 26.5-cents per gallon, and those with an ABV of 7% or greater will continue to be taxed at the wine rate of 55-cents per gallon. The new, reduced tax rate for lower-ABV ciders does not become effective until July 1, 2023.
As a control state, the Vermont Department of Liquor Control (DLC) has historically played a direct role in the distribution and sale of spirits in the state. However, with Act 177, the state has recognized that RTD spirits do not readily resemble traditional spirits products, and so has established a more liberal system for how these specific products can be sold in the state.
Under Act 177, RTD Spirits Beverages:
Will now be sold in the private sector, like beer and wine products under 16% ABV.

Out-of-state distillers looking to sell their RTDs in Vermont will need to get a new Certificate of Approval (COA) to Distribute RTD Spirits Beverages. This license costs $985 and must be renewed annually by April 30.
COA holders will have to contract with licensed Vermont wholesalers to distribute these products within the state.
Like other spiritous products, they will be subject to Vermont's Bottle Bill.

Will be subject to a reduced tax rate of $1.10 per gallon, which is to be paid either by in-state manufacturers or the wholesaler distributing products made out-of-state. Higher-ABV spirits will remain subject to the $19.80 per gallon tax rate.
Additionally, Act 177 extends Vermont's existing DtC shipping laws to RTD Spirits Beverages. Under these rules in-state and out-of-state distillers with a Basic Permit can apply for a Direct Ship license to ship their products directly to Vermont consumers. Current Direct Ship licensees will also be able to ship their RTD Spirits Beverages under their existing license. This license costs $330 and must be renewed annually by April 30.
Licensed Direct Shippers in Vermont:
May ship no more than 12 cases (or 29 gallons) of RTD Spirits Beverages per individual per year.
Must make deliveries only through a common carrier that will check IDs at the time of delivery and collect a signature from the recipient.
Must retain five years of data for their shipments.
Must conspicuously label all packages that contain alcohol.
Must file a report to the DLC in January and July of each year, providing detailed accounts of their shipping activity in the state.
Must collect and remit to the Vermont Tax Commission all excise and sales taxes for their shipments, which shall be levied as if the sale occurred in Vermont.

Vermont's sales tax rate is 6%, with no local rates.
RTD Spirits Beverages may not be self-distributed to Vermont retailers, even with a Direct Ship license; that privilege will remain only available for wine products.
What do Vermont's new rules mean for RTDs in general?
In all, the steps taken by Vermont in Act 177 are a positive sign of states recognizing spirits-based RTDs as a new product type, one that does not fit easily into existing categories. Even though they often contain distilled alcohol, they have a lower ABV per serving and are often intended to be consumed more like a beer or wine cooler. As such, the existing stringent rules that most states impose on spirits products, as compared to rules on wine and beer, do not always make sense for spirits-based RTDs.
By reducing the tax burden, and by creating equal processes for distributing and selling RTD spirits within the state, Vermont has done a service to the industry and its residents who want greater access to these products.
Within the three-tier system that governs how alcohol is sold and distributed within the United States, importers are considered a type of supplier. As such, they are largely regulated like domestic producers, meaning they must distribute through wholesalers, who will sell to the retailers, where customers will finally be able to purchase the importer's products.
However, importers are not entirely like other suppliers, and they have their own additional hoops to jump through. With that in mind, we've compiled some helpful information relating to how beverage alcohol importers are regulated in the U.S.
Getting licensed
As with other suppliers, importers are required to be licensed by the various regulatory agencies that govern the jurisdictions they will operate in. At the federal level, this means getting an Importer's Permit from the Tax and Trade Bureau (TTB), and complying with the tax remittances required under federal law. Importer's permits can be submitted on the TTB website.  To qualify, importers must "maintain and staff a business office in the United States," though having a commercial arrangement with an existing importer eliminates the need for this license.
Getting the appropriate license is also the first step when distributing into a new state. These licenses are unique to each state and a state may require an importer to hold multiple licenses, if they are selling different product types.
Importers should also keep in mind that distribution rules differ for beer, wine and spirits in each location. Don't assume that every state has the same regulations surrounding three-tier compliance. For every jurisdiction you distribute into, there may be a whole new set of laws that must be followed.
Product registrations
Much like getting a domestically produced beverage to market, obtaining a Certificate of Label Approval (COLA) is a key step for importers. This is how importers demonstrate to federal regulators that their product labels and packaging comply with regulations set by the TTB. Obtaining a COLA is a key first step in getting individual products to market, as Customs will reject any entry without label approval.
Distributor information is often required for state regulators to better understand how alcoholic beverages are sold. As importers are not the actual producers of their product, it's pertinent to have all proper authorizations and contracts on hand to prove that your products are being sold legitimately.
Additionally, most states have their own registration requirements that must be met before products can be sold within their borders. Whether you are making your first foray into the three-tier system or are looking to expand operations into another state, ensuring accurate brand label registration will help you maintain compliance and let you bring products to market faster.
For importers dealing with the product registration puzzle, it is essential to maintain good records of Primary American Source (PAS) letters. These letters are issued by the actual manufacturer and make it clear that you are considered the owner of the imported product in the U.S., and thus legally authorized to sell it. Many states restrict wholesalers from distributing alcohol obtained from anyone but the manufacturer, the PAS or an authorized brand owner. Having the proper documentation to prove you are authorized to sell an imported product and to direct its distribution within the U.S. is therefore vital to smooth label registrations. Understanding each state's requirements and having the necessary documentation can make the overall process much easier and quicker to get through.
What about direct-to-consumer shipping for importers?
Direct-to-consumer (DtC) shipping of alcohol gets a lot of attention these days, most of it along the lines of "how do I do that, too?" However, almost all state DtC permissions are restricted to domestic producers or retailers, which makes it difficult for importers to take part in DtC shipping. This is especially true for businesses licensed solely as importers. However, there are some situations—albeit very limited — where importers can conduct DtC shipping.
In some states, importers can obtain a retail license in addition to their importer license, and ship to states that permit DtC shipping by retailers. But state tied-house restrictions on holding licenses in multiple tiers at the same time often make this unavailable to importers. Additionally, many of the states that would permit an importer licensee to get a retailer license would also require them to open a physical store and offer inventory to walk-in customers, which could be an additional barrier.
In the end, while being an importer is not unlike otherwise being a supplier, there are additional hurdles to cross and other restrictions to keep in mind. The best advice for any importer is to talk to your attorney. Direct, specific legal advice is critical for an importer to understand what your obligations are and will be as well as what legal restrictions there are to contend with.
The direct-to-consumer (DtC) shipping model is growing in popularity, as the DtC wine channel recently broke the $4 billion per year mark, and 92% of craft beer drinkers are looking to order their favorite brews to the front door. It's no surprise that producers, retailers and other potential shippers are itching to meet the growing demand. However, DtC rules vary from one state to the next, and not every state has the same restrictions when it comes to products being shipped. What are the current limitations facing the DtC alcohol shipping industry?
States that do not allow DtC wine shipping
Nearly every state (and Washington, D.C.) allows DtC wine shipping. There are currently just two states that do not allow DtC wine shipping in any form:
• Mississippi
• Utah
Delaware and Rhode Island severely limit DtC wine shipping.
States that do not allow DtC beer shipping
DtC beer shipping is not as widespread, with most states not allowing it to occur. The following states do not allow beer to be shipped to a consumer's front door:
Alabama, Arizona, Arkansas, California, Colorado, Connecticut, Delaware, Florida, Georgia, Hawaii, Idaho, Illinois, Indiana, Iowa, Kansas, Louisiana, Maine, Maryland, Massachusetts, Michigan, Minnesota, Mississippi, Missouri, Montana, Nevada, New Jersey, New Mexico, New York, North Carolina, Oklahoma, South Carolina, South Dakota, Tennessee, Texas, Utah, Washington, West Virginia, Wisconsin and Wyoming.
States that do not allow DtC liquor shipping
Currently, only seven states and the District of Columbia allow DtC liquor shipping. The states that prohibit shipments to a consumer's home are:
Alabama, Arizona, Arkansas, California, Colorado, Connecticut, Delaware, Florida, Georgia, Hawaii, Idaho, Illinois, Indiana, Iowa, Kansas, Louisiana. Maine, Maryland, Massachusetts, Michigan, Minnesota, Mississippi, Missouri, Montana, New Jersey, Nevada, New Mexico, New York, North Carolina, Ohio, Oklahoma, Oregon, Pennsylvania, South Carolina, South Dakota, Tennessee, Texas, Utah, Vermont, Virginia, Washington, West Virginia, Wisconsin and Wyoming.
States that do not allow DtC cider shipping
Some states consider cider to be a type of wine, while others define it as beer or its own type of alcohol entirely. Because of these technicalities, it's extremely important to know the specific rules of each state. Some states prohibit the shipping of cider altogether; these states are:
Delaware, Mississippi, Rhode Island, South Dakota, Tennessee and Utah.
DtC shipping rules vary from state-to-state and are not static. Rules and regulations change over time, meaning that maintaining compliance is not a simple feat. States sometimes abruptly add more restrictions or open up for business without much notice.  If you're unhappy with the current DtC restrictions in your state, engage with grassroots campaigns and guilds aimed at the wine, liquor and beer industries.
Managing sales tax obligations can be complex in the direct-to-consumer (DtC) alcohol beverage shipping space. Luckily, Sovos ShipCompliant's Alex Koral, regulatory general counsel, broke down key considerations in the recent Understanding Sales Tax for the DtC Shipper webinar. Here are highlights from the presentation to help you better understand the many nuances of this tricky topic.
What is sales tax?
Sales tax is based on the value of taxable goods that are sold in an individual transaction. States require retailers to remit a percentage of the money they make from a sale of goods, but they also have the retailer collect that tax money from customers on top of the listed price of the transaction at the time of purchase, so the money ultimately comes from customer's pockets, not the retailer. Any money that a retailer collects for sales tax must be remitted to the state on an appropriate form. Sales taxes are levied primarily on transactions of goods, but services can also be taxed in some circumstances.
In total, 45 states impose a sales tax. The five sales non-tax states are New Hampshire, Oregon, Montana, Alaska and Delaware, referred to as NOMAD states (Alaska does institute some city-level sales taxes). Beyond the state level, many local counties, cities and districts have their own tax rates and rules. There are over 12,000 local tax jurisdictions that sellers must manage.
Nexus for DtC alcohol shippers
In theory, nexus is a straightforward concept but in practice, it can make your head spin. Essentially, nexus comes down when a business has a sufficient connection to a tax jurisdiction that it appears fair for the jurisdiction to impose a tax liability on the business. In addition, the jurisdiction cannot make complying with that tax liability overly burdensome for the business. For many years, that was interpreted to mean a business had to have a physical connection—to own property or have employees in the jurisdiction. But in the 2018 case South Dakota v. Wayfair, the Supreme Court ruled that, in the age of the Internet, states could legitimately claim to have a nexus with remote sellers who earn a reasonable amount of revenue in the state, i.e., "economic nexus." In short order, all 46 states that levy some sales tax have established economic nexus based on annual sales thresholds.
In some states, economic nexus may lead to additional obligations, as the economic nexus may establish an additional, generic tax burden not set out under the DtC shipping laws. For example, in Illinois and Louisiana, DtC shippers are only required as a condition of their license to collect the state tax; however, if the DtC shipper also has economic nexus in either state, they would then also be required to collect all applicable local taxes.
It's extremely important to understand the rules where you have nexus, as that will establish where you are required to remit sales taxes and which tax rules will apply. Once you've determined the rules, you'll be better informed of how and when to collect and remit tax on your DtC shipments. It's also critical to not register in a state where you do not have nexus, as registering automatically obligates a business to meet all tax obligations even if they otherwise didn't have to.
Situs for DtC alcohol shippers
DtC alcohol shippers must also understand the "situs" for their sales, which basically means what rates, rules and procedures apply to a sale. By and large, situs is determined by where the consumer takes possession of the product, which for interstate sales means the destination location. In intrastate sales, some states will say that the ship-from location is the situs location, but most are moving towards destination-based situs. So, for DtC shippers with nexus obligations in many states, this means understanding and applying the situs rules for all those many states. It is also important to realize that only one jurisdiction can tax a transaction at a time, so while you may need to report all revenue to your home state, you should make sure to deduct exports from tax sales on your home state return and not pay taxes twice.
Sales tax for DtC alcohol shippers
Almost all states require DtC shippers to pay sales and use tax. To get a DtC license, shippers must assume tax liability. This "direct-to-consumer shipper nexus" was imposed to create parity for local businesses. Seven states do not have this inherit tax obligation on direct-to-consumer shippers. If you're selling in Alaska, Colorado, Florida, Iowa, Minnesota, Missouri, Wyoming and/or D.C., you must track your revenue to know where you might have an economic nexus.
How to manage your tax requirements
Compounding the complexity of the sales tax landscape for DtC shippers, almost everything is subject to change. States are not always diligent in informing taxpayers of changes in rates, forms and rules that might affect them. All these factors can make it seem overwhelming to manage sales tax.
This is where the right technology can help. Implementing real-time sales tax determination software that specializes in alcohol shipping can help ease the burden of keeping up with the latest sales tax rules and regulations. With real-time sales tax determination, you can rest easy knowing that you are collecting, and then remitting, the correct tax, down to the rooftop level. Having all the special rules, markups and regulations applied at the time of sale can help you ensure compliance and a smooth and seamless purchasing experience for your DtC customers. All compliance software isn't created equal and choosing a partner that understands the intricacies and unique complications related to DtC shipping will set you up for success.
Beverage alcohol suppliers and producers selling in the United States typically must obtain Certificate of Label Approvals (COLAs) from the Alcohol and Tobacco Tax and Trade Bureau (TTB) before product distribution. This ensures that suppliers and producers are compliant with federal regulations regarding the design of their alcohol labels. (Additionally, most states have their own registration requirements that must be met before products can be sold.)
But what do suppliers and producers need to know about COLAs? How can you ensure that your product can compliantly make it to market?
Here are key highlights about COLAs and what it takes to get them approved.
Know what's required
• An item's brand name, area of production, type of product and volume of the container's content must be included.
• The Government Warning must be included and in a specific format.
• The regulations can vary for beer, wine and distilled spirits.
Know what's prohibited
• Health claims or disparaging remarks about competitors' products are not allowed.
• Neither are references to other intoxicating substances nor claims about the "strength" of the product's alcohol content.
Register with the TTB
• The TTB reviews labels to ensure they incorporate all necessary information and exclude prohibited messaging.
• If labels are not approved, they are sent back to be fixed.
Check for new and revised labels
• If a supplier updates a label, that may require applying for a new COLA. The TTB has allowable revisions that can be done without getting a new COLA, saving time and effort.
• Old labels may need to be surrendered and not used again in commerce.
Understand exceptions and exemptions
• There are some exclusions to the COLA process, such as wines with an ABV less than 7% and malt beverages that do not meet the FAA Act definition of beer (containing water, malted grains and hops).
• Certain products are subject to the FAA Act but are exempt in certain circumstances from needing a COLA, such as beer that is only sold in the state where it is produced.
On June 16, Alaska Governor Mike Dunleavy signed SB 9, an omnibus beverage alcohol bill that includes new provisions to regulate direct-to-consumer (DtC) shipping of alcohol in the state. As set out in SB 9, the new DtC shipping laws are set to take effect on January 1, 2024.
While Alaska currently does allow for DtC shipping of alcohol, SB 9 provides welcome clarity and stability to the DtC market in the state. Currently, DtC shipping in Alaska operates under a single-page letter from the Alcohol and Marijuana Control Office (AMCO) indicating that the state does not regulate the personal importation of alcohol by its residents. This effectively has kept the state open to DtC shipping of alcohol by all legitimate sellers, as long as shipments are not made into communities that prohibit the sale of alcohol.
Such loose regulations may seem appealing, but relying on an informal ruling by state regulators left the market vulnerable if future regulators were to decide that they could find justification in Alaska statutes to restrict DtC shipping. Anchoring DtC shipping permissions clearly in the state code allows the industry to grow there without fear of abrupt change in the state's disposition.
However, SB 9 does contract the current DtC shipping market in Alaska by setting out specific parameters for who can ship to the state and how. Specifically, once the DtC shipping provisions in SB 9 take effect, DtC shippers operating in Alaska will have to comply with the following rules:
Must apply for and hold a Manufacturer Direct Shipment License, issued by the Alaska AMCO.

This license will cost $200 and will be effective for two years.
This license is only available to licensed manufacturers that hold production licenses issued by the TTB (Tax and Trade Bureau) and their home state, and to holders of retail licenses issued by the Alaska AMCO.
This license will only be eligible for breweries that produce less than 300,000 barrels of beer per year, or distilleries that produce less than 50,000 proof gallons of distilled spirits per year. There are no production caps for wine producers.

Pay Alaska state excise tax on all shipments to the state.
May not ship to any individual purchaser:

More than 1.5 liters of distilled spirits per transaction, or more than 4.5 liters of distilled spirits total in a calendar year;
More than 18 liters of wine per transaction, or more than 108 liters of wine total in a calendar year;
More than 288 ounces of brewed beverages per transaction, or more than 13.5 gallons of brewed beverages total in a calendar year.

May not use a common carrier that is not approved by the AMCO.
May not ship to any address in a zip code identified by the AMCO as having adopted a local option rule prohibiting the sale of alcohol.
Must, at the time of purchase, verify that the purchaser and recipient (if different) of the order are at least 21 years old.
Must provide written or electronic information on the dangers of fetal alcohol syndrome at the time of purchase.
Must properly label all packages as containing beverage alcohol and require an adult signature upon delivery.
Must retain records for two years on all shipments and make those records available to the Alaska AMCO upon request.
Notably, Alaska does not maintain a state-level sales tax. However, the state does permit individual communities to assess their own sales tax and has adopted economic nexus rules, extending liability for those local sales taxes to remote sellers. As such, any DtC alcohol shipper that does meet the state's threshold for economic nexus ($100,000 in annual gross sales in the state or 200 individual transactions per year), will be required to register with the state's Remote Seller's Sales Tax Commission and remit those local taxes.
What this means for Alaska DtC alcohol shipping
Perhaps the biggest change to current DtC shipping in Alaska is that out-of-state retailers will no longer be permitted to ship into the state. Under SB 9, only beverage alcohol manufacturers, or retailers licensed by the Alaska Alcohol and Marijuana Control Office, will be eligible for the Direct Shipment License. While Alaska may not have been the biggest state for DtC shipping by out-of-state retailers, this is a blow to the retailer industry, which has been trying to expand their reach in the DtC market.
It is also interesting to see Alaska adopt production caps for breweries and distilleries that want to ship DtC into the state. That shipping of beer and spirits was retained in SB 9 should be seen as something of a win for those industries, which have not been having much success passing DtC shipping permissions in other states so far this year, but it is disappointing to see states continue to restrict their residents' access to the full national beverage alcohol market. Historically, the DtC shipping channel is not made up of major, widely available brands, but is instead a place for rare, highly-allocated, or more boutique brands, which can still be made by larger producers.
In all, SB 9 will establish several new compliance requirements for DtC shippers, while also imposing new restrictions on from whom Alaska residents can receive DtC shipments. In exchange, though, the DtC market will benefit from the stability of having clear rules fixed in the state's statutes.
It's no secret that direct-to-consumer (DtC) shipping of alcohol is a valuable and growing market. Wineries, breweries, distilleries, and retailers alike have benefited from having direct access to consumers across the country. With consumer demand at an all-time high, it is understandable more alcohol sellers want to get into the DtC game as soon as possible.
But DtC shipping can be complicated. Understanding, following and keeping up with the myriad rules is difficult, so it's no wonder that some businesses will look for ways to reduce those barriers, including seeking out third-party services that promise to them go away entirely. While there certainly are services that can ease the pains of managing a DtC shipping program, it's always necessary to look before leaping at something that sounds too good to be true.
We've compiled some of the key practices that are offered to DtC alcohol shippers to minimize their compliance burdens but that might be leaving them at risk of possible enforcement actions from state regulators.
Don't go in for contract gimmicks
Some DtC programs out there have adopted a neat solution to managing regulatory compliance: foist it on their customers. In this type of arrangement, the seller will set out in their terms and conditions that all sales are deemed to occur at their business location, and that the customer is responsible for any subsequent shipping back to their home or office.
On the one hand, this might seem perfectly legitimate. The vendor is licensed to sell alcohol, and anyone of age could go to their shop, buy some beer, wine, or spirits and take it home to consume, even in a different state. However, this becomes questionable—and possibly illegal—when it involves using a third-party carrier to bring the alcohol purchased to the consumer's home.
Under the 21st Amendment, states have clear authority to control the transportation of alcohol into and within their borders, and they have all adopted laws that either prohibit the shipping of alcohol directly to consumers or limit it to specific situations, such as only from licensed wine producers. There is no state where consumers can ship alcohol to themselves through a third-party carrier. While many states do provide for consumers to personally import alcohol that they have bought out-of-state, they require that the consumer personally import it, for example in their checked luggage or car.
Even if an alcohol vendor could contractually declaim liability for following state laws (and that is not an argument that's likely to win in court), they will still, be enabling their customers to break the law. Suppliers looking to remove their compliance burdens should therefore avoid working with any service that offers this type of arrangement and should never adopt these terms and conditions themselves either.
When looking at possible third-party partners, keep an eye out for clauses that state:
Title of the alcoholic beverages passes to the consumer in the state where the service operates.
The consumer is responsible for abiding by all state and local laws, including ensuring that they can receive an alcohol shipment to begin with.
Can I sell under someone else's license?
Many prospective shippers balk at the idea of applying for and managing the dozens of licenses required to establish a national DtC shipping program. Third-party services that offer the use of their licenses, therefore, may seem like a godsend. How these services work, and how legitimate they actually are, though, can be unclear.
The concern here is that legal DtC shipments generally require a license, and state regulators expect the name on the storefront to match the name on that license. If a supplier is marketing and selling from their tasting room or website, but conducting their shipping under someone else's license, regulators may have some serious questions about what's going on that can quickly lead to robust enforcement action.
The best way for a third-party to legally DtC ship a supplier's products for them, is for that third-party service to either be assigned as an authorized brand dealer or be a retailer licensed to make DtC shipments. Either way the supplier will need to sign away their ownership of the product and any involvement in the sale, and the latter will also require they properly distribute their products to the retailer, likely through a wholesaler. This could be the best way for some suppliers to go, but it would mean not being able to sell or ship directly to consumers themselves.
Ultimately, suppliers looking at one of these services should make sure to thoroughly understand how they work, and what kind of risk they may be assuming.
What about 'three-tier DtC'?
A novel service that has been gaining attention recently aims at a "best of both worlds" approach by combining the perceived legitimacy of the three-tier system with the prospect of shipping to consumers wherever they are (even claiming access to consumers in all 50 states). In this Frankenstein's monster of a service, a supplier will market and sell their products directly to consumers, but the actual order fulfillment will then run through a partner retailer who in turn received possession of the alcohol being sold from a wholesaler.
Central to "three-tier DtC" is that a supplier will work with a specific retailer that can fulfill deliveries across the country. However, this brings up two huge, unresolved questions. First, it would appear to violate tied-house rules for a supplier to direct sales to a specific retailer. Second, it is unclear how retailers can ship alcohol to consumers everywhere (currently, only 14 states and D.C. permit retailers to ship alcohol across borders). Even relying on retailers making local deliveries themselves would leave out some consumers, as no retailer operates in every state and many delivery permissions restrict the retailer to operate only in the city or county where they are licensed.
While the idea of making DtC sales under the auspices of the three-tier system has gained a lot of attention, suppliers may want to remain skeptical for now.