The direct-to-consumer wine market is booming, the craft beer industry has exploded in growth, and somehow there's room for another beverage alcohol type to gain steam — cider. This crisp, fruity refreshment is becoming increasingly popular in the beverage alcohol industry, and its popularity is only expected to grow.
In the last five years, we discovered a 248% increase in COLAs registered with the word "cider" on the label. (We used our LabelVision Pro tool to collect this data, which analyzes every label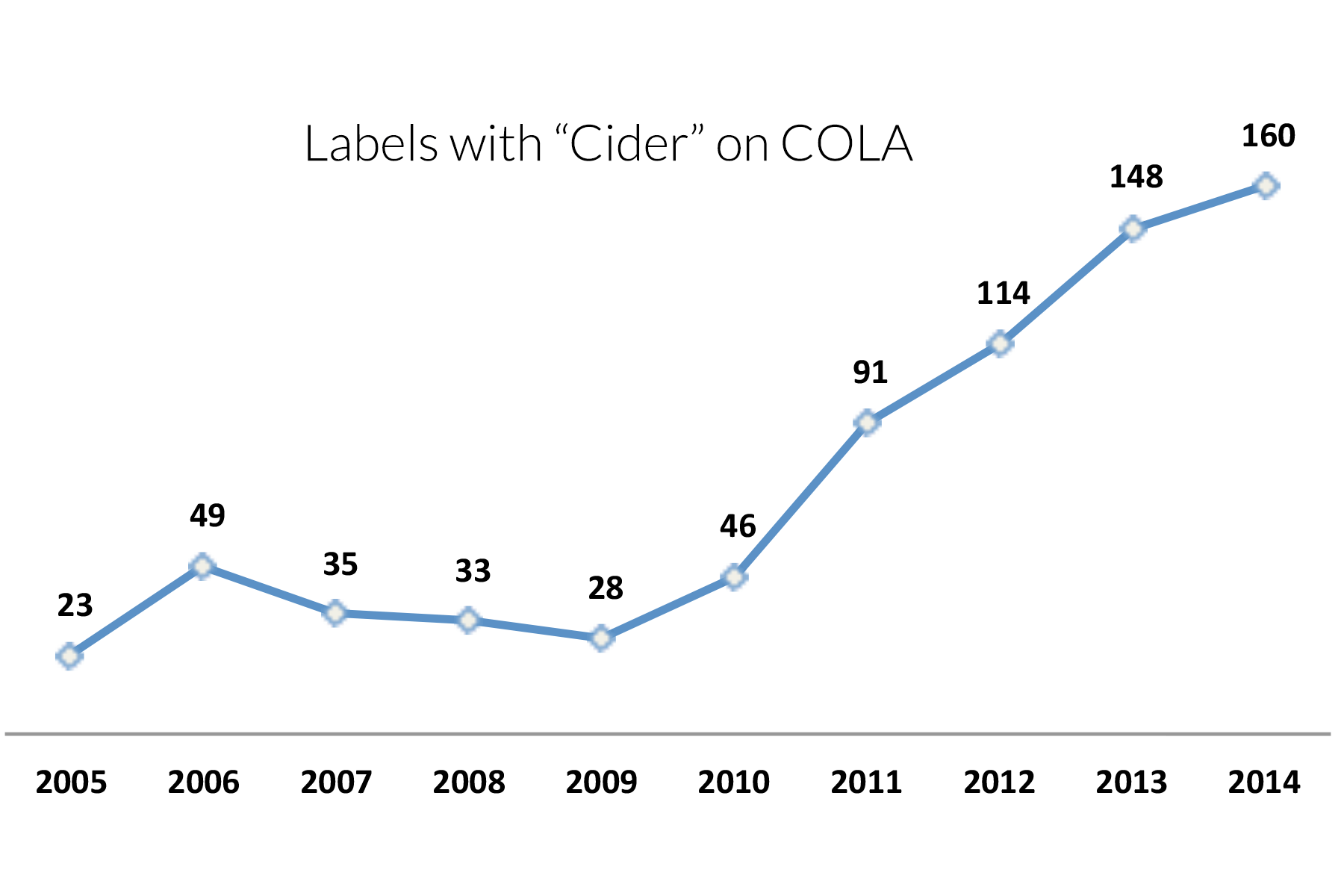 submitted to the TTB.) While this alone shows impressive growth, it doesn't paint the full picture.
This fragmented view is a result of how the Alcohol and Tobacco Tax and Trade Bureau (TTB) classifies cider. The TTB lacks a "cider" classification. In fact, if TTB only has three classifications for alcoholic beverages: beer, malts, and spirits. Cider is classified as either "wine" if the alcohol content is above 7%, or it's treated like a "diluted wine" if the alcohol content is below 7%. Diluted wines are not required to obtain a COLA, but are still required to register with the states. This means that the 248% increase doesn't include those ciders under 7%. Those are unaccounted for in the TTB database, meaning the true number of new ciders is likely much higher. (It's important to note ciders under 7% must comply with applicable FDA food labeling requirements.)
Cider classifications don't get any clearer at the state level, though. States vary by how they classify cider. Cider is treated as beer in Pennsylvania, wine in Utah, and its own classification in West Virginia. This lack of clarity makes it pretty challenging to grasp a real picture of just how much popularity has increased for the beverage in the last several years.
Cider is similar to wine in its fruit-based production and manufacturers only get one crop to use a year. But it's also like beer with its alcohol content, packaging, and marketing. These similarities might explain why we see both breweries and wineries branch out into the cider business. Sam Adams started producing cider in 2011 and is now certainly the most successful of the cider-producing companies, holding 50% of the cider market share. But Sam Adam's isn't the only one.
Looking at information from FiveThirtyEight Economics, we see that over 75% of the market is held by four brands: Angry Orchard, Woodchuck, Johnny Cider, and Smith and Forge. Though the market is dominated by these top companies, this increase in COLAs can be credited to new, small craft businesses entering the market.
Sales for cider only made up $366 million of the $31.7 billion beer industry in November of 2014, which is just over 1% for a 12-month period. Although, 1% seems insignificant, this was a 75.4% increase from the previous year according to FiveThirtyEight and growth isn't slowing. As experimentation in the industry grows, it seems clear that cider is becoming a new market for many businesses. Looking to branch out into cider? We can help.
Want to see COLAs that have registered with the TTB in the last five years? Visit our free version of LabelVision.